Lake Washington and other statewide lakes offer plenty of warm-water fish to catch in summer Leave a reply
Many anglers right now are glued to their fish-finders seeking out salmon in Puget Sound, but what few realize is the fun and excitement being had by others on statewide lakes.
"We're at the peak fishing time for many warm-water fish species including perch and bass," said Danny Garrett, the WDFW warm-water species biologist. "We've been gillnetting (in abundance test fisheries) the Ship Canal and Lake Union recently and have seen all kinds of fish."
The "net" results that looked at the diet of yellow perch and rock bass in Gasworks area – all fish were released unharmed – found it was loaded with big-size perch averaging 10 to 11 inches.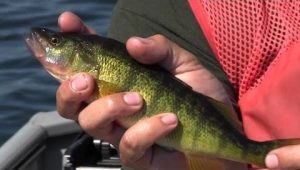 Seeing all the fish in their test fishery prompted Garrett to actually grab his rod-and-reel to give it a try around Gasworks Park. His tactic was to drop-shot around a drop-off point at Gasworks in 17- to 18-feet of water, and found it was a hotspot for perch and bass.
"I enjoy sharing this type of information as there are way too many fish and lots of them for everyone to catch," Garrett said. "Anglers will have a harder time if they fished shallower than 15 feet. Foster Island (in Montlake Cut) is also a place where you can catch a lot of bullhead catfish."
Lake Washington – which is 20 miles long and covers more than 22,000 acres – can seem overwhelming to fish, but those who do a little bit of homework and investigating will find excellent success to catch yellow perch and bass as well as many other species that inhabit the lake.
The yellow perch population in Lake Washington is one of the most prolific fish species and are extremely easy to find and a joy to catch for all ages and angler ability.
"I get really excited when July and August rolls around, and it's one of those fisheries that you can go out and catch fish pretty much the entire day. Due to the strong recruitment and survival rate of yellow perch it is unlikely that we'd make a dent on the population."
While many yellow perch average 7 to 10 inches along with some "jumbos" hitting the 11- to 12-inch range, WDFW experts claim it is only a matter of time before the official state record could come from Seattle's backyard urban watershed.
That state record of 2.75 pounds caught by Larry Benthien at Snelson's Slough in Skagit County hasn't been broken and was set on June 22, 1969.
The reason behind this possibility is due in part to the ample feed and room for yellow perch to grow in Lake Washington, which is the second largest natural-bodied lake in Washington. Female perch are the largest, and tend to grow much faster (usually maturing in three to four years) and can live as long as 8 to 10 years.
Yellow perch are very colorful and known for their bright yellow, orange and brass-colored bodies. They also have distinct olive-green vertical triangular bars along the sides of their bodies.
Where and how to catch them
The best time of the year to fish for yellow perch begins around July when the water heats up (it was 77 degrees this past weekend), and peaks from August through October.
Look for schools of yellow perch in shallow water, 15 to 35 feet, and close to the shoreline. They will school up in shaded locations just outside the cover of weed beds, milfoil, aquatic weeds and lily pads or under docks, piers and overhanging trees and brush.
"I'd try to get out near the edge of a vegetation line and work different depths of water until you find the schools of fish," Garrett said.
According to Garrett, yellow perch feed throughout the day on snails, clams, crayfish and smaller invertebrates. They can even be more active even in middle of afternoon and don't get spooked by boaters or jet- or water-skiers. The only time they seek out covered areas is at night when predators are lurking.
Popular locations to catch perch are Seward Park; Newport Canal; Newport Shores; Kenmore log boom and pier; Juanita Bay; Magnuson Park shoreline; Andrews Bay; Newport area and slough; Webster Point in Union Bay; Yarrow Bay in Kirkland; Gene Coulon Park in Renton; Mercer Island near Luther Burbank Park; and in South Seattle off Leschi Park, Madison Park, Stan Sayres Pits and Mount Baker Park.
Gear to catch perch
You don't need anything high-tech to hook yellow perch, and a light-to-medium-action trout fishing rod with a spinning reel attached to 4- to 6-pound test line will do the job.
Garrett prefers a worm and drop-shot (egg-style) weight attached to a three-way swivel or Sniper Lure Snubs – a colorful tiny 3-inch plastic worm. Other anglers will use live maggots, a skirted crappie jig and after you catch your first perch cut a small chunk of the meat or even a perch eyeball works great as bait.
Yellow perch are light, finicky biters and often you'll just feel a "tap, tap" and not a hard strike. Never set the hook hard when they first bite your presentation and let the fish play with it and they'll eventually strike the bait.
Word on other LW fish species
While many anglers will focus on Lake Washington yellow perch there is a "cult following" of anglers who target cutthroat and rainbow trout, smallmouth and largemouth bass, black crappie and the abundant "rock bass" a species of the sunfish.
"We've been seeing a lot more rock bass showing up in our test fisheries," Garrett said. "In our recent test fisheries we saw just as many as we did yellow perch."
Garrett also points out that bass fishing is worth getting up early for some exciting top-water action for largemouth bass. Even at mid-day anglers can switch over and look for bass in the shade under docks or deeper water areas off the lily pad fields. For smallmouth look off the edge of the weed line in 15 to 20 feet or as deep as 30 feet.
"These bass tend to hunker down in midday and early morning when the boat traffic is less crazy is a time they're more active," Garrett said.
Perch in other lakes
There are many other places throughout the state to catch yellow perch including Lake Sammamish near Issaquah.
Other good action can be found at Kapowsin southeast of Puyallup; Beaver and Pine near Issaquah; Sawyer northwest of Black Diamond; Harts southeast of Yelm; Goodwin northwest of Marysville; Stevens east of Everett; American near Fort Lewis; Angle in Sea-Tac; Desire in Renton; Meridian in Kent.
Up north, Lake Samish is always great for smallmouth bass and Lake Whatcom is decent for yellow perch or smallmouth bass.
On the bass front, Lake Bosworth in Snohomish County was where Bill Evans caught the state record largemouth bass of 12.53 pounds on Aug. 8, 2016.
"The state record was caught in August, which shocked me because usually the big ones are caught in the spring time," Garrett said. "I'd try casting (Yamamoto) Senko Baits around the edge of the lily pads."
WDFW sets no daily catch or size limit on yellow perch in the majority of statewide lakes since they are so prolific, but check the regulation pamphlet for specific details.
You can also find plenty of information on yellow perch at WDFW's link http://wdfw.wa.gov/fishing/washington/Species/1849/.
Brewster Salmon Derby back on as Upper Columbia reopens for kings
Some positive news came to light on Monday morning and the summer chinook return to the Upper Columbia River is stronger than expected and will allow WDFW to reopen the hatchery-marked chinook sport fishery and the Brewster Salmon Derby on Aug. 3-5 will resume as planned.
The fishery will reopen Wednesday (July 25) from Rocky Reach Dam to Wells Dam, including the Wenatchee and Chelan Rivers. Then on Aug. 1 fishing opens from Wells Dam to Chief Joseph Dam, including the Okanogan and Similkameen rivers. Daily limit is two hatchery-marked kings.
The projected return of summer run salmon was downgraded from 67,000 to 44,000 earlier this month, but the projected passage over Priest Rapids Dam and the hatchery wild mark rates has fish managers confident they will meet spawning escapement goals at Chelan Falls, Entiat, and Chief Joseph hatchery programs.
The area above Wells Dam is opening later to allow the Colville Tribe to gather broodstock for their hatchery below Chief Joseph Dam.
This also means the Brewster Salmon Derby that was originally cancelled is back on again from Aug. 3-5. Since anglers were refunded they will need to re-register online at http://brewstersalmonderby.com/ by Wednesday, Aug. 1 at 5 p.m.