Some coastal salmon fisheries underway, but sub-par returns could put a damper on success Leave a reply
The focus on summer salmon fishing has now shifted to the coast where Neah Bay, La Push and Ilwaco opened Saturday and it appears the best prospects will likely occur in the northern areas based on commercial catches.
"We've had some decent success rates up north for the commercial trollers in Area 4 (Neah Bay and La Push), but pretty scratchy fishing in other areas to the south," said Wendy Beeghly, the head WDFW coastal salmon manager. "I'm expecting (the sport fishery) will start off a little slow, but we might find some fish up north in Area 4."
Commercial trollers fishing off the coast since May reported the salmon are there one day and gone the next, according to Beeghly with nothing consistent and no huge schools of fish at this point.
"Based on what we forecasted for chinook returns this year we expect it to be a little slow this summer, but that doesn't always indicate anything, and we will have to wait and see," Beeghly said.
The total allowable ocean sport catch is 27,500 chinook, which is down from 45,000 last year; and 42,000 hatchery coho, which is the same as last year.
A total Columbia River fall chinook forecast of 365,000 is about half of the 10-year average and falls below the 582,600 forecast and actual return of 475,900 last year.
The Columbia River chinook forecast is 112,500, which is down in 50 percent from last year.
Hatchery chinook known as "tule" and other lower river chinook stocks are the most prized sport fish and a driving force in ocean fisheries off Ilwaco, Westport and at Buoy 10 near the Columbia River mouth.
The "upriver bright" chinook return of 67,300 (53,100 last year) to Columbia above Bonneville Dam are also down more than 50 percent of the most recent 10-year average.
A forecast of 286,200 coho are forecast to return to Columbia River in 2018, which is down almost 100,000 fish from last year. About 279,300 was the actual return last year where some coho stocks are listed on the Endangered Species Act.
On northern coast, Neah Bay is open daily through Sept. 3 with 4,370 hatchery coho and 4,900 chinook quota. Daily limit is two salmon and no more than one may be a chinook. No chum can be retained beginning Aug. 1. Beginning Aug. 1, chinook non-retention east of Bonilla-Tatoosh line during council managed ocean fishery.
La Push is open daily through Sept. 3 with 1,090 hatchery coho and 1,500 chinook quota. Daily limit is two salmon.
On southern coast, Ilwaco is open daily for salmon fishing through Sept. 3 with a 21,000 hatchery coho and 8,000 chinook quota. Daily limit is two salmon and no more than one may be a chinook. Buoy 10 opens Aug. 1 with expected catch of 25,000 hatchery coho in August and September.
On the south-central coast, Westport opens this coming Sunday (July 1) with salmon fishing allowed Sundays through Thursdays only through Sept. 3 with 15,540 hatchery coho and 13,100 chinook quota. Daily limit is two salmon and no more than one may be a chinook.
All areas could close sooner if catch quotas are achieved.
Salmon fishing news in other areas
The front end of the summer Puget Sound chinook run continues to produce some good action in south central Puget Sound mainly around the Tacoma area, but folks should start hitting the northern areas of Vashon Island and the mainland points on either side south of the Fauntleroy and Southworth ferry landings.
Coho action remains steady in central Puget Sound off Jefferson Head in the shipping lanes, Richmond Beach and Kingston with some anglers scoring easy limits including releasing numerous kings. The majority of coho were averaging 2 to 4 pounds.
Hatchery chinook action remains fairly good in the Tacoma area, but dogfish are now thick so jiggers and downrigger or meat-lining trollers were faring best with some kings hitting the 15- to 18-pound range. A few resident coho were also starting to appear in catches in Area 11.
Other options to start looking at even though the peak timing is later in the summer are Dolphin Point, Brace Point, Point Robinson, Three Tree Point and the south side of the Southworth Ferry Landing.
Here are the catch estimates for south-central Puget Sound (Area 11) since it reopened June 1 for salmon fishing with 756 fish retained under a catch quota of 5,344.
June 1-3: 448 boats with 718 anglers caught 242 hatchery-marked chinook and released 315 chinook for a total of 557 chinook encounters.
June 4-10: 1,042 boats with 1,520 anglers caught 512 hatchery-marked chinook and two unmarked chinook and released 666 hatchery-marked chinook for a total of 1,180 chinook encounters.
This year's projection of 227,420 hatchery chinook migrating through Puget Sound is up 21 percent from the 10-year average and is a 35 percent increase over last year.
The Tulalip Bubble Fishery remains slow to fair for some decent-sized hatchery kings. Fishing is open through Sept. 3 with fishing allowed each week from 12:01 a.m. Friday through 11:59 p.m. Monday.
Another location in the marine area has been giving up a few kings each week is the Edmonds Pier where anglers tossing a variety of jigs (take off the illegal treble hooks) or a Styrofoam float with a herring drifting underneath often get the fish to bite.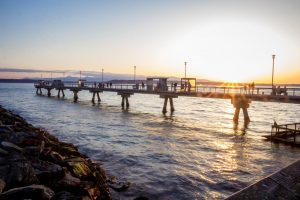 On the freshwater scene, the hatchery king fishery on the open stretch of the Skykomish, Cascade and Skagit rivers remains fair as well as the steelhead action on Skykomish at Reiter Ponds.
The sockeye fishery on the Lower Skagit River started off slow, but this is a fishery where they'll show up in force in very near future. The forecast is 35,002 and is comparable to last year's actual return of 33,359 and still above the historical average.
"This summer's sockeye return is relative to historic runs and it is still a big number," said Brett Barkdull, a WDFW biologist. "We're predicting survival rates are going to be down a fair amount based on ocean conditions."
"The first year we had a big return was in 2010 and so this summer's run falls kind of right in the middle," Barkdull said. "Since then we've had returns between 17,800 and a high of 51,000."
The Skagit River will close to all sport- fishing to avoid gear conflicts with treaty fisheries from the mouth to the Highway 530 Bridge in Rockport on June 28-29 and July 2-3.
The Columbia River shad run has now passed the pre-season forecast of 3.2-million with 3,271,699 tallied since June 19 at the Bonneville Dam fish ladder.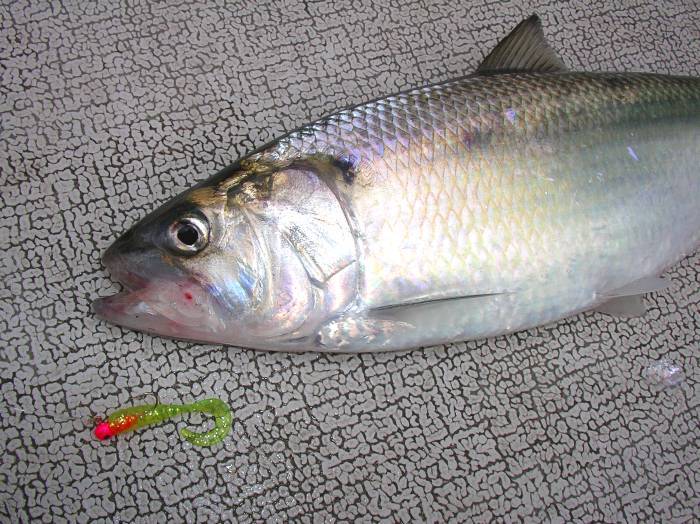 The single-day counts were 294,307 on Tuesday (June 19); 377,755 on Monday (June 18); 242,022 on Sunday (June 17); and 148,896 on Saturday (June 16).
Bank anglers just below Bonneville averaged 4 shad per rod based on mainly incomplete trips this past week while boat anglers averaged just over 8 fish per rod based on completed trips this past weekend.
The best fishing occurs along the shoreline just below Bonneville Dam, but shad are spread out in the Camas Slough, and from Washougal downstream to Kalama.
To access the best area below the dam, head east on Highway 14 about two miles past the town of North Bonneville, and take the right-hand turn by the transmission towers. The access road allows anglers about three miles of prime shoreline in either direction.
Shad tend to like a fast running current, and most fish usually are caught no further than 30 feet from shore.
Shad darts are the most effective lure, but red- and white-colored flies with a small hook, colored beads like red or a metallic silver or gold, small crappie-like jigs and small wobbler-type spoons or spinners will do the job.