Englefield Bay: Your annual angling trip of a lifetime! 1
To be completely honest, I cannot really recall how I became aware of the magnificent fishing in the Queen Charlotte Islands (Haida Gwaii) but I'm certain that I was a very young angler that was quite impressionable. However, the reverent tones that this incredible location inspired among the anglers that I deeply respected left a mark, a lifetime itch that had yet to be scratched.
My anticipation of this West Coast Resorts Englefield Bay trip was at a fever-pitch since on this Father's Day weekend I was bringing my son Matthew and former Seattle Seahawk Dave Wyman was bringing his son Jake. Add that to the fact that several 710 ESPN listeners were coming along, none of us had ever been to Haida Gwaii and I'm sure you can understand our excitement!
So now, after returning from West Coast Resorts Englefield Bay, I found myself in unfamiliar territory for a blabbermouth. I'm sincerely at a loss for words. But let me say this: From the time we boarded the chartered 737 in Vancouver, BC to the time the final helicopter landed at Sandspit, every single aspect of the trip was beyond my expectations.
Our chartered 737 landed at Sandspit on Moresby Island and we hopped on our helicopters.
One of the most breathtakingly beautiful places on earth must be Haida Gwaii and the view from the choppers was beyond words.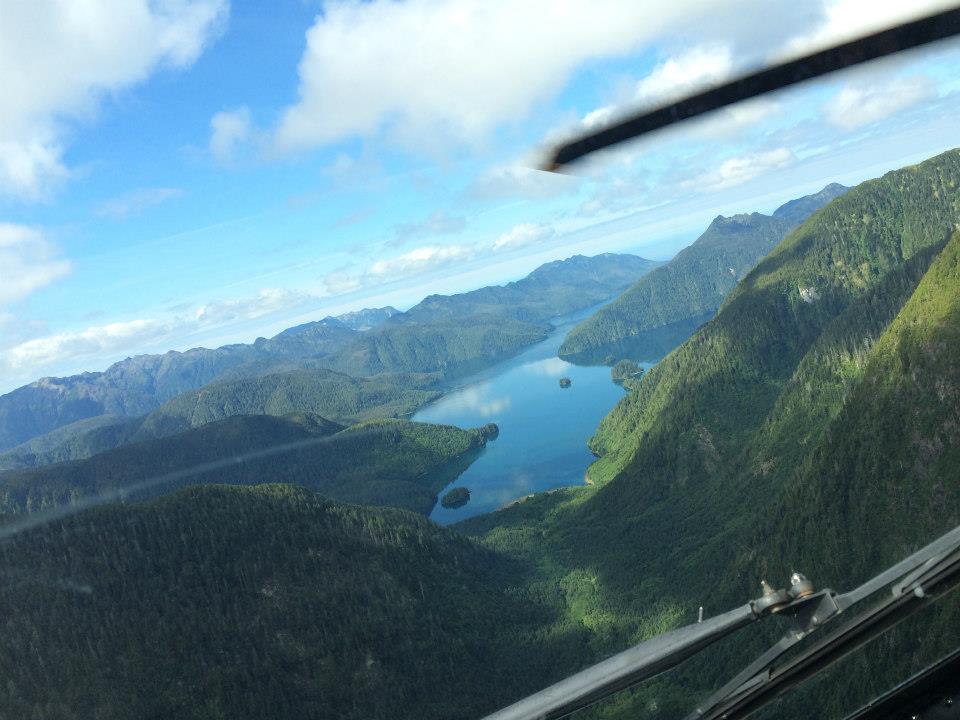 Landing on the floating lodge's heli pad we could not wait to get inside the resort…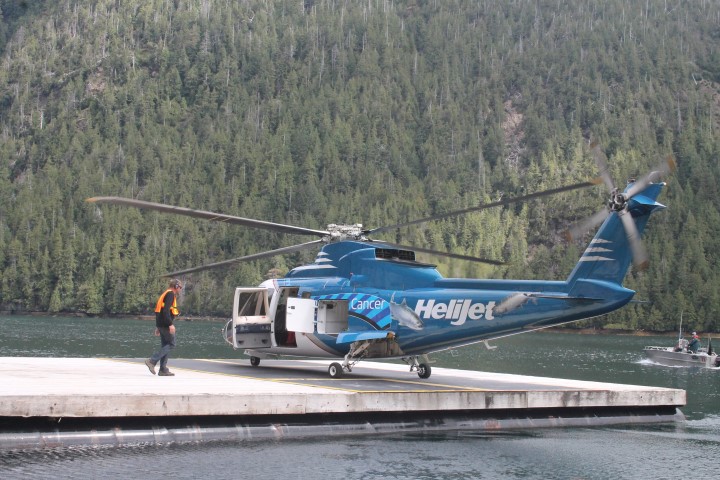 …and what a wonderful, comfortable place it is! We didn't even have to pack our luggage into our rooms as our bags were waiting for us as we walked in!
Dave Wyman and his son Jake were in the room next door and we caught them looking out the window at the West Coast Resort fleet of boats.
Jake Wyman, Dave and our guide "Yeti" head out from the lodge on Father's Day afternoon for their first Haida Gwaii fishing experiece.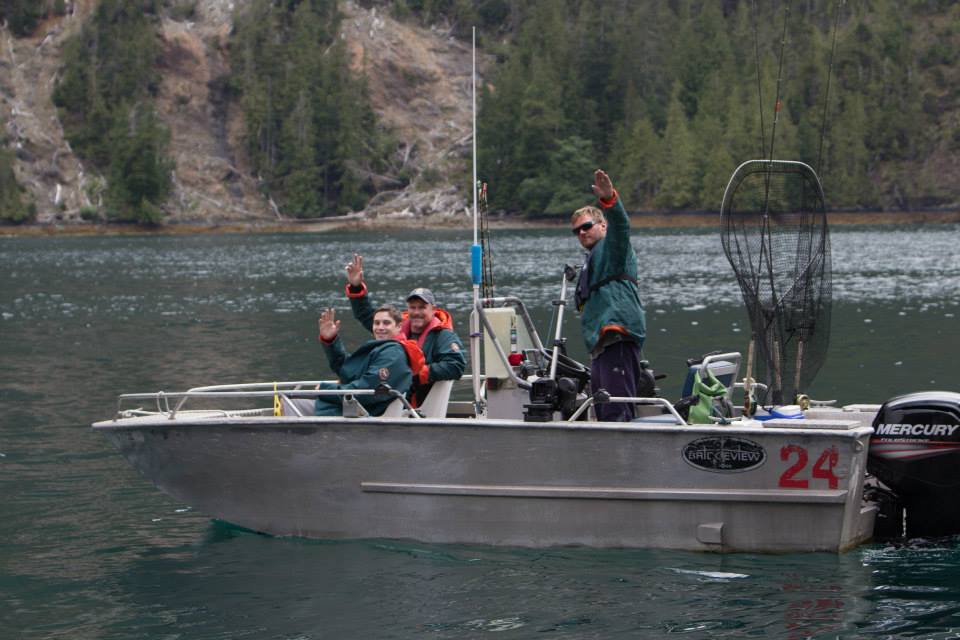 My son Matthew and I followed Yeti out to Denham Shoals in one of the fine lodge boats and were lucky enough to bump into a real tyee chinook that was exactly 31 pounds!
The tradition at Englefield Bay is that the angler who lands a tyee gets to sound the gong and Matt has no problem making a little noise over his first Haida Gwaii tyee!
The next morning, Wyman and I headed out on a flat, calm, sunny ocean and landed right on top of a scorching chinook bite!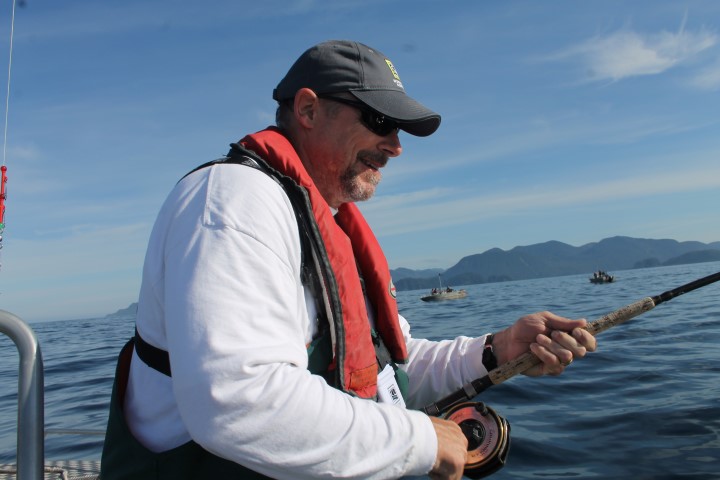 It's not too often that you catch the biggest king of your life twice in one day but that's exactly what Dave Wyman did and the fishing spark within him became a flame!
If you've ever had a greedy lingcod grab on to a smaller fish and not spit it out  at the boat, then you understand the look on Dave Wyman's face. If he wasn't hooked on the non-stop Haida Gwaii action before, he certainly is now!
You can only catch your first chinook once in your life and it was a very special moment to be on hand for Jake Wyman's king salmon number one! Proud father Dave Wyman is in the boat in the background in this shot.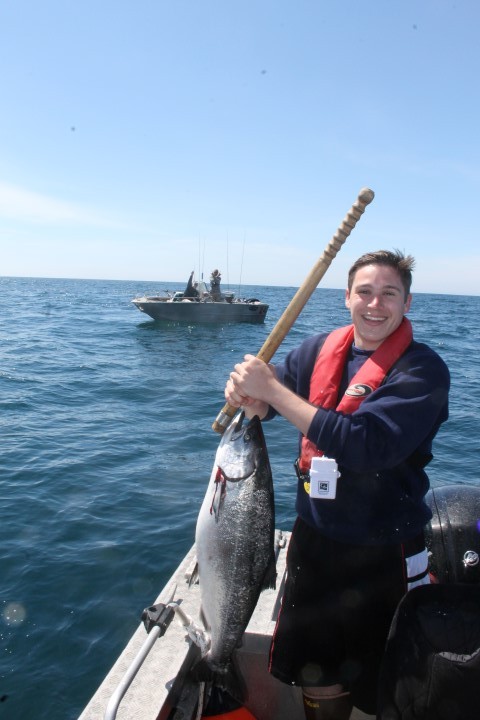 Our final day at West Englefield dawns and Wyman is behind the wheel, ready for another day off the Haida Gwaii coast! 
Fortunately, he didn't have long to wait for a chunky chinook and Wyman's largest chinook is now a respectable 26 pounds!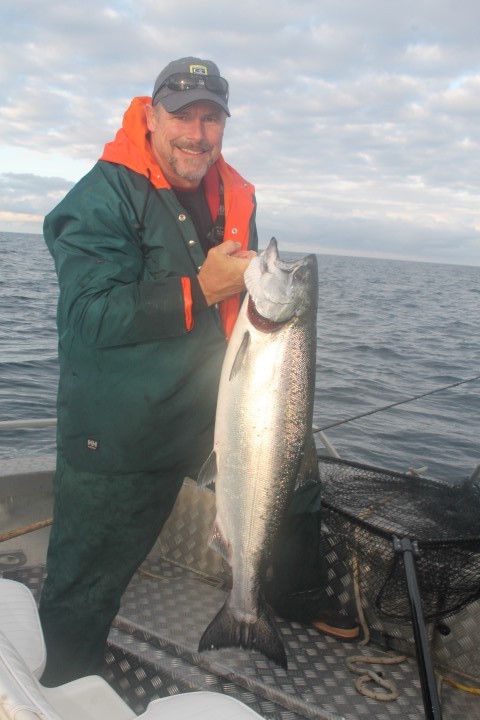 The cheerful, friendly crew at the dock meets us to grab the fish out of the boat for cleaning, processing, vacuum packing and freezing…
…and the next time you see your catch is at baggage claim at the airport!!!
Start to finish, top to bottom, I really cannot say enough about the guides, staff and support personnel at Englefield Bay. The level of hospitality and service that we experienced can only be described as West Coast Resorts style!!
Let me ask you a question and the answer need only require that you be honest with yourself: When is the last time you visited a place that you truly did not want to leave?
The Queen Charlotte Islands now known as Haida Gwaii have been scratched from the bucket list but will never fade from my memory.
Neither will my desire to return there.
Tom Nelson
The Outdoor Line
710 ESPN Seattle
www.theoutdoorline.com