Recent coastal razor clam digs excellent and San Juan Islands chinook fishery off to a good start Leave a reply
Razor clam diggers who rang in the New Year by hitting coastal beaches had plenty of celebration time with excellent digging success.
"It was good digging on just about every beach, and people were having a wonderful time," said Dan Ayres, the head Washington Department of Fish and Wildlife (WDFW) coastal shellfish manager. "I was out both nights (Dec. 31 and Jan. 1), and took my daughter out on New Year's Day to Mocrocks, and we were back at the truck in 20 minutes with our limit of clams."
Ayres noted razor clams at Mocrocks were nice in size, and folks were able to dig just before it got dark since the low tides occurred prior to sunset.
Turnout on Dec. 31 at Long Beach, Twin Harbors, Copalis and Mocrocks had 24,817 diggers with 306,116 clams; and Jan. 1 at Twin Harbors and Mocrocks had 8,206 with 114,420.
"It was great news that we had more than 24,000 diggers on coast (on Dec. 31), and great news they all did so well, but the bad news is they took more clams than we had anticipated," Ayres said. "What that means is we may have to shorten what we do down the road."
During the most recent digs the average at Long Beach was 10.2 clams per person (10,048 diggers Dec. 31 took home 102,176 clams); at Twin Harbors it was 13.3 (9,299 Dec. 31-Jan. 1 with 123,521); at Copalis it was 14.0 (5,639 Dec. 31 with 78,693); and at Mocrocks it was 14.5 (8,037 Dec. 31-Jan. 1 with 115,146). The daily limit is the first 15 razor clams dug regardless of size or condition.
The season total for 12 days of digging that began Oct. 6 is 87,379 diggers with 1,001,074 razor clams. Season average per digger is 10.8 at Long Beach (47,071 diggers with 507,450 clams); 12.4 at Twin Harbors (26,842 with 332,397); 12.6 at Copalis (24,791 with 311,833); and 12.9 at Mocrocks (21,698 with 280,271).
Chinook is hot topic this month in islands
The hatchery chinook fishery is off to a decent start in the San Juan Islands with plenty of larger-sized fish.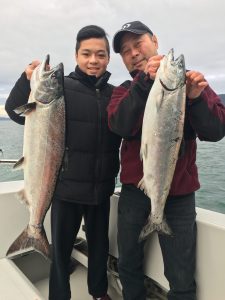 "My take is a lack of sub-legal chinook (fish under the 22-inch minimum size limit) compared to the last few years, which is good to keep the encounter rate down," said Derek Floyd, owner of Anglers Choice Fishing Charters in Anacortes, who has fished the islands every day since it opened on Jan. 1.
"That means the chances of catching a fish over 22 inches is a lot higher, which is really positive," Floyd said. "There are lots of fish in the usual suspect spots, and we've caught quite a few in the 10 to 15 pound range. But, remember just because you caught them in one place doesn't mean they'll be there the next day."
The San Juan Islands (Marine Catch Area 7) is open through April 30 for hatchery chinook, and offers some awesome scenery and wildlife viewing that closely resembles southeast Alaska's coastline.
Anglers this past week have been scoring catches of hatchery chinook, 8 to 15 pounds, off Thatcher Pass; Parker Reef and Point Thompson off the north side of Orcas Island; Peavine Pass and Obstruction Pass off Obstruction Island; Tide Point on Cypress Island; Waldron Island; Lopez Pass; and Presidents Channel.
This past weekend 102 boats with 334 anglers hit the water of the San Juan Islands for the Resurrection Salmon Derby – part of the NMTA's Northwest Salmon Derby Series.
In all, 50 hatchery chinook over 6 pounds (40 were checked-in Saturday and 10 on Sunday) were weighed-in. The winning fish was caught by John Squibb weighing 18.28 pounds and worth $10,000 plus $6,400. Not bad for a couple of hard days work on the water! Second place was Keith Hoffcamp with a 17.72 fish and a $2,500, and third was Darrin Small with a 16.34 fish worth $1,500.
In all most fish averaged a nice 9 to 10 pounds with good fishing found throughout the island chain, and sub-legal fish weren't that abundant, which is good news for keeping the fishery carrying on. Weather on Saturday was good, but fishing conditions due to winds were tough on Sunday.
Next up is the already sold-out Roche Harbor Salmon Classic on Jan. 18-20. This will be followed by the Friday Harbor Salmon Classic on Feb. 8-10. Derby details: http://www.nwsalmonderbyseries.com/derbies/.
Many are also eagerly awaiting the Jan. 16 opener of northern Puget Sound (Area 9), and the east side of Whidbey Island (Areas 8-1 and 8-2) could also open on the date and will be determined after WDFW staff and the sport-fishing advisory board meet on Jan. 11.
All three areas experienced a set-back in November when the chinook encounter rate for sub-legals skyrocketed, and often makes or breaks if anglers can fish for hatchery-produced salmon.
My sage advice is to go sooner than later, which will likely guarantee you more time on the water to catch hatchery chinook.
Go to places in Area 9 are Possession Bar, Point No Point, Pilot Point, Double Bluff off southside Whidbey Island, Midchannel Bank off Port Townsend, Foulweather Bluff and Craven Rock.
Closer to Seattle is central Puget Sound (Area 10) has been generating fair action at places like Southworth, Allen Bank off Blake Island, Manchester, Rich Passage, West Point, Jefferson Head and Point Monroe. The closure date for 10 is Feb. 28.
Lastly, don't overlook, south-central (Area 11), Hood Canal (Area 12) and southern Puget Sound (Area 13), which are all open now through April 30.
Further down the salmon fishing pipeline are the western Strait of Juan de Fuca (Area 5) opening from March 16 to April 30; and eastern Strait of Juan de Fuca (Area 6) opening from March 1 to April 15.