Trout fishing better than dealing with shopping mall crowds, and update on Sunday's Tengu Derby Leave a reply
While hordes of people will be hitting the shopping malls in the days to come, many others will opt out and head to a year-round lake to catch trout.
"It's going to be an exciting time to go trout fishing (and) certainly a much more wholesome activity than going to the mall," said Steve Thiesfeld, the Washington Department of Fish and Wildlife's (WDFW) inland fish manager.
A few years ago, WDFW decided to give their trout planting a face-lift by adding fish into lakes open year-round after anglers requested more time on the water in the winter.
This year's winter trout plants are down from previous years, but WDFW hatchery personnel began adding about 120,000 catchable-sized rainbow trout since early fall. This is also on top of spring fry plants where those fish are now growing into the "catchable" 8- to 15-inch range.
The "Black Friday" plants occurred last week with the bulk of fish going into southwestern Washington lakes as well as some in the Puget Sound region.
Those included Issaquah's Beaver Lake in King County that was planted with 760 rainbow trout averaging 1 ½ pounds.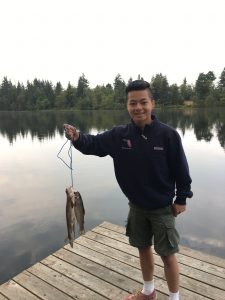 In Thurston County, Black Lake got 3,267; Long Lake received 1,002; and Offutt Lake got 1,006. In Pierce County, Tanwax Lake got 1,000.
In Pacific County, Cases Pond got 541 trout on Nov. 17.
Another plant of 5,000 trout will happen sometime next month at Goodwin Lake in Snohomish County.
In Pierce County, American Lake is expecting a plant of 2,500, and Tanwax another 1,000. These trout will average 1 to 1.3 pounds. In Jefferson County, Anderson will be planted with 1,200 this month.
Moving down to the southwestern region hit up lakes like Battleground, 2,000 and Klineline, 2,000 in Clark County; Kress, 2,000 in Cowlitz County; Rowland, 2,000 in Klickitat County; Fort Borst Park, 2,000 and South Lewis County Park, 2,000 in Lewis County.
In Chelan County, Roses Lake – a popular ice-fishing spot later in the winter – got a whopping 15,624 on Nov. 20, and Sidley Lake in Okanogan County another ice-fishing locale got 3,000 on Nov. 7.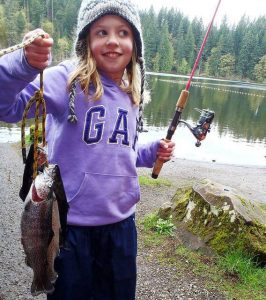 Fourth of July and Hatch lakes each received decent trout fry plants in 2016, and look for these trout to be in the catchable-size range this winter. Some Fourth of July trout are known to tape out at 20-plus inches, and is often iced over by early winter.
Lake Roosevelt above Grand Coulee Dam –a massive 130-mile reservoir – is another winter-time sleeper that is often overlooked. A net program generates 750,000 trout fry annually, and survival rate is superb with ample feed to help these trout grow fast.
For a comprehensive list of stocked lakes, go to WDFW website at http://wdfw.wa.gov/fishing/fall-into-fishing/. Weekly stocking reports can be found at http://wdfw.wa.gov/fishing/plants/weekly/.
Tengu Blackmouth Derby has new season leader
Here are the Tengu Blackmouth Derby results in Elliott Bay from Sunday that showed 15 members caught three blackmouth.
The weekly winner and now the largest fish of the season after three Sundays is Guy Mamiya who caught a 9 pound, 15 ounce hatchery chinook off Salty's Restaurant late in the morning.
Second place was Justin Wong with a 5-12 caught off the Elliott Bay Marina; and third went to John Mirante with a 4-10 he caught off the west waterway.
"We ran into some bait and a lot of shakers off Red Stack all morning," said Doug Hanada, Tengu Derby president. "My nephew caught a 20-inch, 21-inch and a 21.5-inch blackmouth there. (we) used up about
eight dozen bait for three of us. No action or markings off Duwamish Head."
The long-standing Tengu Blackmouth Derby started on Nov. 5 and Nov. 13 (Nov. 19 was cancelled due to rough weather), and is hosted every Sunday through Dec. 31.
The derby began in 1937, and up until 2015 was held every season since the end of World War II. Last season just nine legal-size chinook were caught during the entire derby.
In the derby, only mooching (fishing using a banana-style lead weight to a leader with a herring) is allowed. No artificial lures, flashers, hoochies (plastic squids) or other gear like downriggers are permitted. This winter the boundary has been extended to West Point.
Cost is $35 to join the club, and $5 for children 12-years-old-and-under. The derby starts at daybreak and ends each day at 11 a.m. The Seacrest Boathouse will be open at 6 a.m. every Sunday. Cost for rental boat from 7 a.m. to 11 a.m. is $65, and $85 for boat and motor. Tickets are available at Outdoor Emporium in Seattle.
Keep clam and dig up some razor clams
For those who like to dig into some fun be sure to take advantage of the next round of coastal razor clam digs, which have been approved for Dec. 1-4.
Digging will be open Dec. 1 at Copalis (minus-0.3 feet at 4:42 p.m.); Dec. 2 at Long Beach, Twin Harbors and Mocrocks (-1.1 at 5:29 p.m.); Dec. 3 at Long Beach, Twin Harbors and Copalis (-1.6 at 6:15 p.m.); Dec. 4 at Long Beach, Twin Harbors and Mocrocks (-1.8 at 7:02 p.m.); and Dec. 31 Long Beach, Twin Harbors, Copalis and Mocrocks (-1.2 at 5:12 p.m.).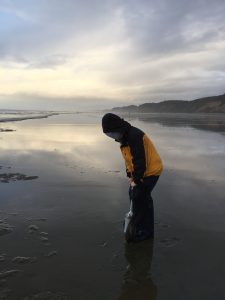 Diggers will find a mixed bag of razor clam sizes – diggers must keep the first 15 clams dug regardless of size or condition – and the key is if you're finding small ones in a certain area of the beach don't be afraid to move to another spot, according to Dan Ayres, the head state Fish and Wildlife coastal shellfish manager.
Despite the a mixed bag it looks like razor clam diggers are finding oodles of clams on coastal beaches.
"The most recent digs (Nov. 2-5) went well, and we had 27,770 digger trips with 366,484 clams dug," Ayres said. "That comes out to 13.2 clams per person."
A breakdown by beaches showed Twin Harbors had 5,268 diggers Nov. 3-5 with 73,215 clams for an average of 13.9 clams per person; Copalis had 4,904 with 52,541 Nov. 2 and Nov. 4 for 10.7; Mocrocks had 3m229 with 47,354 Nov. 3 and Nov. 5 for 14.7; and Long Beach had 14,371 with 193,373 Nov. 3-5 for 13.5.
"The crowds were lighter than we had projected and I'm sure the weather forecast scared away some from turning out," Ayres said. "The exception was Long Beach, which had more than expected, and the folks did quite well. Down the road we might need to back off at Long Beach, but the other beaches were fine."
After just two series of digs, Long Beach has harvested 36 percent of the total allowable catch for the entire season.
Another dig is planned on Dec. 31, and more digs for January and February will be announced very soon.
Ayres pointed out they're not seeing any issues with marine toxins like domoic acid, and are likely past the sensitive time of the year.
"We will go ahead with next digs planned in December, and then reassess to make sure we have enough clams for digs after the New Year and in spring," Ayres said.
Diggers should check for updates on next digs by going to http://wdfw.wa.gov/fishing/shellfish/razorclams/.