Break out the crab pots: Some marine areas reopen Saturday for winter Dungeness crab fishing 3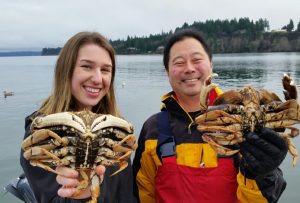 Great news for those who like to pursue Dungeness crabs!
The winter Dungeness crab fisheries are set to open this Saturday (Oct. 7) after summer catch assessments taken by state Fish and Wildlife showed enough remained in the catch quota.
"It was definitely not a good summer," said Don Velasquez, the state Fish and Wildlife Puget Sound shellfish manager. "As everything progressed (during preseason test fisheries) we knew it was going to be especially bad from Seattle southward, and that became more than true once the summer fishery opened except for red rock crab populations."
That downtrend in crab abundance has lead to the decision to keep Hood Canal, and central, south-central and southern Puget Sound (Marine Catch Areas 10, 11, 12 and 13) closed during the upcoming winter fishery.
Elsewhere marine catch areas that will be open daily from 7 a.m. on Oct. 7 through Dec. 31 are Neah Bay east of the Tatoosh-Bonilla line (Area 4); Sekiu (5); eastern Strait of Juan de Fuca in Port Angeles area (6); San Juan Islands (7) Deception Pass, Hope Island, and Skagit Bay (8-1); Port Susan and Port Gardner (8-2); and northern Puget Sound including Admiralty Inlet (9) except for waters south of a line from Olele Point to Foulweather Bluff.
The daily catch limit in Puget Sound is five Dungeness crab, males only, in hard-shell condition with a minimum carapace width of 6¼ inches. Anglers can also keep six red rock crab of either sex daily, and must measure at least 5 inches across.
All Dungeness crab caught must be recorded on winter catch cards, which are valid through Dec. 31.
Winter catch reports are due to by Feb. 1, 2018. Details: http://wdfw.wa.gov/fishing/shellfish/crab/crc.html.