Time to start making plans to pursue fall kings in Hanford Reach area of Columbia River Leave a reply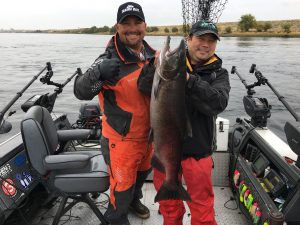 By Mark Yuasa
For those like me who missed out on the Buoy 10 chinook fishery at the Lower Columbia River mouth last month, you can still score a second chance to catch those exact same fish about 375 miles upstream.
"The fish counts for chinook have really shot up at Bonneville and McNary dams this past week, and I've got a good feeling we should see fishing really improve up near Vernita very soon," said Dave Graybill, a longtime outdoor radio host in central Washington.
"I fished the Columbia off the mouth of the Deschutes and Klickitat rivers, and we got into a pretty good bite," Graybill said. "These fish are on the move and were fresh and very active to take our baits."
While it is known that some of these king – better known as upriver brights – were picked off along the way, it is likely that many slipped by offering anglers another chance at encountering this decent return of 260,000 upriver bright chinook.
Last year's forecast was a bountiful figure of 589,000 although the actual return ended up being 406,600 headed to the Hanford Reach area in south-central Washington. Many anglers got spoiled after the 2015 return of 1.3 million, and runs between 250,000 and 500,000 are still very good.
The delightful news is 193,250 chinook had already passed Bonneville Dam through Sept. 14, and the tail-end of the king train is likely still somewhere down near  the mouth of the Cowlitz and extends way up to McNary Dam at Umatilla, Oregon where 25,274 were tallied to date.
Keep a close on eye on the fish counts at McNary and once the single-day counts hit around 5,000 to 9,000 it's time to go! On Sept. 13, the count was 1,575 and by Sept. 14 it jumped to 3,861. It usually takes about five days for these fish to migrate to lower sections and around 10 days or so to reach the upper stretches.
The Hanford Reach area offers anglers one of the biggest late-autumn returns of kings along the entire West Coast, and also offers a chance to hook and release a boat-size sturgeon.
What gets in the way of migrating salmon to this neck of the woods (well more like farmland mixed in with arid, high bluffs, desert-like sagebrush lands) are four dams.
After clearing the fourth dam is a spectacular 51 miles of free-flowing river located between the Yakima River near Richland and Priest Rapids Dam located at River Mile 390.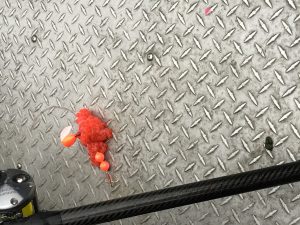 The kings here are also known to be big bruisers averaging 15 to 25 pounds with some pushing 40 pounds.
I had a chance to fish in the middle of last October which is near the end of a run that peaks in late-September to early-October with friend Graybill of Leavenworth, Eric Granstrom of Wenatchee and Austin Moser of Austin's Northwest Adventures in Wenatchee.
We launched from a rough gravel ramp just above Highway 24/Vernita Bridge on Columbia, and the fishing grounds are easy on the gas bill since the best fishing occurs right in front at a place known as the "King Hole," which was a deep slot about 50 to 60 feet deep.
There are other fishing holes like the Hog Hole, and the Midway Drift and China Bar Drift located above King Hole.
Our tactics was to slow troll and back-bounce our Spin-N-Glos (a brightly orange-colored winged bobber) and a gob of salmon cluster eggs the size of a tennis ball plus Kwikfish lures wrapped with sardines and smeared in a sardine scent jelly against the current.
Look for this fishery to continue to blossom in the years to come as a big upriver bright chinook production program at Priest Rapids and Ringold, and the wild chinook runs to this area remain robust.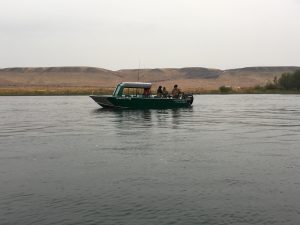 The Hanford Reach area still has strong numbers of fish coming back when you look at historical data. The spawning escapement of 60,000 at McNary has been easily attainable year in and out, and they've been able to meet their goals for more than a decade.
A report last week from Joe Hymer, a state Fish and Wildlife biologist, indicated fishing was very slow, but did show some slight improvement.  State fisheries staff interviewed 126 boats with 262 anglers and 16 bank anglers (Ringold access area) and sampled 13 adult chinook and two jack chinook.
Through Sept. 10, 105 adult fall chinook and 10 chinook jacks have been caught in the Hanford Reach from 2,105 angler trips. Effort and harvest has been much lower this year compared to 2016.
The fishery from the I-182 Bridge to Rock Island Dam is open through Oct. 22, and from Rock Island to Wells Dam is open until Oct. 15. Be sure to check the regulation pamphlet for specifics.
Mark Yuasa
Outdoor Line Blogger
710 ESPN Seattle