Anytime one ventures outdoors in search of fish or game and returns without learning anything, it is an opportunity lost indeed. One of my favorite aspects of this wonderful lifestyle we call hunting and fishing is the fact that no one can possibly "know it all" and as such, every single one of us can add to our knowledge base literally every day afield. That's a long-winded way of explaining my use of the word "matriculation" in the title of this post as I learned much on this hunt that will allow me to become a better deer hunter.
The planning of this hunt began in March when we applied for non-resident deer tags and then we had to wait until the November rut to make the 12+ hour drive to our Montana area. It was a uniquely challenging and fun hunt on many fronts from the minus 20 degree temperatures, the unfamiliar landscape, my first hunt using the Outlander 450L Max ATV and Lord willing, it will not be my last!
Mule deer or "muleys" as they are known to most hunters, get their name from an pronounced set of ears that are well suited to picking up any -and every- noise within a wide radius.
The first morning of our hunt we were "greeted" with temperatures in the minus 20 degree range and a breathtaking snowy landscape. We unloaded the 4-wheelers and got to it!
Vintage Montana: The landscape is littered with abandoned artifacts of days gone by. In this case, a loosely assembled pile of wood that was once someone's boat!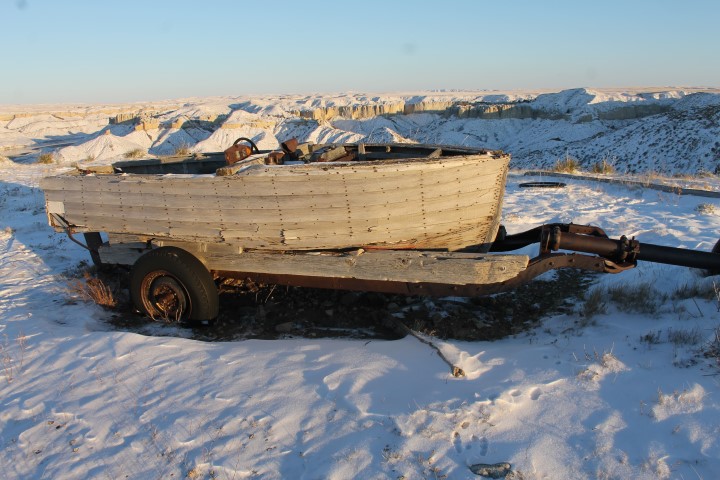 One of the most fun and unique aspects of this hunt was the use of our Outlander ATV's. We were able to reach remote areas and once we hopped off our energy was intact to fully devote to the hunt! Our Triton ATV trailer made loading and unloading the ATV's a snap and towed like a dream!
The trailer made long hauls on mountain passes and gravel roads look easy…until you looked at our license plate that is…
The State of Montana does a great job of opening up blocks of private land known as BMA's or Block Management Areas. Here Robbo signs in at the registration box allowing us to hunt the area.
Glassing, glassing and more glassing. Learning to pick an area apart and find an ear, antler tip, tail or patch of hair is an invaluable skill to a mule deer hunter. Patience and persistence is the key…and hand warmers…Brrrr…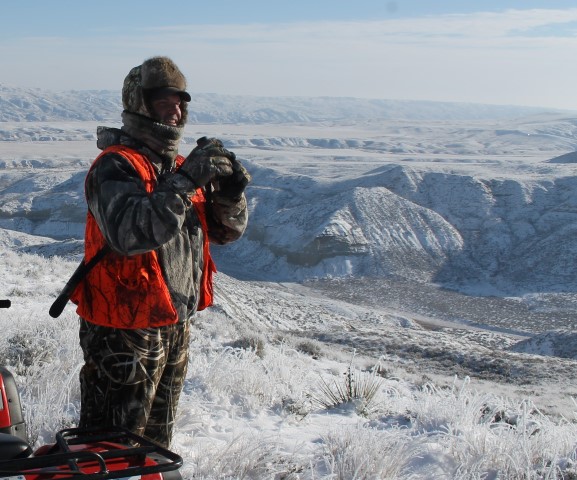 Robbo and his beautiful mulie buck taken on the final day of our hunt. Robbo passed up more bucks than I could keep track of and his patience and discipline were rewarded when he spotted and stalked this dandy deer!
Although I wasn't able to fill my tag this time around, I learned more by hunting hard each day of this trip than I would of otherwise. Learning what to look for and where to look is a huge part of the mule deer equation and seeing numbers of Montana mule deer each day is a great way to learn to spot deer when few are around. I'm looking forward to next hunting season to test what I learned on this hunt and to answer the challenge of becoming a better hunter!
Tom Nelson
The Outdoor Line
710 ESPN Seattle