I sincerely look forward to "show season".  I get to meet a whole bunch of new people and talk fishing and boating. The boating conversations often lead to answering questions regarding design and layout of various fishing hulls.
During these discussions, one of my recurring challenges is trying to effectively explain the importance -and effect- of reverse chine aluminum hulls to boaters who have never experienced their soft ride and easy handling. For decades, advanced hull designs have been the exclusive province of the fiberglass boat builder…but no more.
Introducing the Weldcraft 280 Cuddy King available at Master Marine     
What is reverse chine? Great question! Below you'll see a shot of this vitally important design characteristic. 
As you can see, the "V" entry of the hull is surrounded by a flat "step" also known as a "reverse" chine. The structure of the reverse chine lends strength and rigidity to the Weldcraft but it also provides lift. Not unlike the wing of an airplane, the reverse chine's lift slows the hulls descent into a wave, significantly softening the ride, reducing and in many cases eliminating pounding. In addition, as the Weldcraft enters a turn, the combination of lift and the chine outside the turn's suction, prevent an uncomfortable roll and allow a very controlled tight turn. Bottom line: If you've never experienced the ride of a reverse chine aluminum hull and you believe that fiberglass hulls "just ride softer" than aluminum hulls, you owe it to yourself to experience the ride and ease of control of a Weldcraft.
Sight lines through the boat are excellent. No blind spots here!
The bow is a very serious -and safe- work area. Non skid footing surface, welded heavy-duty cleats, rails and a raised coaming for the hatch just says it all.
Here's your fishing station: A rear helm with steering, gauges, twin main engine control, kicker control and a Simrad fishfinder GPS which also offers autopilot control.
The spacious, heated cabin offers ample leg room, head room, hand holds, soft-rider seats, VHF radio in the brow and the Simrad NSS12 Touchscreen which gives you a complete, integrated electronics system in one compact package.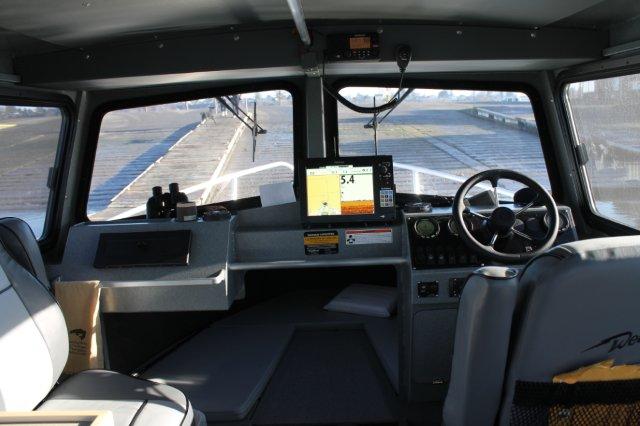 The rear deck? It's all about fishing room! We're talking ten feet from the back of the cabin to the front of the transom!
I almost feel sorry for that Cannon Downrigger…it looks lonely there on the gunnel all by itself…
Weldcraft 280 Cuddy Cabin Specifications
Length:                 28 feet
Beam:                  102″
Sides:                    40″ x .160″
Bottom:                 96″ x .250″
Deadrise:              60 degrees at bow to 20 degrees at transom
Dry Weight:           5756 pounds
Fuel Capacity:      160 Gallons
Max HP Rating:    500 hp
Power installed:  Twin Evinrude 250 E-TEC Counter rotating
Come see this Weldcraft in the Master Marine booth at the Seattle Boat Show January 24 through February 2. We'll be taking names for test drives! Who's up for a spin???
Tom Nelson
The Outdoor Line  
710 ESPN Seattle