I just returned from a fulfilling mule deer hunt in the Missouri River breaks of Central Montana. Hunting here means hours and hours behind the glass searching for mule deer in the open sage country of the breaks. A great set of field glasses, a spotting scope, and an eye for locating deer is a must in this country.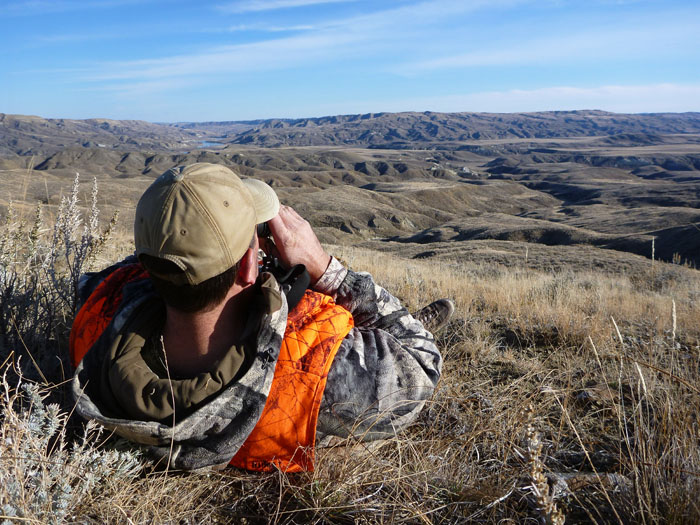 My eyes are accustomed to gazing thru my binoculars for long periods of time and I'll usually use them to locate deer at great distances before I jump on the spotting scope to take a closer look. In this country a spotting scope gives you a huge advantage in determining whether you want to go after a buck or take a pass in hopes of a bigger one.
I happened to grab the photo below by placing my small digital camera over the eyepiece of my spotting scope. I spotted this buck in his bed at around 900 yards.  It was one of many on this trip.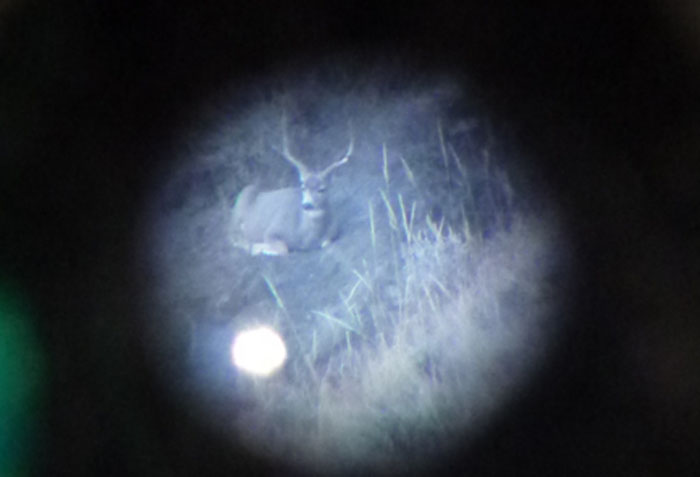 After you find a mule deer that you want to take comes the hard part…closing the distance. My good friend Jim Heins and I spotted a good 4 point from around 500 yards away and then Jim used the cover of a knoll to close the distance to 250 yards. You can't just walk up on a knoll like this and shoot your buck though.
Deer that live in open country depend on their eyesight just as much as their sense of smell to detect danger. Even the sight of the top of your hat peaking over a ridge can send them hauling ass for the next county.
Once Jim got to the knoll he was going to shoot from he slowly pushed his pack and rifle up to the edge of the small ridge to get in position for a shot. There's also plenty of cactus here, which can literally be a pain in the ass when you're putting the sneak on a mule deer.
Luckily I was along to range this mule deer at 245 yards before Jim took the shot. He used a Kimber .300 WSM with a Leupold VX-3L that was nothing short of a tack driver. This load carries plenty of energy to knock a muley down at great distances.
Here's a little better view of the ravine Jim was shooting across. The mule deer was standing at the top of the dark patch that looks like "Z" on the right side of the ravine. This is a chip shot for a .300 WSM!
Jim made a perfect shot and the mule deer went down immediately. Off we went to go check it out.
This deer was down alright…all the way down in the bottom of the canyon. Here's Jim looking down to the bottom of the canyon where his first deer is laying.
Jim "Bucket" Heins first deer turned out to be a heavy-bodied 4 point with a single eye guard. All that time at the rifle range payed off for this happy hunter. Not too shabby Mr. Heins!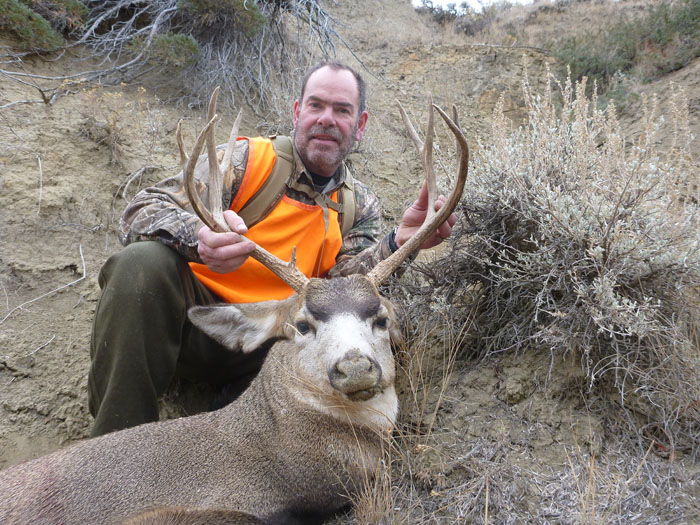 Jim cutting his Montana deer tag before we field dressed his muley and hauled it out of the canyon. It took some work but before too long we had it back up to the road where we could pick it up with one of the four wheelers. Well worth the effort if you ask me and Jim was more than happy with his first deer.
I've hunted deer most of my life but I hate to admit that this was my first out of state deer hunt. It definitely won't be my last though. The hunting was very challenging and on average I would see around four to five bucks a day with a couple of good shooters in the bunch. For the guys with little to no experience hunting deer that daily buck count can quickly go down to a single buck a day or less. These animals blend into their environment perfectly and more often that not if you see them…they see you!
Thanks for stopping by and good luck on the remainder of your hunting season everyone. Go get'em!!!
Rob Endsley
The Outdoor Line
710 ESPN Seattle
www.theoutdoorline.com