It's hard to find the words to describe what awaited anglers at Midchannel Bank on the 2013 Marine Area 9 & 10 selective chinook opener…
With reports from the earlier opening areas -namely Sekiu, Port Angeles and the San Juans ranging from solid to white hot, I know I wasn't the only eager angler tossing and turning on the eve of the opener! I couldn't get to the boat fast enough, due in part to the fact that I had to hustle my wife Kathy and son Matthew out of the house at 0400… Not an easy task in anyone's household I'm sure…
The only thing tempering my enthusiasm for the opener -coming on the largest hatchery chinook forecast in over a decade- was a goofy, mild flood morning tide. Some anglers couldn't wait until daylight and ventured out in the dark, hoping to catch an early fish on the quickly fading pre-dawn ebb. For the most part, the early anglers could have slept in an hour because the mid-morning flood brought with it something that I can only refer to as Midchannel Mayhem!!!
After landing only half of our opening double, the bite was so rapid, we could only get one downrigger in the water at a time! Bailey the black lab licks her chops at what will soon become her favorite…smoked salmon skins!!!
Now with three in the box and my back turned to my wife's downrigger, I heard line just peeling from the Daiwa Saltist 30..
."What the heck dear?" Kathy screams, "…the rod was bent while it was in the 'rigger and then it just doubled over!!!"
"That's a big fish Kath," I said as I slowed the boat and cleared the gear… "Let's take our time with that one"…
We did take our time but I was a little impatient with the net and tapped this king on the tail, which led to a scolding from my wife but the smile on her face holding this 26 pounder says it all!
Kathy and our son Matthew -who also is our Producer/Board Operator on The Outdoor Line Radio Program on 710 ESPN Seattle- hold up the last two fish of the day. We're limited and headed home by 0850hrs!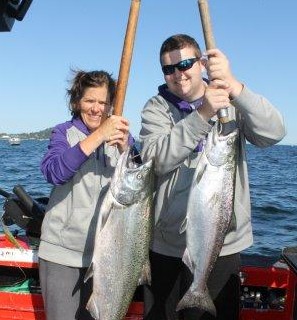 I was feeling pretty good about our day…until the phone rang… It was my friend Nick Kester of All Star Charters: "Hey Nelly, can you come by and get a boat picture! We've got our TEN KINGS and we're all done!
Wow…so that's what a ten chinook morning on Puget Sound looks like…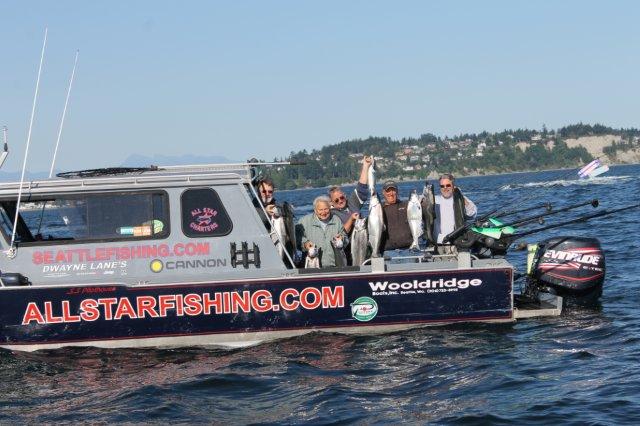 Back at the dock, the wife and I stop for a quick pic before the work begins…
You can't clean fish on the waterfront without attracting a few spectators… Here, Bailey the black lab has a word with the friendly neighborhood harbor seal.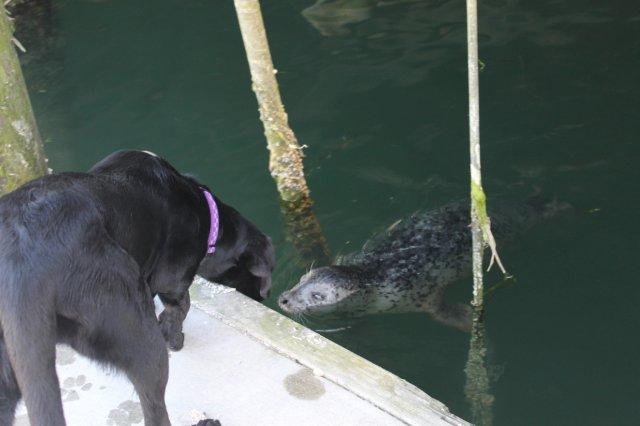 All of our kings were full of candlefish which appear to be bigger on Midchannel Bank than in years past. Four inch spoons and squid are not too big this season!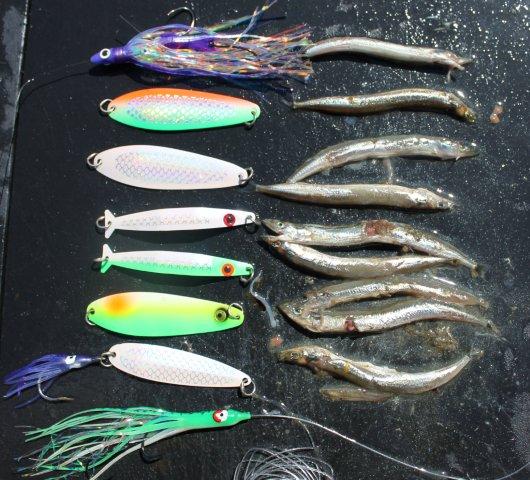 We'll be back out in the morning and we'll keep The Outdoor Line's Fishing Report Page fresh and up to date!
See you on the water!!!
Tom Nelson                                                                                                                             710 ESPN Seattle                                                                                                                   www.theoutdoorline.com