The Best Salmon Chips EVER… 2
Every once in awhile, through trial and error, you come up with something pretty good. That would be the case with my Salmon Chips. Only this time, I came up with something Damn Good….
I started making'em for the guys at work a couple years ago and kept refining it until I had a recipe that has the ability to turn fish-eating nay-sayers into "Salmon Lovers".
It's really nothing new, I mean "Fish & Chips" have been around forever. For some folks, Salmon Chips are a pretty recognizable staple in their diet. For others, "Salmon Chips" generate a far off stare as if I am the biggest idiot ever. " You can't make Salmon into Fish & Chips", is usually the response. I simply reply, just keep an open mind and give it a try. The eye opening experience with the first bite, is just that… an eye opening experience.
OK, so how do we make'em….
I think it is important to serve any fish, cooked as a chip, absolutely boneless. This takes a little time but is well worth the effort. After you have your salmon fillets, you need to take the time to remove the pin-bones. A small pair of flat-nose or needle-nose pliers work well.If you are not sure exactly how to remove the pin-bones, here is a helpful quick video. "Remove Pin Bones"  Next you'll want to remove the skin off the back side of the fillet and be sure to remove the excess brown fatty meat.
With the bones and skin removed, you simply cut your clean salmon fillett into large chip size pieces.
I will generally do this in the morning so that when I am done seasoning the pieces, I can put it in the refrigerator for the better part of the day. This allows for enough time to ensure that your seasonings absorb into the meat. This in turn makes for a much more favorable chip.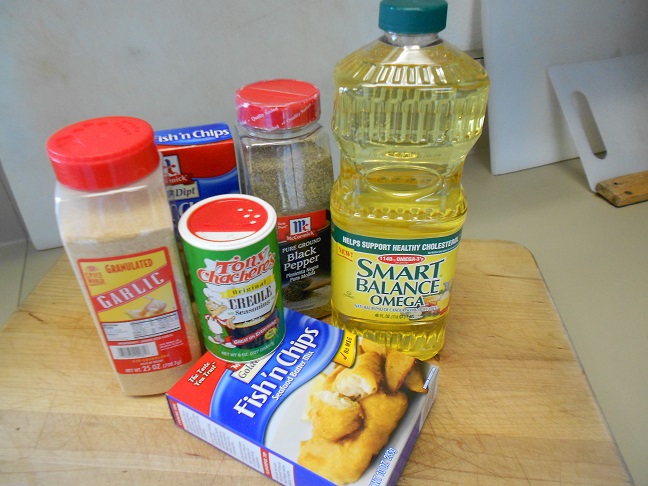 Here is were the rubber meats the road. For me, this makes all the difference in how your Salmon Chip will turn out flavorful, lightly breaded and with very little to no oil in the fish.
My choice of seasonings are pretty simple, Pepper, Garlic Salt and "Tony Chachere's original Creole Seasoning". If I want to make my Salmon Chips with a little extra bite, I'll also add Tony's Cajun seasoning as well. Season your chunks of fish generously, as you want the flavor to wake up your taste-buds…
I like to use McCormick's Fish & Chips batter. The key here is that you need to make sure you mix it thin. Extra water in the batter, is a good thing. I like a very thin layer of batter coating my fish. We have all had those pieces of fish, heavily caked in dough, soaked with oil and lets face it, they taste nasty.
A light coating of batter means that you won't have a ton of extra oil soaked into your chip. I also use a very light oil. I like the end product I get when using a light blend of Canola Oil and Light Olive Oil, made by "Smart Balance omega".
I heat my oil in a large sauce pan, on the stove top. A medium high heat usually gets the job done. I'm not trying to flash-cook my fish, I want it a bit slower and controlled so I end up with golden brown pieces of fish.
I cook the pieces of fish, until they turn that light golden brown texture I'm looking for. Then I remove each piece and place them on stacked paper towels. This helps to draw any extra oil, out of the fish.
With paper towels underneath, I'll continue to place more paper towels on top and continue to stack on more fish. I keep adding layers until all my fish is cooked. Stacking the fish on paper towels and covering the top with a piece of foil actually keeps the fish warm until they are ready to be served.
Spicy Salmon Chips with some Sweet Potato Fires and Cole-Slaw…. It doesn't get much healthier then that for "Fish & Chips". More importantly, the flavor will make you think twice about ever going back to Cod, when it comes to choosing what type of fish to consider to make your chips….
Bone Appetit ….