All that dad and I brought with us blackmouth fishing on Puget Sound today were our mooching rods, some sinkers, and a couple dozen fresh herring from Narrows Marina.
Reports of rock solid winter blackmouth fishing in Area 10 have been trickling in to the Outdoor Line for the last couple of weeks and I just couldn't take it anymore. I knew that if fishing was that good I could get'em to bite a cut plug herring served up old-school style.
Yesterday I bolted on my new Lowrance HDS 7 Touch to the sled and hollered at dad to make a couple of lunchs…we were going mooching.
State of the art electronics make a world of difference when you're mooching for salmon. I know this first hand, as the Lowrance gear I have on my charter boat in Alaska has put a lot, and I mean a lot of fish in the boat. You can spend a lot of time straining empty water or you can fish the high percentage areas that are full of bait and fish.
Part of using a good sonar is understanding what you're looking at though. There's a salmon center stage in the photo below and another one on the right side of the screen, right on the bottom, chowing down on bait. I was licking my chops when I saw this.
Dad and I dropped our baits into this mess and were immediately rewarded with a double header. A double header on mooched cut plug herring…we were laughing!
Dad was fishing with an orange kidney sinker, a standard in Southeast Alaska, and I was using a green 4 ouncer. His rod went cold immediately after the first hookup while my green weight just kept getting bit.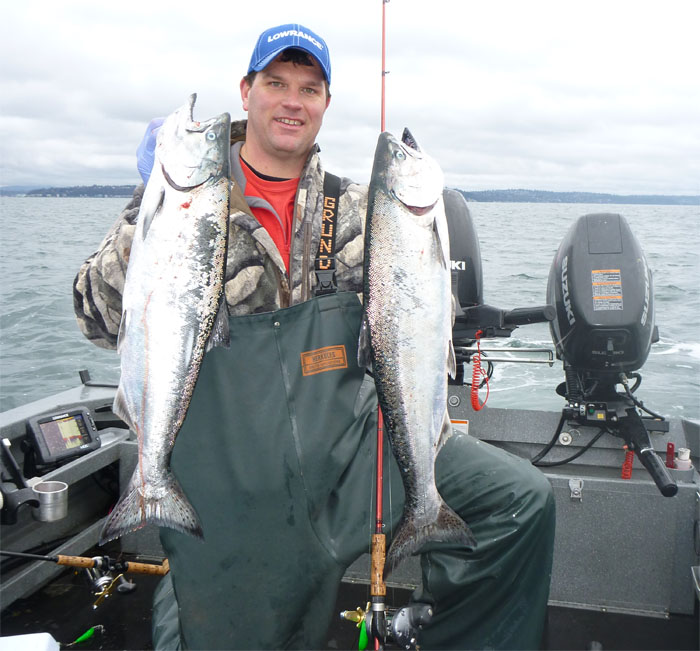 We gave it a while just to make sure it was the lead and sho'nuf, it was his orange lead. For some reason these fish weren't digging the orange, so I switched dad over to a green 4 ouncer and he was on a fish almost immediately.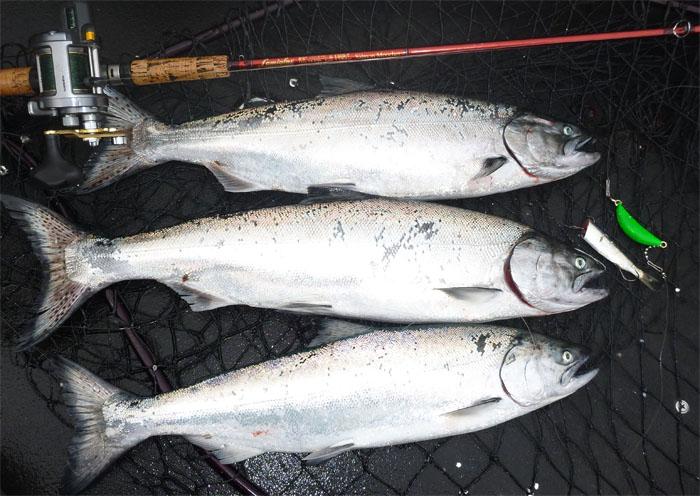 By the time we went thru two dozen herring we had landed three nice keeper blackmouth, released half a dozen shakers, and missed quite a few more bites. Dad even took home a nice, fat sole to fry up for dinner tonight.
How did we find these blackmouth? Basically, I would putter around on the kicker motor until we found a large school of bait and then we would stop and work our baits up and down close to the bottom around the bait. This is when having great electronics gives you the ultimate edge.
One key point to mooching is to always keep some line angle and keep working your baits. We were constantly dropping our baits to the bottom and reeling them back up 15 to 20 feet, right in the blackmouth zone. The bites came both on the drop and reeling up. The Lamiglas Salmon Moocher rods that I use telegraph everything. You can detect a bite from even the smallest shaker.
I tied up some 7 foot leaders with 15 pound Maxima Ultragreen and two 3/0 fine wire Mustad hooks that are soooo perfect for mooching. Flourocarbon would also work great for this. In the winter I would keep it light and keep it limber though. Frozen herring will work, but fresh herring from Narrows Marina is da bomb and it works a LOT better.
Blackmouth fishing has been outstanding on Puget Sound this winter and one would expect Area 9 to be quite productive when it opens up on January 16th.
There's a lot more productive ways to catch blackmouth, but anytime I can get them mooching I'm a happy man. If you've got a spot that you suspect has some blackmouth I recommend you give this technique a try. I know you'll like it!
Rob Endsley
The Outdoor Line
710 ESPN Seattle
www.theoutdoorline.com