The mid twenty-foot range of boats is a popular, crowded and quite competitive marketplace. Within the reach of many boating families, the successful hull in this range is quite often called upon to be a stable & safe platform for fishing, camping and water sports. While many hulls claim to function in a variety of operational modes, it is a rare hull indeed that is truly up to the task.
Enter the Weldcraft Cuddy King 24
Note the pronounced reverse chine design. Hulls without this vital feature will pound in a head sea and roll noticably in turns. Reverse chines provide a combination of lift and suction that stabilize the boats ride, resulting in a more comfortable and safe experience aboard.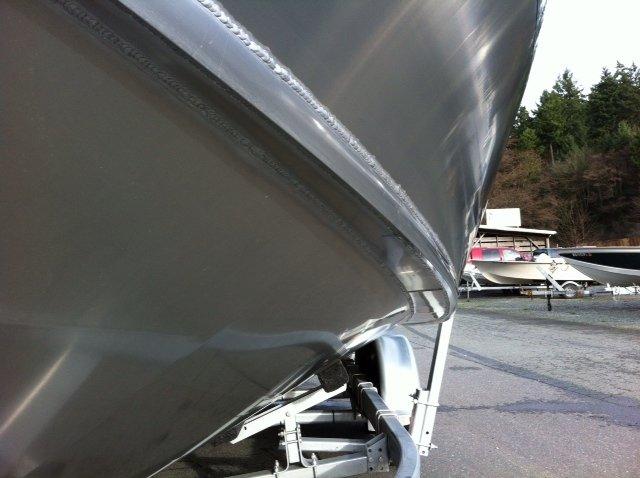 The Cuddy King offers unexpected amenities, the finest ride characteristics, and more room to fish and relax; all skillfully brought together with signature Weldcraft style. With a steep 60° bow entry, upswept bow, and true reverse chine on a wide 8′ bottom, the Cuddy King features first-class ride characteristics. In close quarters, the handling is superb thanks to wide-open visibility, easy-to-operate controls and the ability to turn on a dime. The Cuddy King was designed with cabin flexibility in mind, offering standard cabin models and endless options for a marine head and galley configurations. Additional features include a trailerable 8-1/2′ beam, .190 rear deck metal floors, optional 175 gallon fuel tank, and single or twin outboards.
Rather than offer a few fixed designs, Weldcraft let's you design the cabin that fits your needs perfectly. There are several cabin lengths to choose from and 16 different interior configurations to select. Everything from marine heads, to reversible dinettes, to cook stations and seating variations are available.
Check out the Weldcraft Cuddy King 24 in the Master Marine booth at  the Seattle Boat Show or on line at  http://www.weldcraftmarine.com
Tom Nelson                                                                                                                                   The Outdoor Line                                                                                                               710 ESPN Seattle                                                                               www.theoutdoorline.com