The early December sun had not yet crested the Cascades as I drove north to Anacortes to meet Robbo and Duane for our run to Friday Harbor and the 2012 edition of the Resurrection Salmon Derby.
As I exited Interstate 5, turning west on Highway 20, memories of our, uh,…experience at the 2011 event were spinning around in my head and I was seriously looking forward to getting into some San Juan winter chinook.
We quickly launched our 28′ Stabicraft "Big Red" at Washington Park in Anacortes and scouted a few locations on our way to Resurrection Derby Headquarters, Friday Harbor.
Even in winter, Friday Harbor is an inviting, scenic and unique location for a salmon derby!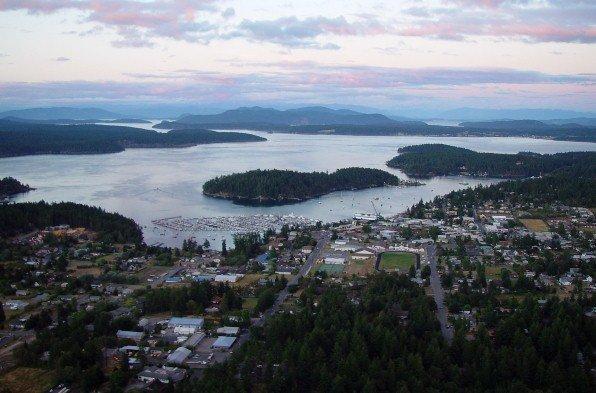 We checked in at the Best Western Plus and headed down to the Captain's Meeting where we received an review of the rules and exchanged barbs with the other angling teams. The morning couldn't come quick enough!
After the Shotgun Start, we headed for the west side of Orcas Island and were quickly into a big fish… which we lost. The first fish to find the net was wild and gave Robbo the "stink eye" as he removed the Coho Killer from it's grill.
It's always nice to have something to weigh in on day one of a derby! Here's Robbo and Duane with the two hatchery fish we kept. Wild fish far outnumbered clipped fish aboard Big Red for both days of this event.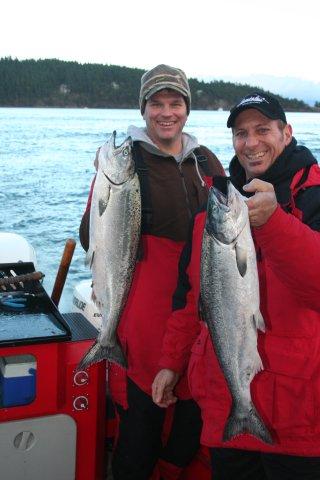 After broadcasting live from The Best Western Plus Friday Harbor Suites, the derby fleet had a head start and as soon as we pulled in, there were fish on!
Fortunately, the fish were still into a biting mood when our gear reached them. Here, Duane Inglin reaches for a winter chinook!
Try as we may, no one could top the 15.5 pound specimen hoisted by Bob Norling which would end up taking the $10,000 first prize!
Bob Norling and Mark Shinman of Anacortes hang on to the $10,000 big fake check in 3rd annual Resurrection Salmon Derby!
The Resurrection Salmon Derby in Friday Harbor is fast becoming my favorite stop on the Northwest Salmon Derby Series trail. I hope you can come up next year and see what I mean!
Tom Nelson
The Outdoor Line
710 ESPN Seattle