One of the benefits of being a team member that makes up the Outdoor Line crew, is that we get to take folks out from time to time, doing what we love. We don't just show up every Saturday and talk about it, we put our time in on the water or in the woods. Some of our days are more successful than others, that's just the way it goes. That being said it's all about gettin' out and doin'.
Today was one of those opportunities to get a couple of our show sponsors out on the water for an anticipated Area 9 assault. We had Jim Spane of Spane Buildings, and Anders Gidlund of Truck Vault with us on Big Red.
Nelly and I met the guys in the Port of Everett, climbed aboard Big Red and we were off and runnin'. That would be about 50 minutes of runnin' on over to Mid Channel. The morning started out nice a calm and pretty much stayed that way all day.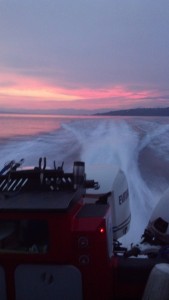 This was also a great opportunity for Nelly and I to get out and put the new Lamiglas Keni Kwik 10'6″ 15-30 rods to work. And work they did, especially if you consider a battle with a 400lb. Sea Lion giving a fishing rod a quantifiable test drive. More on that later….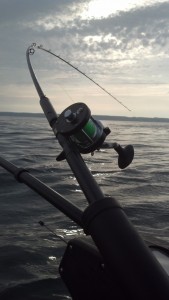 The morning progressed along at a great pace, hooking up consistently on just about every pass. Jim and Anders, were having a great time, catching a few and losing a few "right Anders"… Just kidding, Anders actually boated the largest Nook of the morning,which was great as it was his first Salmon ever.
We ended the day going 5 for 9. One was lost during a double, or more accurately a double cluster. The others just came unbuttoned because it's Salmon fishing and that's what happens when your fishing salmon… Doh..  The most exciting and exhausting fish of the day, hands down, was the victory over the Sea Lion. Anders had the fish on and doing the best he could to get it in. The Sea Lion came out of no where and grabbed Anders fish. This motivated Nelly to start screaming orders. Which prompted everyone to begin doing what needed to be done.  I got the other rod and down rigger stowed, Nelly was on the motor, he handed me the rod as he said, "we will not lose this fish to a Sea Lion". The long and short of it was, due to ten minutes of complete mayhem, we won. When the battle was over, the seal, basically had a look of surprise and confusion on his face.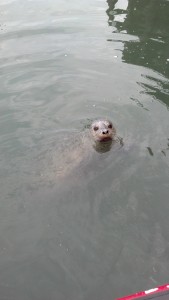 The battle was epic and went on for at least ten minutes. We managed to get the fish, undamaged by the way. You'll need to tune into www.theoutdoorline.com on 710 ESPN AM, Saturday morning 6:00-8:00am to here the whole story. Find out how to win the battle against our number one salmon thief.
It was a great day to be on the water. Anytime we, at The OUTDOOR LINE , get out and do our thing, life is good. The reward for the effort isn't half bad either.
And when I'm fishing with Nelly, I always seem to go home with a nice bounty…
Thanks Boss, we'll do it again soon….
Duane Inglin 710 ESPN
theoutdoorline.com