Skagit Flats Freeze-up Ducks! 6
I hung up the phone and opened my mouth to tell my wife what was going on… She knew without me uttering a single word.
"You're nuts!!!"
Kathy had just weighed in with her opinion on my tenuous grip on sanity. "You're going out duck hunting in this weather???"
"Honey, this weather is exactly why we're heading out duck hunting!"
The phone call that set this hunt in motion was made by my good friend Larry Stauffer who has a Duck Shack on the lower Skagit River. Larry had been keeping a sharp eye on the weather and the same "Arctic Blast" that gridlocked area roads also "locked up" all the standing water, leaving the bay front as the only open water in the area.
Puddle ducks such as mallards, pintails, widgeon and teal all must have open water as they dabble to feed on seeds, rootlets and tubers of aquatic plants off of swamp and river bottoms. Since the Skagit Flats held the only open water in the area, most of the ducks in the drainage were,… you guessed it: hanging out down at the Duck Shack!
The cold weather front also jumpstarted the migration of the "Northerns" or ducks from central and northern British Columbia prairies. What fired us up was a rare opportunity this early in the year to get the birds and the right weather at the right place at the right time!
We settled in at the Duck Shack and our dog Dakota made sure I was placing the guns correctly in the rack.
Larry built the Shack and decorated it appropriately for the "Man Cave" on the river that it is!
With the dekes set up we climbed into our blind and we didn't have long to wait!
Dakota with a mouthful of mallard drake! This scene would be repeated quite a few more times during the day!
Larry shows off a fine brace of drakes and we have our limit before 11 o'clock!
One of our mallards was sporting a US Fish and Wildlife band. We will get the band location info and post it in a future blog.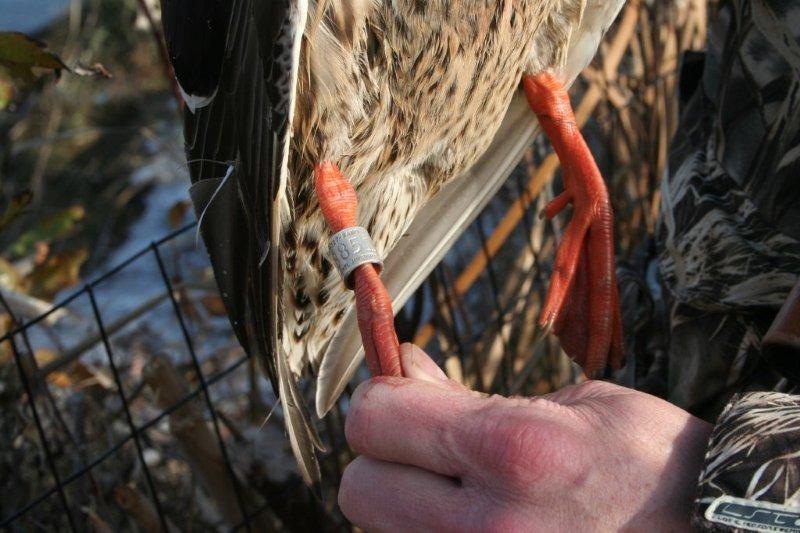 As we left Fishtown, the river shacks were incased in ice which gives one pause since it's not officially winter for almost a month!
A major part of this wonderful game we call fishing and hunting is taking advantage of both geography and meteorology. When weather conditions exist that concentrate fish and game in predictable locations, it's "Hammer Time"! With the La Nina winter upon us it will be our challenge here at The Outdoor Line to keep you informed and in the right place at the right time!