D.I.Y. Flyfishing at Canyon River Ranch 5
My luggage has been packed for three weeks now. King salmon on the coast, mule deer in the Okanogan, honkers at Potholes, blacktails on the Oly Pen, and just as I'm unzipping my travel bag to empty out a backlash of hunting and fishing attire my new Droid does-everything-but-dishes phone buzzes half away across the counter top with a new message. Hmmm, an invite to fish at Canyon River Ranch on the Yakima River. Sign us up!
My wife Nicole is a teacher and had been in exhaustive school conferences all last week and needed a break. I called ahead to Red's Fly Shop located right at the lodge and spoke to guide Joe Rotter, who is a routine guest on the Outdoor Line, about floating the Yak with him and he was already booked with a steelhead trip on the Wenatchee.
I've got a driftboat and two five weights. With that and a lot of advice from the guys at Red's Fly Shop we had all we needed to pull off a do-it-yourself flyfishing trip on the Yakima.
Canyon River Ranch is situated 13 miles south of Ellensburg in the scenic Canyon stretch of the Yakima River. The Yakima is Washington's one and only blue ribbon trout stream and Canyon River Ranch is everything you'd expect from a bucket-list flyfishing lodge. It's a little slice of Montana just two short hours from Seattle.
We were greeted by friendly staff when we rolled into the lodge Saturday afternoon. How could you not be friendly working at a place like this?
The grand room at the lodge is perfect for weddings, holiday events, work retreats, flyfishing groups, or just kicking back. It has a huge kitchen, dinner table for who-knows-how-many, an outdoor barbecue, and yet another large deck overlooking the pool, grounds, and the river. No less than ten mule deer were playing on the cliffs across from the lodge the afternoon we checked in.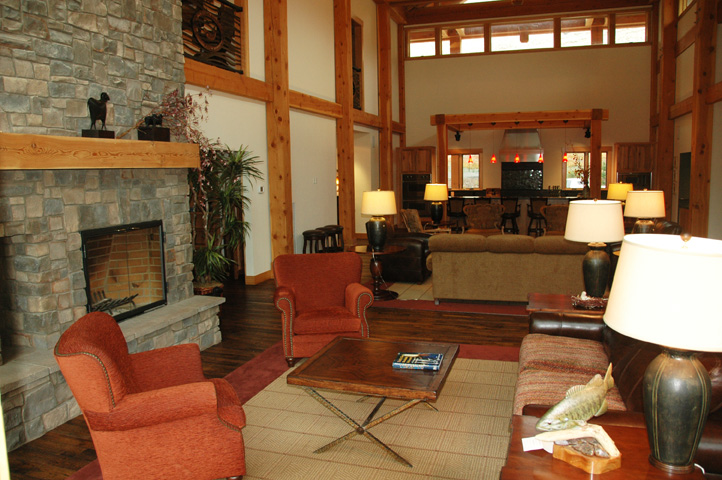 I quickly found the billiard room upstairs, complete with a plasma screen for watching football and a large deck overlooking the river and grounds.
The sitting area in our room was like a mini-lodge. Our room had a full kitchen with dishes, silverware, and it even had a dishwasher.
Our room had an uber-comfy queen bed and a second bedroom with two single beds, along with a full bath and a half. It was perfect for a small flyfishing or bird hunting group or a family.
The "old" Red's Fly Shop is right next door, where it's been for many years. They're building a new fly shop and cafe next to the ranch that should be open by spring time. You'll be able to pull into the cafe on your float and grab some lunch or a mocha. How convenient is that?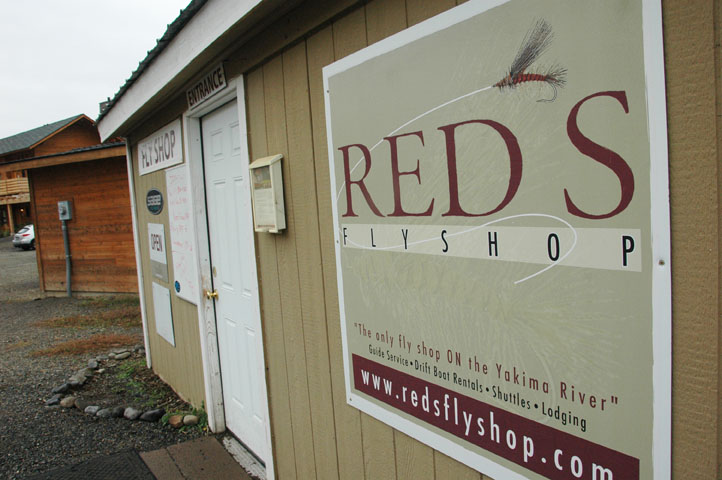 Can you see the bug in Derek Dewey's hand? Probably not. The last time I saw a critter like this it was flying up my nose in Southeast Alaska. Saturday afternoon I charged Derek with selecting the right bugs for the weekend and lining us up with a short float and shuttle. These guys are nice people and service was excellent.
My wife had only flyfished once, briefly, before this weekend. You see, she only has one arm, with a prosthetic serving as her right arm from the elbow down. After leaving the fly shop for the short drive up to the mile marker 20 launch we were chattering away about how she was going to cast when we both simultaneously looked over at a gentleman wading and fishing the river-with ONE ARM!
RRRRRRRRKK! I slammed on the brakes and we jumped out of the truck to holler at the gentleman, who turned out to be Evan Gallagher from Seattle. What are the odds? He was more than happy to show Nicole his technique and while we watched him he hooked up on two trout, landing the second one. Thanks again for the advice Evan. We hope to run into you again sometime.
Evan is all smiles after landing a Yakima River rainbow trout.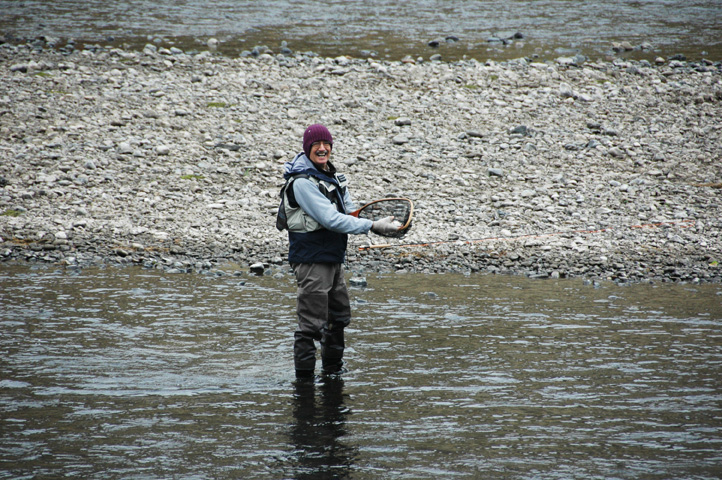 Back at home pulling on the sticks. We launched at 3:00 p.m. in the afternoon on Saturday and headed downstream towards the Umtanum takeout 3.5 miles down river, where my truck would be waiting for us.
I gave Nicole a quick lesson in the mechanics of flyfishing and she jumped in without hesitation. With the hand-eye coordiniation of a former athlete it didn't take her long to mesh casting cadence with timing and she was drilling a high percentage of her casts right off the bat.
An hour into our float her strike indicator rocketed off to the side as a rainbow trout bolted from it's cover behind a gurgling rock and snatched up the size 20 nymph. It was jumping wildly around the river as more and more slack line piled up next to the boat. Hmmmm-we hadn't covered what would happen when a fish was actually hooked. After some screaming, laughing, and mild frustration the fish spit the hook. Nicole was all smiles. Flyfishing with one arm and hooking trout. Roger that!
She hooked several more trout that afternoon and while they all got away after short battles we might have established a new passion. "Honey, this is sooo much fun. Where can we do this at home? Now I see why Kate enjoys flyfishing so much." Looks like we'll be ordering up some custom fly rods here soon.
We pulled out at dark and headed back to Canyon River Ranch for the night. After an awesome steak dinner we plunged into the hot tub near the river and relaxed with some Abuelo rum and red wine. Was it just me, or did it seem like we were further away than this?
Our itinerary for Sunday was a 5.5 mile float from the launch at mile marker 20 down to the lodge. This stretch has tons of great fly water and Nicole did an expert job of picking it apart. She even spooked me a little early in the float by spotting a boil marking a submerged rock and quickly placing the nymph and strike indicator behind it. A trout jumped all over it and went wild. Yup-we'll be ordering up some fly rods!
Here's Nic late in the day cranking on a foot long trout in a beautiful run about a mile above the lodge. She would hook her prosthetic under the rod and crank the fish in. Very difficult, but after doing it fifteen other different ways this seemed to be working.
Taking line!
On our Sunday float we spotted no less than thirty bighorn sheep along the river. They were absolutely everywhere! Check out this brute that was hanging out just above the river. The Yakima is alive with trout and wildlife.
This great blue heron is sporting some of the best spey hackles imaginable on his chest. Pretty bird-now give me your feathers!
Robbie Tobeck and I have batted around the idea of hosting a trip to Canyon River Ranch next spring to experience the Yakima's outstanding flyfishing with the gang from Red's Fly Shop. If you're interested in such a trip let me know and we'll get rolling on it. The entire experience this past weekend was just what Nicole needed to recharge the batteries and head off to work this morning with a smile. Heck, somebodies gotta have a job around here : )
Rob Endsley
The Outdoor Line
710 ESPN Seattle
www.theoutdoorline.com