Who's afraid of the BIG BAD WOLF??!!! 11
On behalf of deer and elk populations everywhere as well as our friends the farmers and ranchers I am proud to stand up and say:
"I am afraid, I am very afraid."
This wolf was shot recently in Drayton Valley , Alberta which is near Edmonton about 3 hours North of Calgary. The wolf weighs over 230lbs smashing the previous record of 175lbs.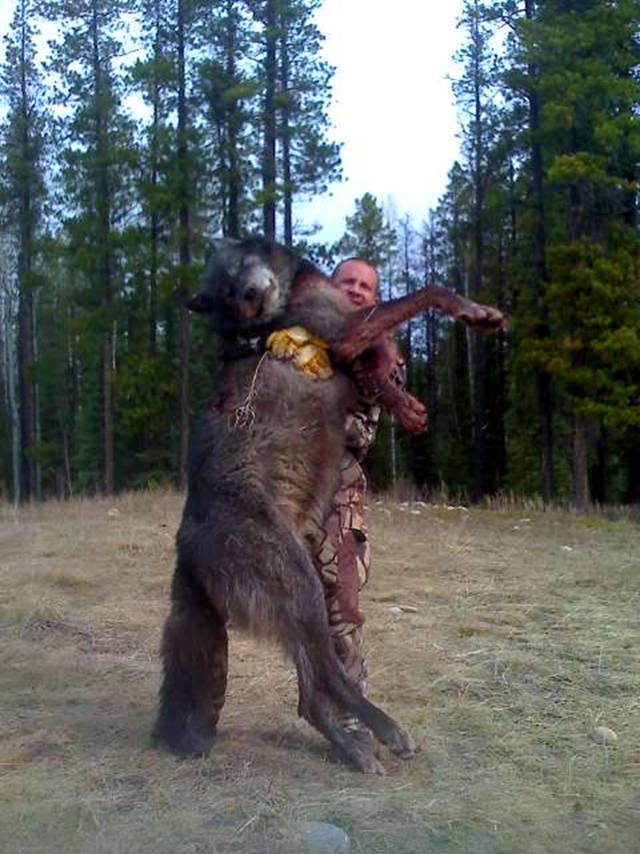 I certainly wouldn't want to run into this puppy in the woods. Apparently a bear hunter witnessed this wolf chase off a big black bear at this baiting station.

Despite protests by hunters, outfitters, guides and the aforementioned farmers & ranchers the re-introduction of wolves into western North American big game habitat continues.
In a recent Outdoor Line interview, Petersen's Hunting Editor Mike Schoby commented that several big game guides have reported reduced sightings of deer and elk in most if not all of the area in which wolf populations have been re-established.
Coming into winter, big game populations are most stressed. Unfortunately, this is also the time of year when the wolves take the bulk of their terrible toll on our game populations.
Let me ask you: How many deer did the wolf pictured above eat to attain that size?
How many more deer and elk must end up as wolf droppings before we start making wiser big game management choices?