A New Twist to Brads Super Bait 3
Puget Sound salmon guide Ryan Bennett of The Reel Deal Guide Service has been tearing up the blackmouth since the opener last Sunday using a new-fangled rigging setup for the new Brads Super Bait cut plug herring. "I didn't like how the belly hook aligned with the plug, so I started messing around with different treble hooks and came up with this system over the summer that's really smoking the blackmouth right now. I caught a lot of silvers on it this summer too, but it really works well for blackmouth because I can run it close to the bottom and troll fairly fast without worrying about my bait pulling off," says Bennett.
Here's a rundown of the materials needed to rig Brad's Super Bait:
Brad's Super Bait
4ft of 40lb leader
3ft of 40lb leader
1 3/0 Gamakatsu octopus black hook
1 2/0 Gamakatsu treble
1 6 bead chain swivel
1 ball bearing swivel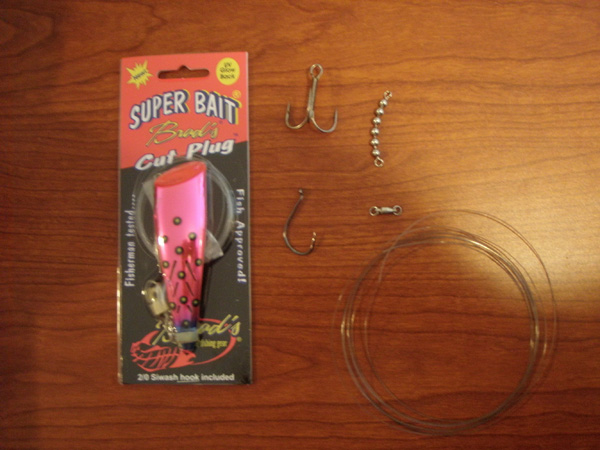 The first thing to do is cut off two of the hook points on the treble hook, making sure you cut the correct two points is important. (See Pic Below) It's most important to cut the two hook points that will cause the hook to sit flat on the bait.
Next tie the leader using the four foot section of 40lb test. Ryan uses the standard egg loop knots and hook spacing is important. The spacing between the bottom of the treble to the top of the octopus hook is about 2-1/2 inches.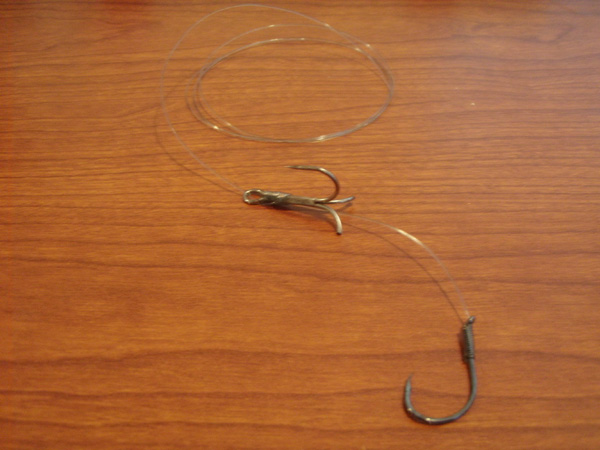 Now thread the leader through the Brad's Super Bait cut plug and the treble hook will fit perfectly into the slot in the middle on the bait.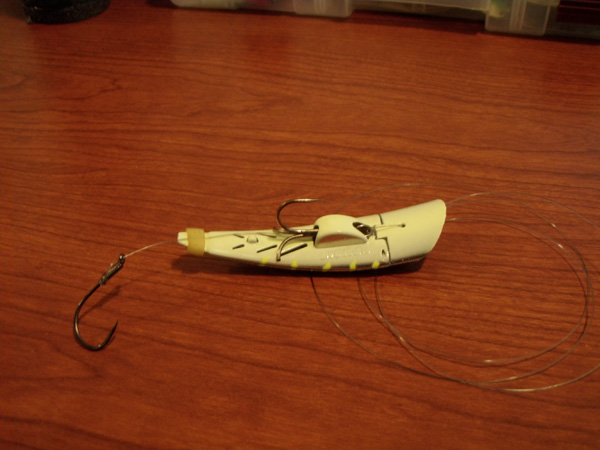 Open the bait and liberally apply herring, sardine, or anchovy scent to the foam inside the bait. Slide the surgical tubing over the 3/0 trailing hook and around the tail of the Brad's Cut Plug and you're ready to rock and roll.
We'll have Ryan Bennett on the Outdoor Line on November 7th and will podcast his segment after the show. The kid is a fish catching mo-sheen!