Smoking Salmon Simplified!!! 55
If there is a food that is more uniquely "Northwest" than smoked salmon I don't know what it is… But, I would like to find out!
I love salmon, I grew up eating it, it's good for you and If you give me the choice of a USDA Prime Rib Eye steak or an alder barbequed salmon; it's salmon every day and twice on Sunday!
There is something primal about the relationship between salmon and smoke. Native Americans have used smoking as a method of preserving their fish and meats since the dawn of time and in the interim, all modern man has been able to do is refine the ancient process.  For the fisherman that is just getting in to smoking, I would offer the same advice that I give to new anglers: find one or two techniques, stick with them for consistent success and pay attention to details.
My process is a "wet brine" method and must be followed EXACTLY for good results. This is a tried and true method that works every time but you cannot skip a step and expect success. The process takes about three days: one to brine, one to air dry and one to smoke.
Have you ever heard the old saying "Beware the man with one gun, for he surely knows how to use it"? Well, I'm the guy with one smoking recipe and brother… well, just give this one a try and you won't be disappointed!
First, the recipe:
2 gallons warm fresh water
4 cups brown sugar
2 cups pure (non-iodized or pickling & canning) salt
2 heaping Tablespoons coarse ground black pepper
6 whole Bay leaves crumbled
1 Tablespoon Garlic powder (Optional)
(For smaller batches just reduce ingredients proportionally)
Brining time: Depends on the thickness of the fish and desired taste. This is a reduced salt recipe that will not ruin fish if left in the brine for a longer period of time. For average adult chinook 15-18 hours will be fine. For coho, sockeye or pinks, 12 hours should do the job.
For the purpose of this process we'll assume you have a "box and hot plate" type of electric smoker utilizing dried alder chips or chunks. With these smokers, typically you do not have temperature control but you can control the quantity of smoke. I use a minimum of three "pans" of chips. Keep in mind that warmer days are better for smoking and that the smoker does not and should not be smoking constantly. Usually 8-12 hours in the smoker gets the job done depending on your tastes.
I use warm (not hot) water since the ingredients will dissolve more easily and completely than trying to make this brine in cold water. In addition, if you are smoking frozen fish you can use very warm water and allow the fish to thaw in the brine. After a couple of hours, don't forget to remove the frozen fish to cut proper smoking sized pieces. Then return the smoking chunks to the brine for the remainder of the brine time.
Never, ever use a metal container for brining fish! The result will be a "tinny" or metallic taste that many folks find unpalatable. I use food or chemical grade 5-gallon plastic buckets. Plastic buckets have the added advantage of coming with tight-fitting lids. When the brine is complete, it takes up about half the room in the bucket and you can add fish to bring the level up to almost the top of the bucket if you have a big batch!
So now you have all the ingredients and "raw materials" together and we're ready to start the process.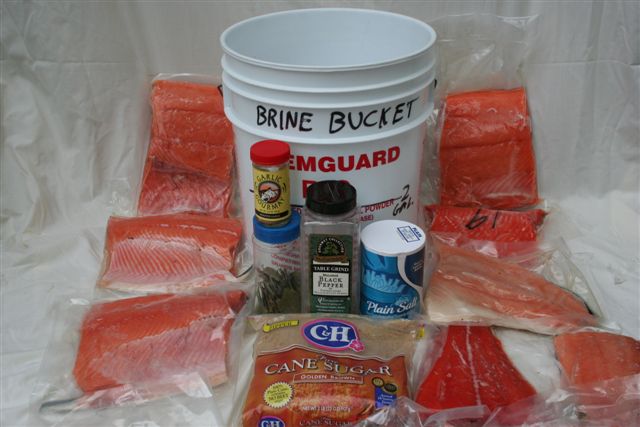 Before I even touch the fish, I make the brine up in the bucket and it looks like this:
If we're working with frozen salmon, we make a warmer brine, allow the fish to thaw enough to cut, take it out of the brine, remove the ribs and cut chunks from back to belly about 1 ½ to 2 inches wide.  Return these processed chunks to the brine for the remainder of the brine time.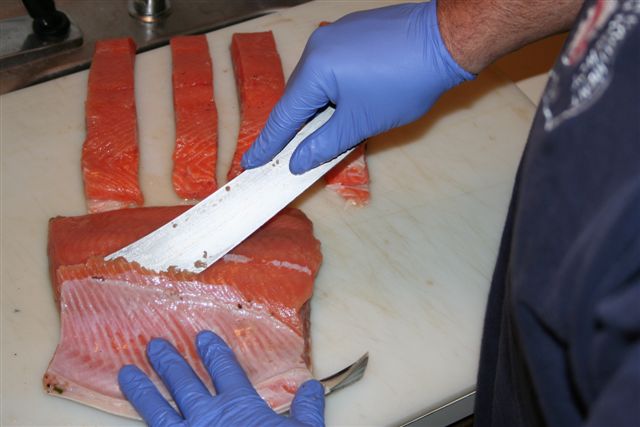 When you get to the tail you are left with a large, flat piece.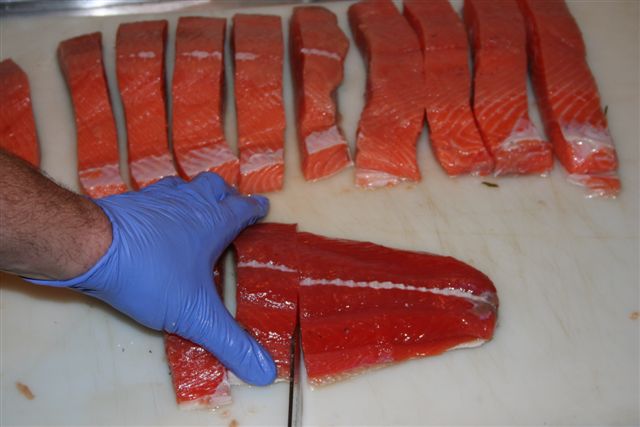 Split the tail laterally so you retain a uniform size to your smoking chunks which results in consistent salt content and drying times.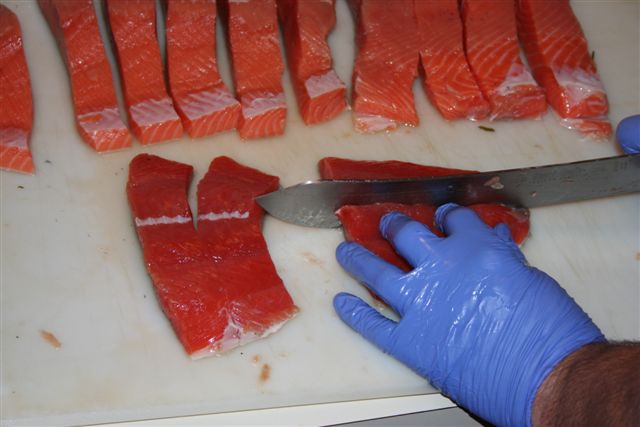 When you're done with the tail it should look about like this.
In my opinion, the next two steps are the MOST CRITICAL and if ignored are often responsible for the dreaded "Bad Batch"!!!
After your brine time, remove the fish and feel the new firm texture. Water has been removed from the flesh, replaced by salt.  Now the critical step:
RINSE ALL THE BRINE OFF THE FISH! Under running tap water completely and thoroughly wash off the brine.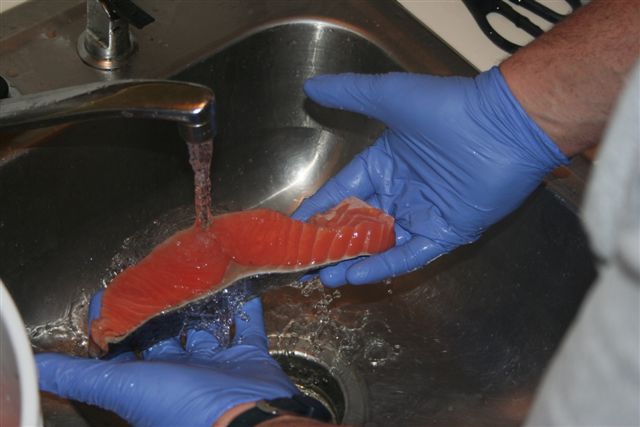 Once rinsed, Air dry the fish without smoking for 18-24 hours depending upon humidity and air flow. If you are in a hurry you can speed the process a bit by placing a fan nearby to provide air flow but not too close, we're not making jerky here! What happens during the air dry is a tremendous amount of flavor development.
In the brine we introduce salt and in the rinse we "freshen" or remove salt from the surface. During the air dry, salinity evens out throughout the fish and oil starts coming to the surface. To a large degree, this prevents the unsightly white "protein puddles" or "curds" from forming on your fish and results in the deep red color we all enjoy!
You will know when the air drying process is done when a tacky glaze or "pellicle" forms over the surface of the fish.  
When it's done it should look like this and you get to taste it first before anybody else knows it's done!
Good luck with your smoking efforts, remember to not skip any steps and I'm confident you'll enjoy consistent success with this method. Just remember: Once you smoke it and people start getting a whiff, it won't be around for long so be sure to hide a little smokers stash!!!