Last year was our first time at the Olympic Penninsula Salmon Derby and after experiencing the event, the location and of course the fishing… there was no way I was going to miss this year!
The Harborside Inn was very generous to host us and we did a remote broadcast of The Outdoor Line Radio Show from the lobby over the excellent complementary breakfast! Many anglers competing in the event stayed at the Harborside Inn and took no small enjoyment in pointing out that they were heading out on the water while we were stuck in the lobby to do the show. To make matters worse, our cell phones started blowing up with fish pictures from our "friends"…Brutal!
When we finally got out on the water, Robbo was still getting reports… and while he was on the phone…  Hey ROBBO! YOU GOT ONE!!! …Uh, just a sec Nelly…I'm on the phone…
Needless to say, we lost that first fish…and it was a good one… but it wouldn't be too long before the good ol' Coho Killer produced a nice blackmouth for me.
Olympic Peninsula Salmon Derby rules call for a 3pm weigh-in deadline so after a late start…it was an quick trip to the scale where lucky anglers were lined up to enter their fish.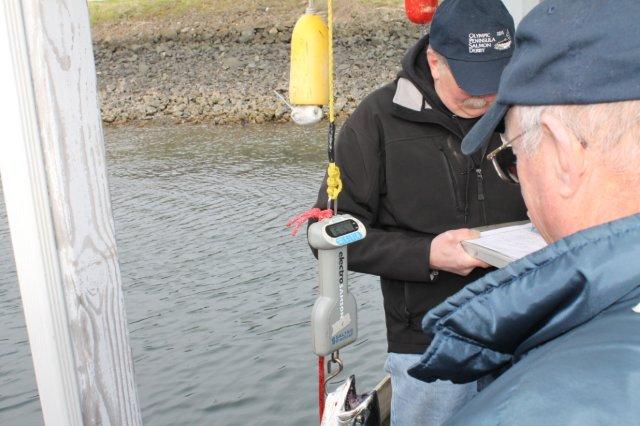 Tony Dobson of Snatchin' Lips Rods, fishing aboard John Keizer's Team Lowrance boat, shares a laugh with the crew at the weigh in.
After my 8.9 pounder was weighed in, WDFW personnel were there to scale sample and measure the hatchery chinook entered in the event.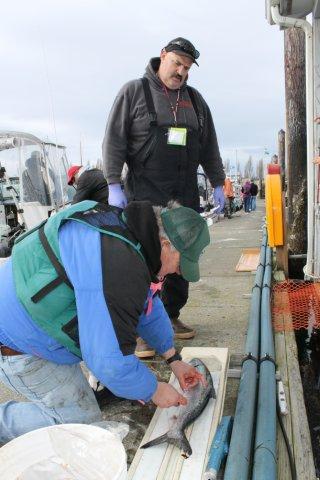 Team Lowrance heads for its slip at Point Hudson to get ready for day two of this three day event… Three solid days of fishing… No wonder they call this derby the "Iron Man"!
As of the end of fishing Saturday 2/16/13, 123 fish have been submitted; top three are 15.90, 14.80, and 14.30. With a "sporty" forecast for Sunday… it would be nice to be sitting atop the leaderboard.That 15.9 pounder is looking good for the ten thousand dollar first prize!