Every-body needs a Buddy, as in "Portable Buddy". Mr. Heater has been making portable heaters for years.
A couple years ago when I sold my aluminum drift boat I left the attached heating system that I installed in the boat. It worked great for that boat, as I had multiple Mr. Heater heating elements mounted in three locations. I also had a propane tank secured in the back of the boat and several hoses secured under the left gunnel tray that went from the tank to the heating elements.
I would remove part of the system in the spring as I didn't need it until fall rolled around again. The hoses and some of the brackets I would leave in the boat. To be honest, at times, that extra crap was kind of in the way. In the bow of the boat up under the dash I had a bracket that I left in place because it was screwed in. This minimized some storage room up front and was kind of a pain.
The bottom line is that I spend many days on the water each year, some of which I don't need a heater, and some I do. Let's face it, heaters are nice to have, but we don't always need them.
When I sold my aluminum boat and purchased my RivTech driftboat I spent a little time looking around for exactly what type of system I could put in my new boat. I had several ideas but was really trying to make it so that when I needed the heaters…they were there. When I don't need heaters I didn't want extra components in the boat cluttering things up.
I finally settled on the Mr. Heater "Portable Buddy".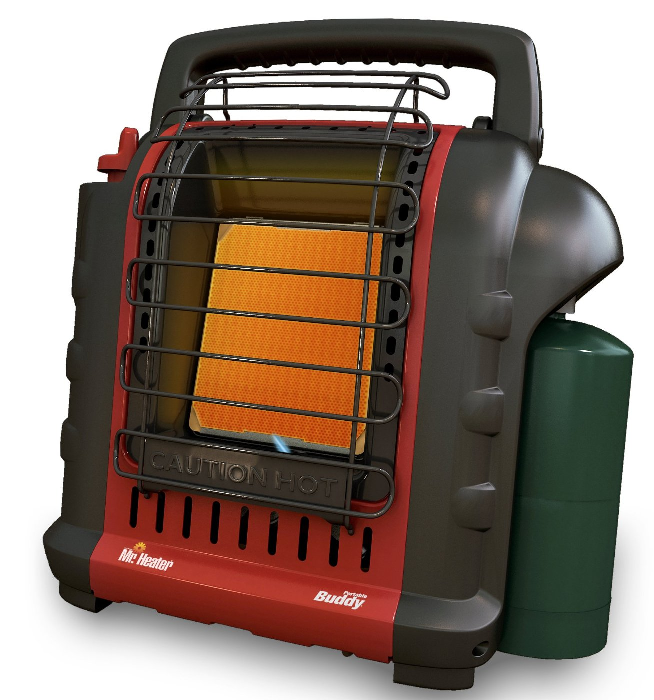 For me, now in my glass boat, it was a no brainer. Truly a heating system that was actually portable and safe. Here are some of the manufacturing specs that make these little heaters so great.
  4,000- to 9,000-BTU radiant heater for spaces up to 200 square feet
  Approved for indoor/outdoor use;   clean-burning; nearly 100-percent efficient
  Auto shut-off if tipped over, if pilot light goes out, or if detects low oxygen levels
  Fold-down handle; swivel-out regulator;  connects to propane tank (not included)
  Measures 9 by 14-1/5 by 14-2/5 inches; 1-year   limited warranty
It actually can run off of a 1 lb. screw in cylinder or off of a larger tank connected by a hose.
With a glass boat safety from an accidental fire was kind of on my mind. Perhaps it's thefFiremen in me or just common sense. Either way the fact that these little portable heaters have "auto shut-off tip-over protection", pretty much sealed the deal. for me
Did I mention that they will heat up to 200 square feet…"BONUS"!
I did the math, and here is what I came up with!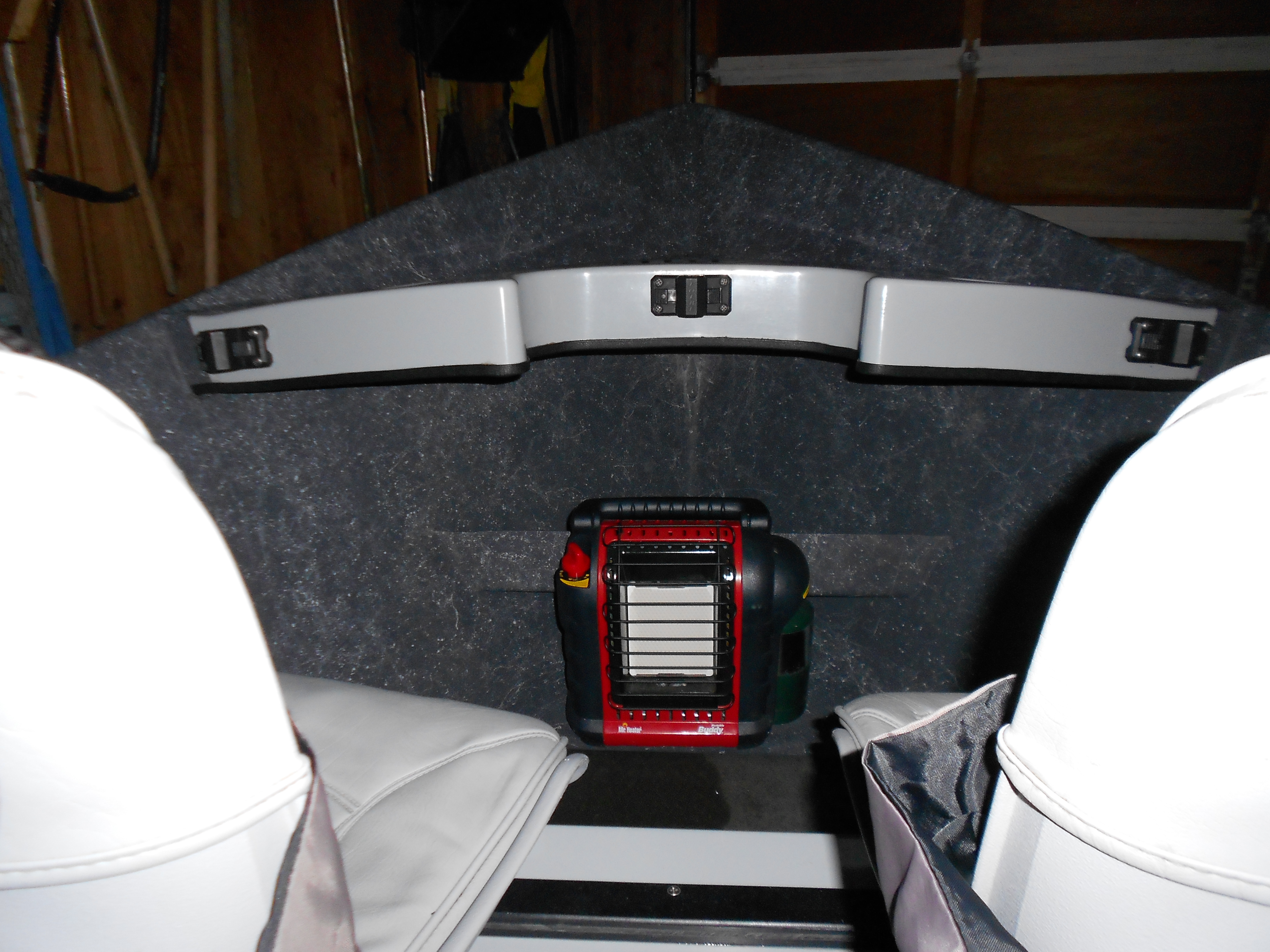 "NOT 200 SQUARE FEET"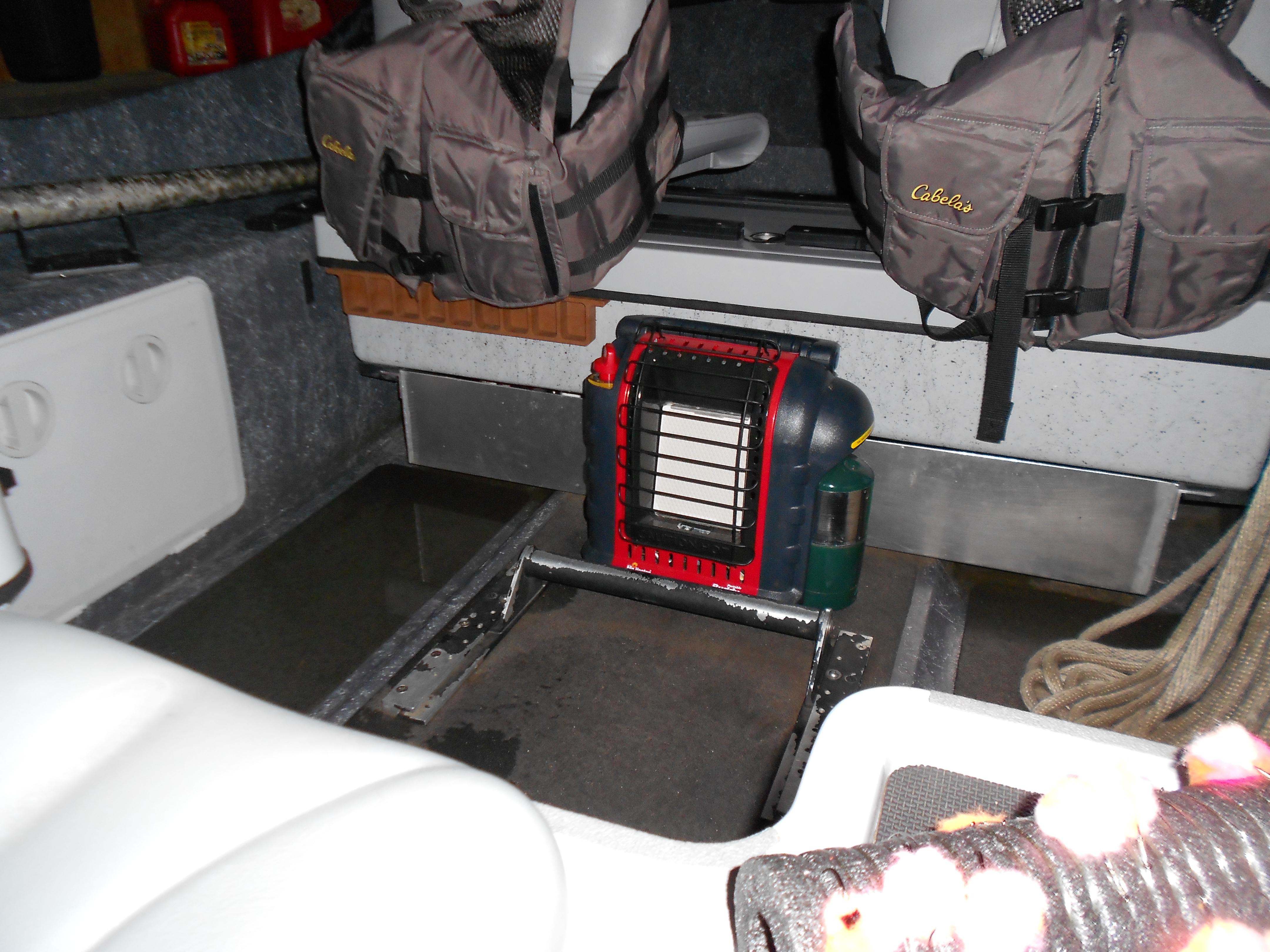 The view from my oarsman seat, again "NOT 200 SQUARE FEET".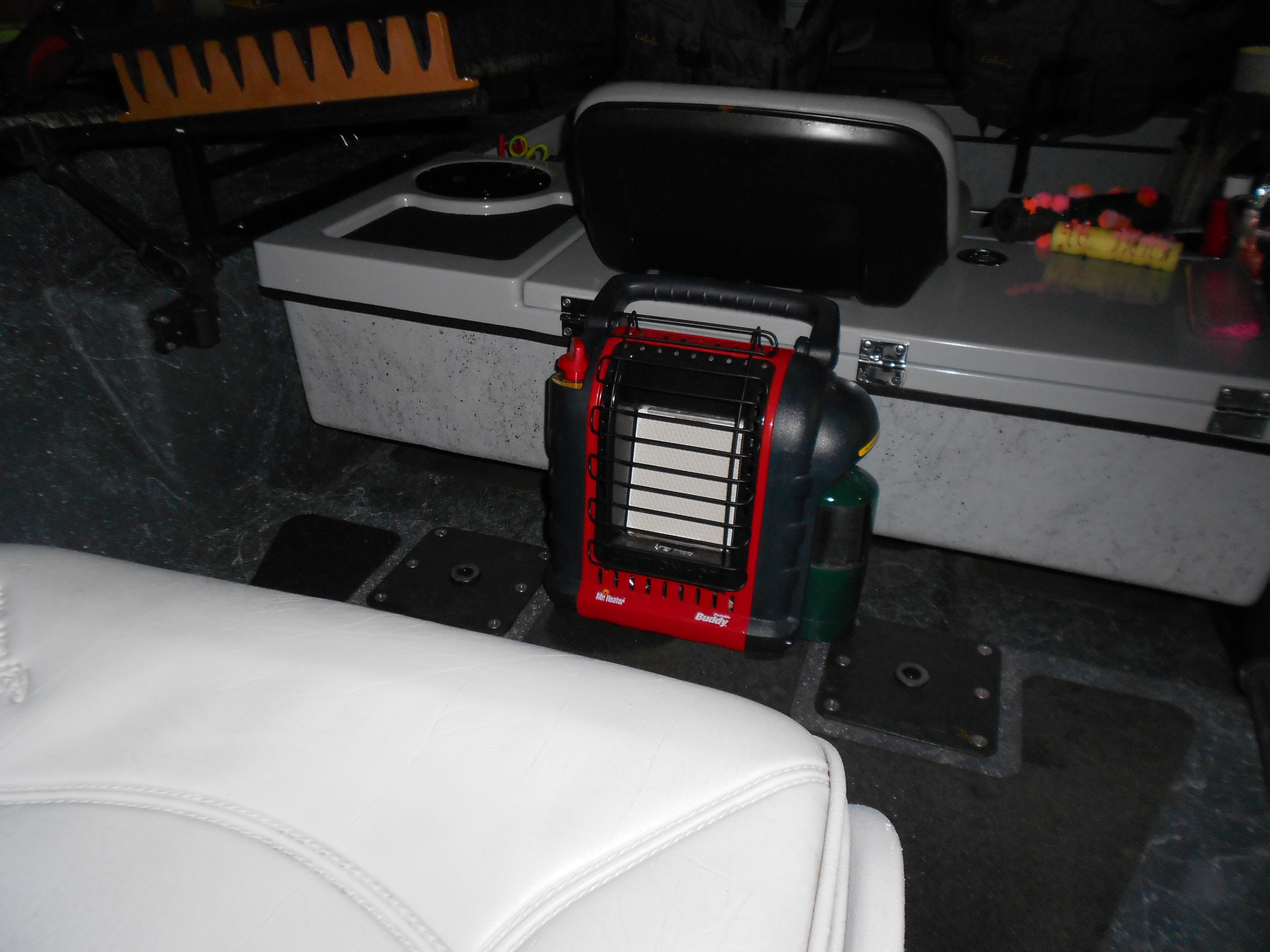 Finally, the view form the rear seat, I think you get the idea. The bottom line is, these things are compact, portable and crank out the heat. With three of them in the boat, every seat gets the heat. When the day finally warms up they are compact enough to tuck away in the back of the boat, and well out of the way.
I don't know about you but usually the first thing to get cold for most folks in the boat are their feet. These Portable Buddy heaters are perfect for getting the feet warm and throwing out enough heat to keep everyone happy. A single one pound cylinder on the medium heat setting will last about 6 hrs. Throw a couple of extra cylinder's under the seat for those long cold winter steelhead days and you're good to go.
Sportco and Outdoor Emporium usually have these in stock and on-sale for as low as $69.99.
Do yourself, and your friends in your boat a favor and pick up a couple of these Portable Buddies. It may not turn one of those non-fish days into an epic one, but at least you'll be warm which is far better then No Fish, COLD and Miserable!
Duane Inglin
The Outdoor Line
710 ESPN Seattle
www.theoutdoorline.com