As anyone who has hunted for big game in Washington can attest, filling your deer tag can be challenging. Notching your elk tag in Washington is even harder. Accomplishing both of these tasks in a week? That takes a pile of preparation, a realistic opportunity and to be completely honest, one whale of a lot of luck!
The first stroke of luck came in the form of the Skagit Valley Quality Bull tag that I've been applying for since the Bush Administration.. . Once that bit of luck was in pocket, another bolt from the blue was in store as my good friend Steve Stout who lives in the unit also was drawn for the hunt and was as fired up as I to start scouting! This hunt opened on the second weekend of October so my September which is usually spent chasing coho (but we won't go there..) was spent on glassing, bugling and rifle range time.
Robbo has an unbelievable talent for spotting game and is putting them to use as the misty early arrival of fall envelops the north Cascades. On this day, I was given an opportunity on a magnificent bull and missed. I sincerely believe that a day will never go by for the rest of my life without me thinking of that moment.
I would hunt for nearly another week before getting another opportunity and this time there would be no miss. This tremendous 6×6  was standing among his harem of cows and fell so quickly after the shot that he simply disappeared and scared the heck out of me until I saw him lying there and WHAT A GREAT FEELING!!!
Getting that massive bull out was not all that bad thanks to the Can Am Defender Max XT1000 4-seater ATV. The built in front end winch and tilt box worked hand in hand to slide the big ol' bull right in!
The antler mass of this elk is quite impressive and most I've talked to place this specimen in the 320 inch class. My second Washington State 6×6 and easily the largest of my life.
After delivering the bull to the butcher and shaking my head over the 487 pounds of hanging weight, my hunting season was already a success by any measure but, I was not done. My black lab Bailey was not-so-patiently waiting for me to finish up big-game so she could terrorize the pheasant release site roosters. So, over to Whidbey Island we go and sure enough the pheasants cooperated!
Our host on the Whidbey Island hunt was my friend Bob Maschmedt who just happened to pack a couple of slug-ready shotguns and suggested we go looking for an Island Blacktail. It was a GREAT suggestion as the first place we looked, here's a nice 2×3 that was way more interested in his does than he was in me!
Bob Maschmedt and I are all smiles as now I've filled two tags in the same week and it's back to the butcher's with a fat blacktail buck!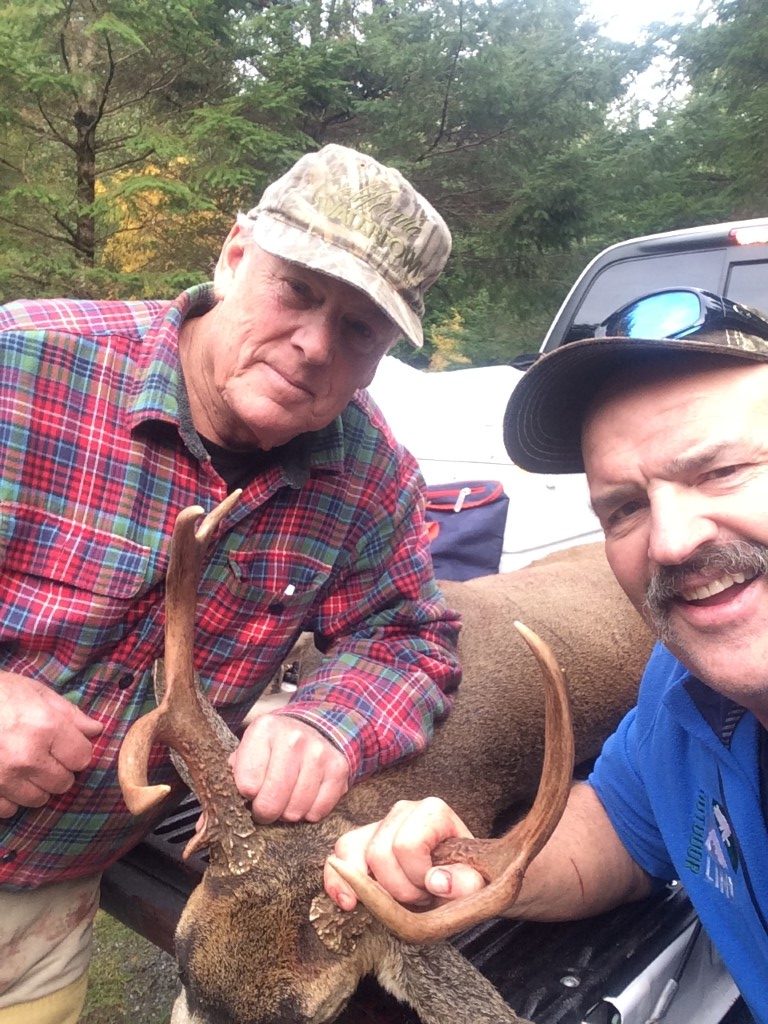 All told, the butcher got a hefty 607 pounds of venison in the space of one week. Without question, it was the certainly a magnificent big-game season and certainly a strange feeling to be tagged out in mid October but I'm ok with it!
Now it's back to the drawing board, starting back at "zero" on the elk-tag drawing points but as long as I can buy a tag, I'll be putting in for WDFW Special Permit hunts and who knows? I guy can get lucky two years in a row…right?…Right???
Tom Nelson
The Outdoor Line
710 ESPN Seattle
www.theoutdoorline.com