One of the most underrated aspects of life in the Great Northwest is harvesting and enjoying Dungeness crab with friends and family. This wonderful tasty privilege comes with a responsibility to fish your crab pots in a way that prevents gear loss and a wastage of this valuable aquatic resource. Many pots that folks assume is "stolen" are really just under-weighted pots that merely drift away when a high tide lifts the floats. The currents in our tidal bodies of water are quite strong and if your crab gear is not right where you left it, its quite often simply lost crab gear that keeps fishing until the required cotton rot cord latch rots and the pot opens up.
That said, here's one way to set your gear up for successful crabbing and make sure it's right where you put it when you return to pick it and bring the crab home for dinner!
Let's start with the "raw materials" namely an SMI three entry tunnel pot with built in bait tube, floats, 100′ of leaded line and a 12 pound downrigger ball.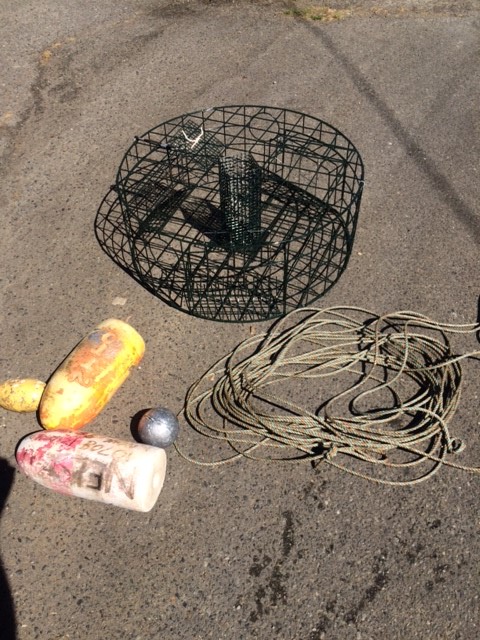 Why a downrigger ball and what do you do with it? Great question! Most if not all sport pots are intended to have weight added to fish effectively. Simply zip-tie the ball to the center of the pot and you're in business!
Now it's time to make your "bomb-proof" line attachment to the pot. I start with a strong edge where the pot mesh is double strength and throw a clove hitch.
Lock the clove hitch with the "boater's friend" aka the bowline…
…and lock the bowline with the "Yosomite finish" which is simply tucking the tail of the bowline around the loop and back along the main line.
Add your combination of floats (I use the required red and white and add a second float to allow quick identification) Marked one float with the length of line and finish with a bowline end loop. Store the whole works inside the pot and you're set!
Every afternoon in Puget Sound should look like this!
And every evening dinner should look like this!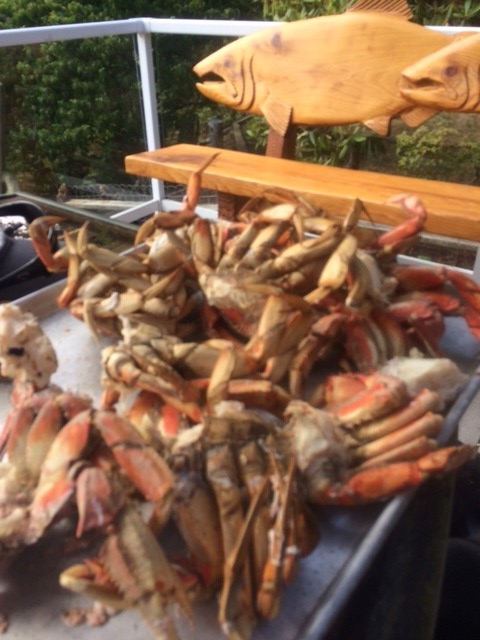 We have a wonderful crabbing opportunity and resource and it's up to us to fish responsibly and not lose our crab gear to minimize waste. Keep a copy of the WDFW fishing regs in your boat, measure and record each keeper and you will not end up in an episode of Nat Geo's Rugged Justice!!
Tom Nelson
The Outdoor Line
710 ESPN Seattle
www.theoutdoorline.com