Close to a hundred avid hunters gathered at Sportco Sporting Goods in Fife, Washington yesterday for a day of spring hunting seminars sponsored by Sportco and the Outdoor Line on 710 ESPN Seattle.
Julie Cyr from Sitka Gear (hey…that rhymes) was on hand all day and even took a ride in Ryan Lampers new EXO Mountain Gear 5500 pack. She's a spark plug for sure and spends every waking second of her free time hunting and fishing.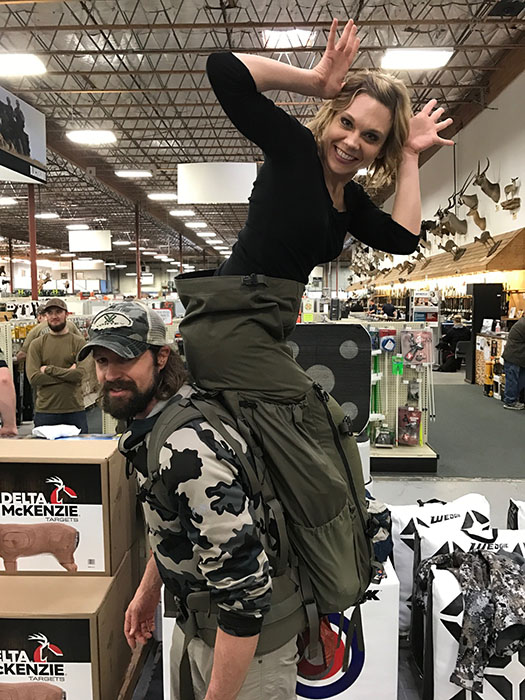 Travis Smith led off the day with an outstanding turkey seminar and followed it up with some personal calling instruction afterwards. Travis is a pro-staffer for Zink calls and Avian X decoys and he's a wealth of info when it comes to turkey and waterfowl hunting in Washington.
Jason Brooks is a regular guest on the Outdoor Line and has a column in Northwest Sportsman Magazine. He's an encyclopedia of mule deer hunting intel and gave an info-packed seminar on hunting mule deer in Washington state. He also brought in his new Kimber Mountain Ascent rifle chambered in .280 Ackley Improved with the new Vortex Razor HD Lightweight Hunter scope. The whole package weighs in at just 6 pounds. Wow!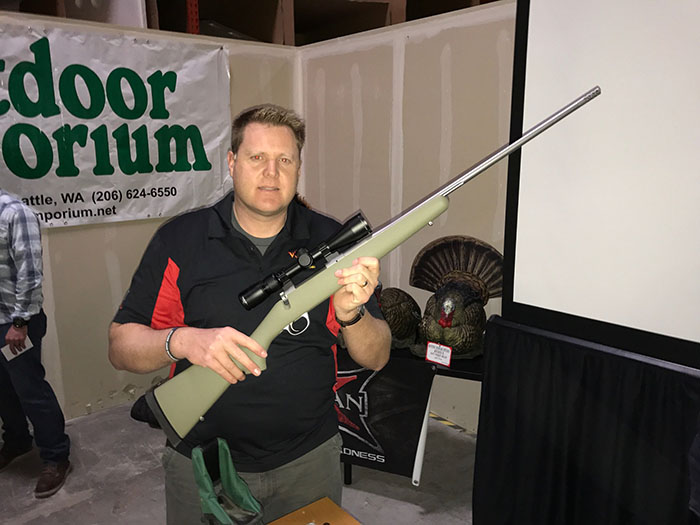 Ryan Lampers, a.k.a. Sthealthy Hunter, and his hunting partner Joe Pyburn shared their experiences hunting mule deer and elk in the Washington backcountry. These guys showcased their philosophy, gear, and the training that's necessary to take trophy game here in Washington. They are living proof that it can be done!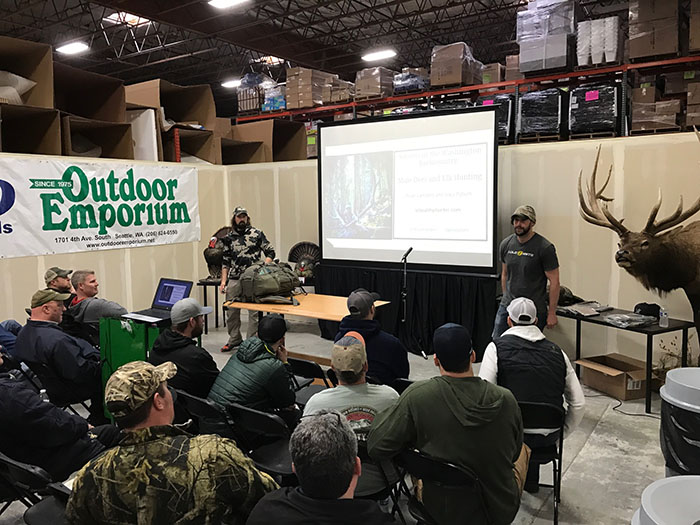 Lampers and Pyburn talking about their extended stays in the backcountry and the preparation it takes to tag out in Washington on a trophy animal every year.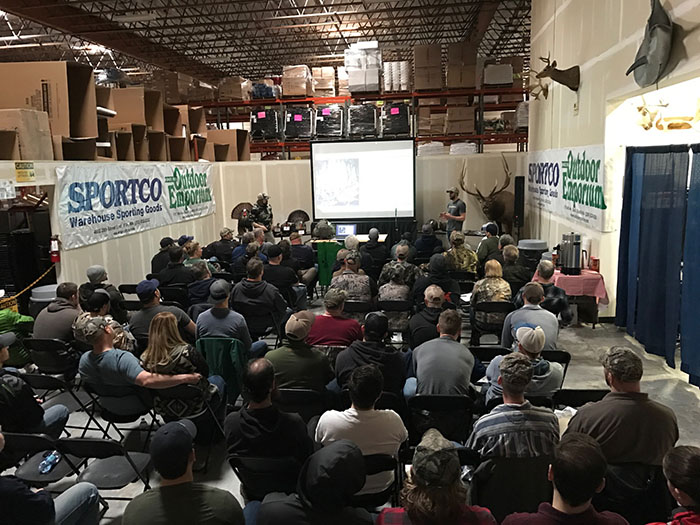 There were great giveaways from Vortex optics, Avian X calls, Shotlock, and Phelps Game Calls. Here's Brian with his new set of Vortex 10 x 42 binoculars that he won at the raffle. I can't thank Vortex enough for all their help with this seminar. They are fantastic to work with and manufacturer exceptional products!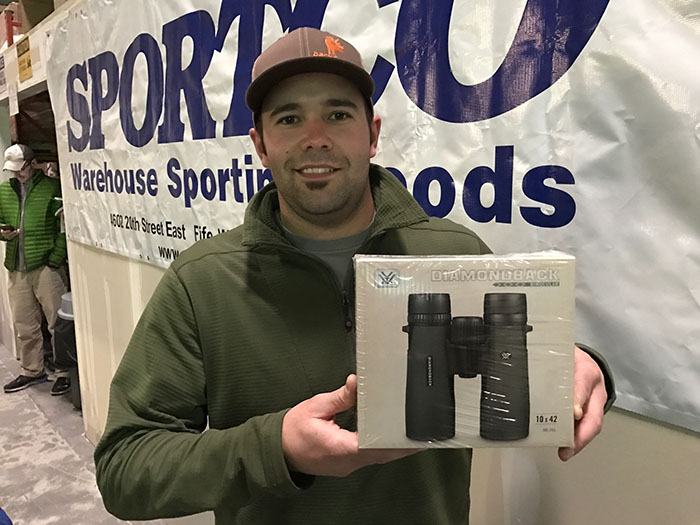 Jason Phelps from Phelps Game Calls wrapped it all up with an exceptional seminar on elk calling. Here's a brief snippet of just one of the many sounds that Jason demonstrated to bring in that trophy bull elk next fall.
Phelps raffled off some of his elk calls at the end of his seminar. We were excited to see this young man so pumped about hunting and there were several other kids in the crowd, as well. Big thanks to the proud parents that brought their kids to the event yesterday!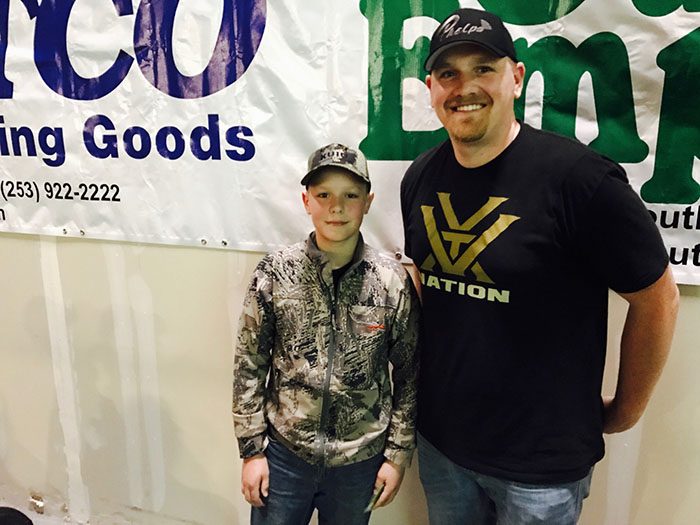 Carl will be putting this Phelps bugle tube to work next fall.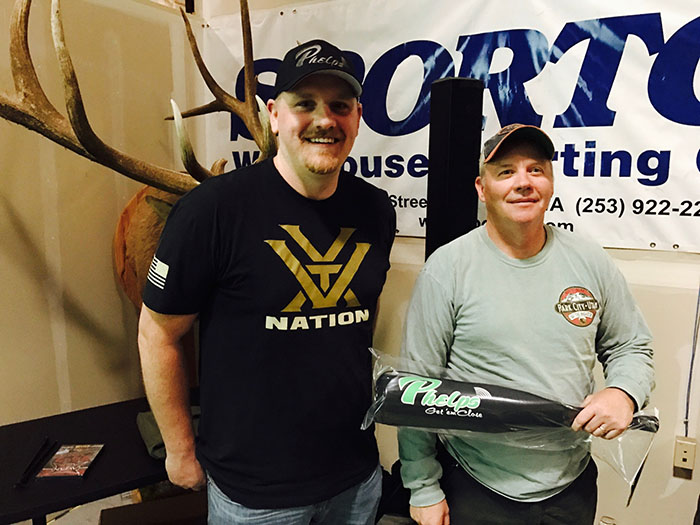 …and another Phelps bugle tube heading for the elk woods next fall.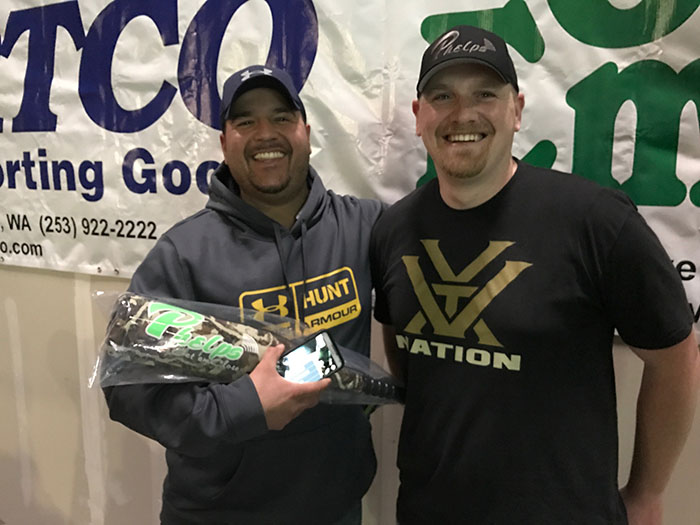 This gentleman can now lock up his home-defense pistol in this Shot Lock that he won at the raffle.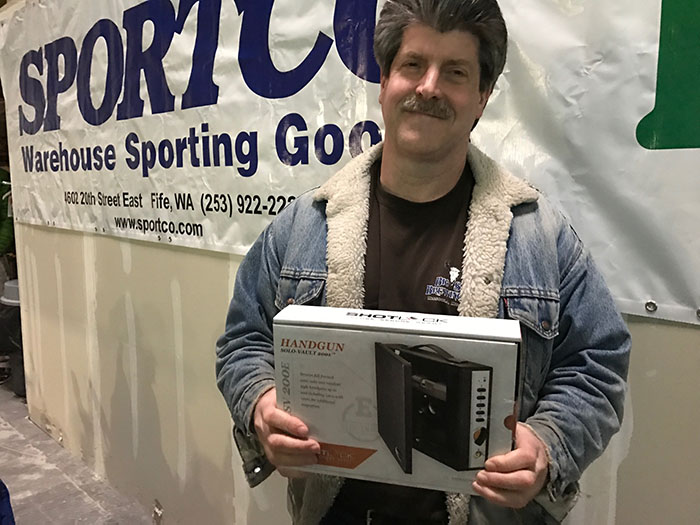 This lucky hunter brought home a brand new Avian X turkey decoy that he won at the raffle. Big thanks to Avian X for the great dekes and swag they sent for the seminars. The detail on these turkey decoys is incredible!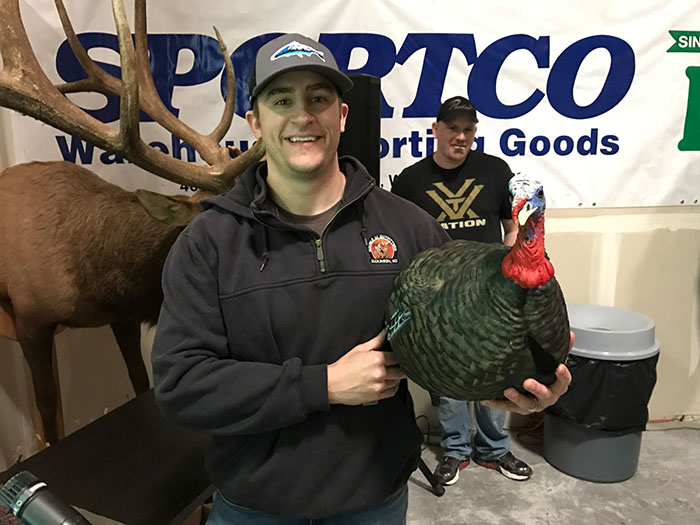 Jason Brook's new Kimber Mountain Ascent and Vortex Razor HD Lightweight Hunter combo was on display after his seminar. You wouldn't believe how light this setup is.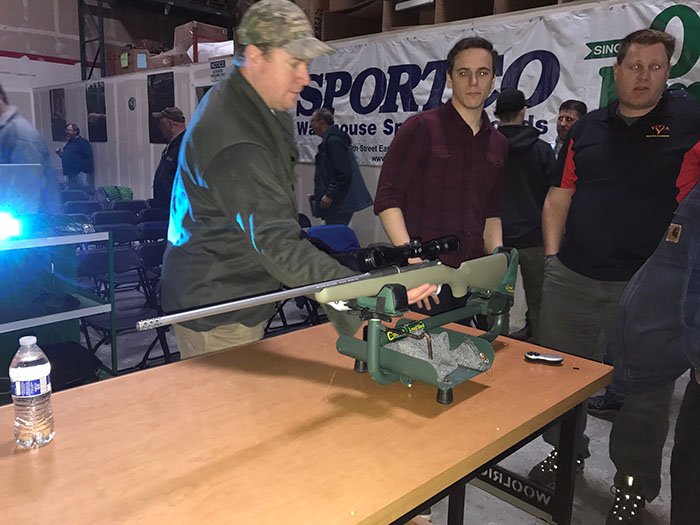 I even took a little time to get measured up for a bow at Sportco's bow shop. Looks like I'll need a bow set up for a 31 inch draw length.
Once again, a huge thanks to everyone that attended the hunting seminars at Sportco yesterday and we should have news of some more fun hunting events coming soon. Best of luck to you all on the turkey opener on April 15th and in the woods next fall!
Rob Endsley
The Outdoor Line
710 ESPN Seattle