Tuna fishing is a little like getting bit by a tick: It gets under your skin and you hope you don't get the "disease"…
If it weren't for my former on-air partner, Seattle Seahawk Pro-Bowler Robbie Tobeck and SaltPatrol.com's John Keizer, my tuna condition would likely have not progressed from acute through chronic to terminal. However, my condition has now degenerated to advanced bait tank installations and after running my Weldcraft for the first time out of Westport over the Grays Harbor Bar I've now been observed by my wife ordering extra rod holders and cedar plugs on line. Terminal dude…Terminal.
Like others that suffer from a debilitating condition, it's often helpful to seek comfort in the company of others with a similar affliction. So it should come as no surprise that a support group meeting should be in order. In this case the "support group" is known as the Washington Tuna Classic where nearly 70 angling teams seek to feed their addiction and feed others by donating all fish caught in this event to Northwest Harvest and the Wounded Warrior Project.
Preparing for a tuna run is a bit of an undertaking with fuel, ice and live anchovies and getting ready for a tuna tourney adds quite a bit to the equation. Regardless, the successful offshore run starts with a pile of preparation the evening before.
The evening before the Washington Tuna Classic the boat is in the harbor, fueled, iced and in tuna mode!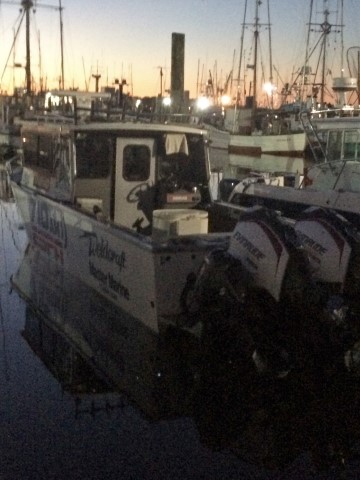 After we pick up our load of live bait, we wait on the starting line for our check-in with Washington Tuna Classic Tournament Control and we're underway!
35 miles offshore, we drop the outriggers get  the gear down and get to searching for birds and jumpers.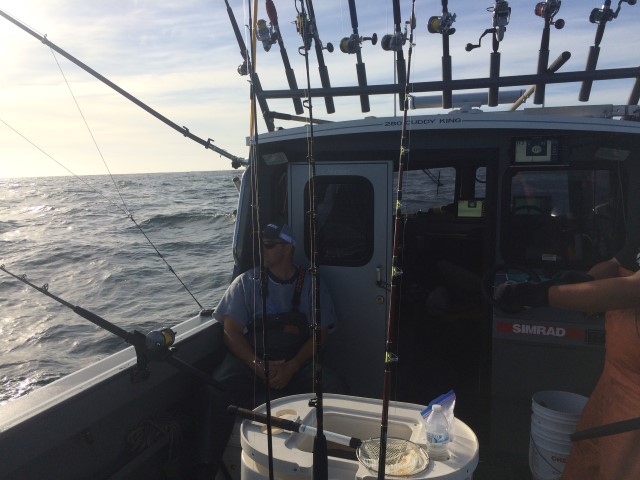 Having the bait tank in the middle of the deck is a huge advantage and allows a quick conversion from trolling to a vertical presentation with live bait and jigs!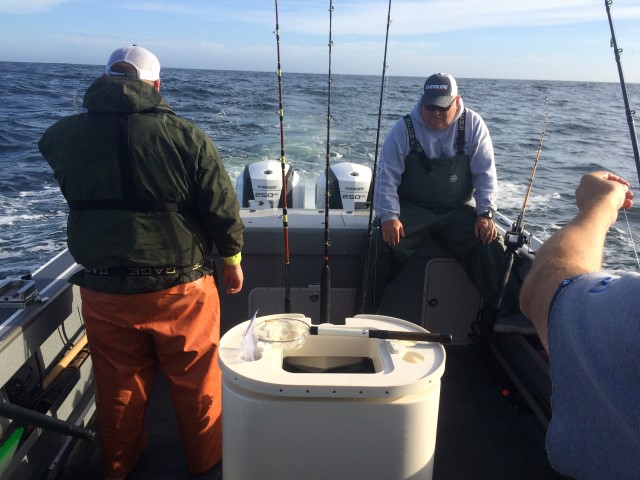 We managed to convert one of our trolling bites to a bait stop, ending up with five tuna on board. Heading into the weigh-in dock, it sounded like the entire fleet experienced tough fishing conditions and an even tougher tuna bite!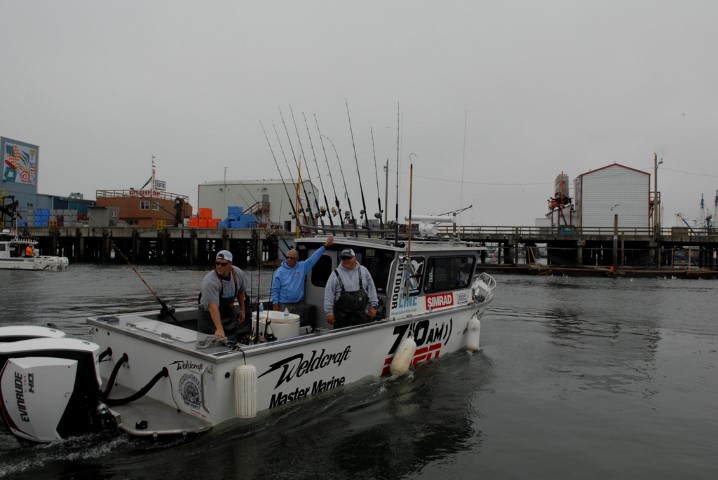 Our five albacore put us on the board and we were hoping for a top ten finish among the 70 angling teams competing in this event! Left to right, Team Evinrude is Robbie Tobeck, John Keizer, myself and Donald Auman.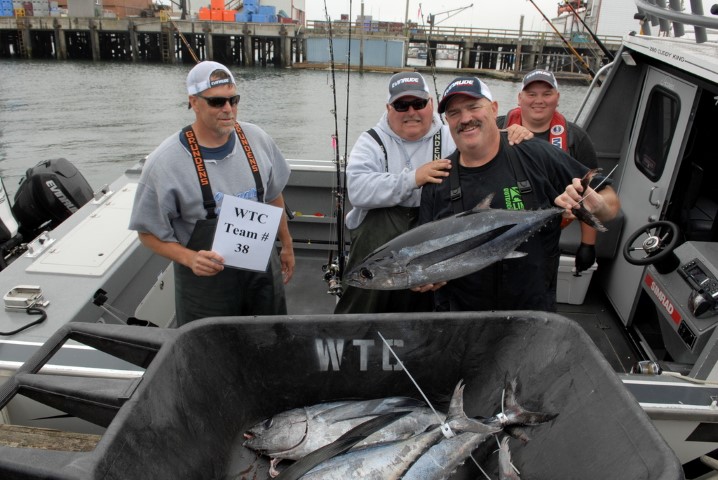 At the Award Ceremony, MC'd very expertly by Kevin Lanier, the leaderboard was revealed and Team Evinrude ended up with a 9th place finish with our five fish bag of 103.70 pounds!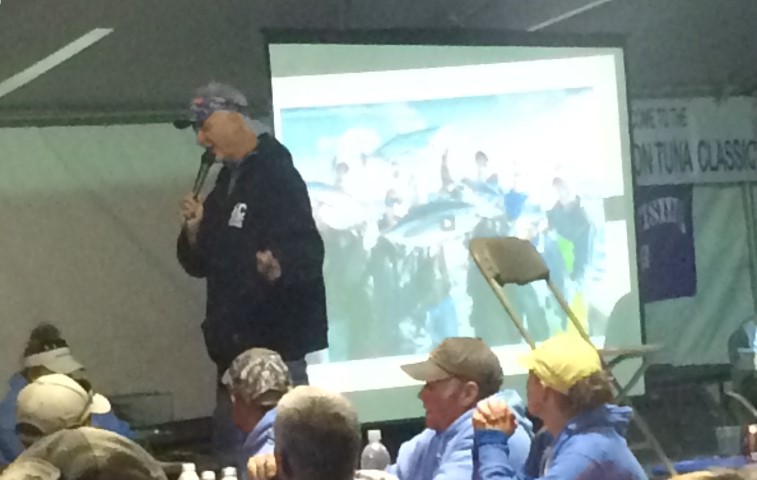 The 2016 Washington Tuna Classic Champs are team Reel Broke with a total of 127.38 pounds of tuna!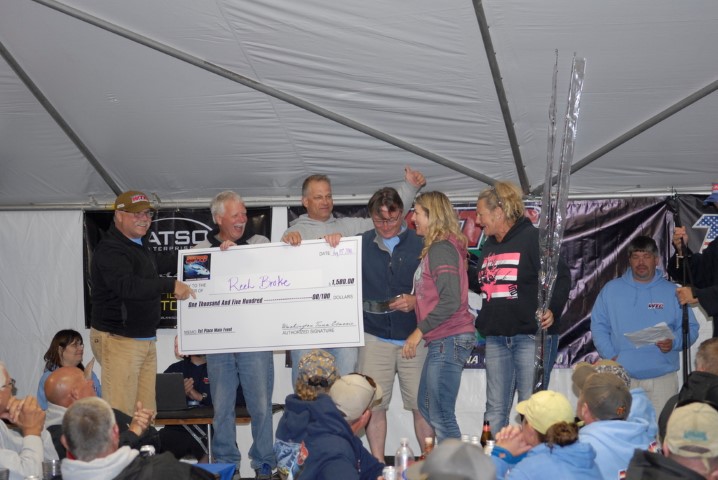 Of course, no WTC podium would be complete without Mark Coleman's Team All Rivers & Saltwater Charters and they finished a strong second with 125.5 pounds!
A big thanks to Mitch King and all of the volunteers that make the Washington Tuna Classic the great event that it has become! 

Also, if it weren't for John Keizer, Robbie Tobeck and Donald Auman we would not have enjoyed the success we experienced during this event. It was the first time that I had run my boat offshore for tuna and I'm fairly certain it won't be the last.
The only way to ensure that you won't get infected by the tuna disease is to stay inland and not venture out into the warm, cobalt blue water, far beyond…
Tom Nelson
The Outdoor Line
710 ESPN Seattle
www.theoutdoorline.com