After our unbelievable first trip to WestCoast Resorts Englefield Bay last year, my son Matt and I could not wait to get back up there. In fact, we were so fired up about our amazing experience that we put a 710 ESPN Listener trip together so we could share the Englefield experience with listeners and friends.
In fact, we're announcing a second chance trip in late August
Did the trip live up to expectations? Without a doubt it did! Most anglers on the trip had their best chinook days ever in both numbers and size! Bottomfish? How about two ling cod per day with no size restrictions and six in possession! Couple that with two halibut and a pile of rockfish and you are talking new home freezer time!
The WestCoast Resorts Englefield equation for success is solid. Place a floating lodge alone in a remote location accessible only by boat and helicopter.
Oh, the helicopters…C'mon now, aren't you the least bit intrigued by a fishing trip that begins and ends with a heliopter ride?
Or, more correctly a Helijet which we boarded in Sandspit after our chartered 737 flight from Vancouver, BC.
As the lodge comes into view we're just stunned by the remoteness and beauty of the luxurious, floating lodge at Englefield Bay.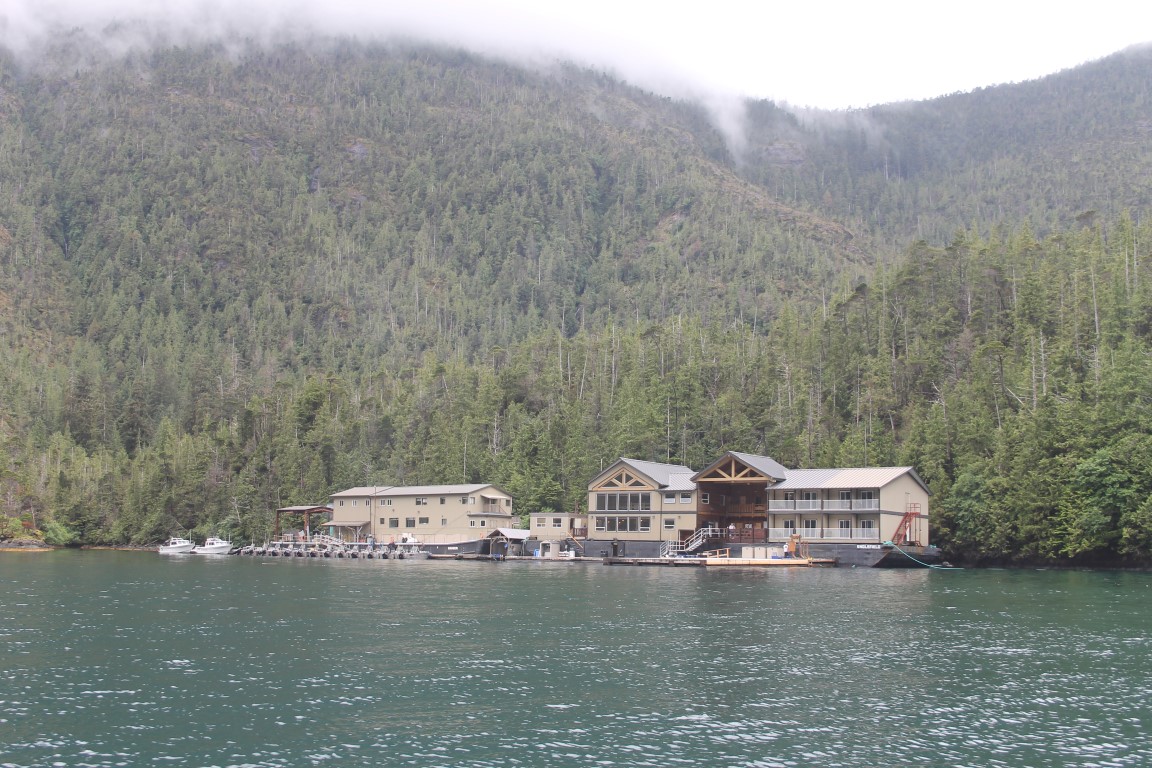 Once we're on the docks the level of organization and experience of the WestCoast Resorts operation is readily apparent. Every boat  is clean, identically rigged and READY!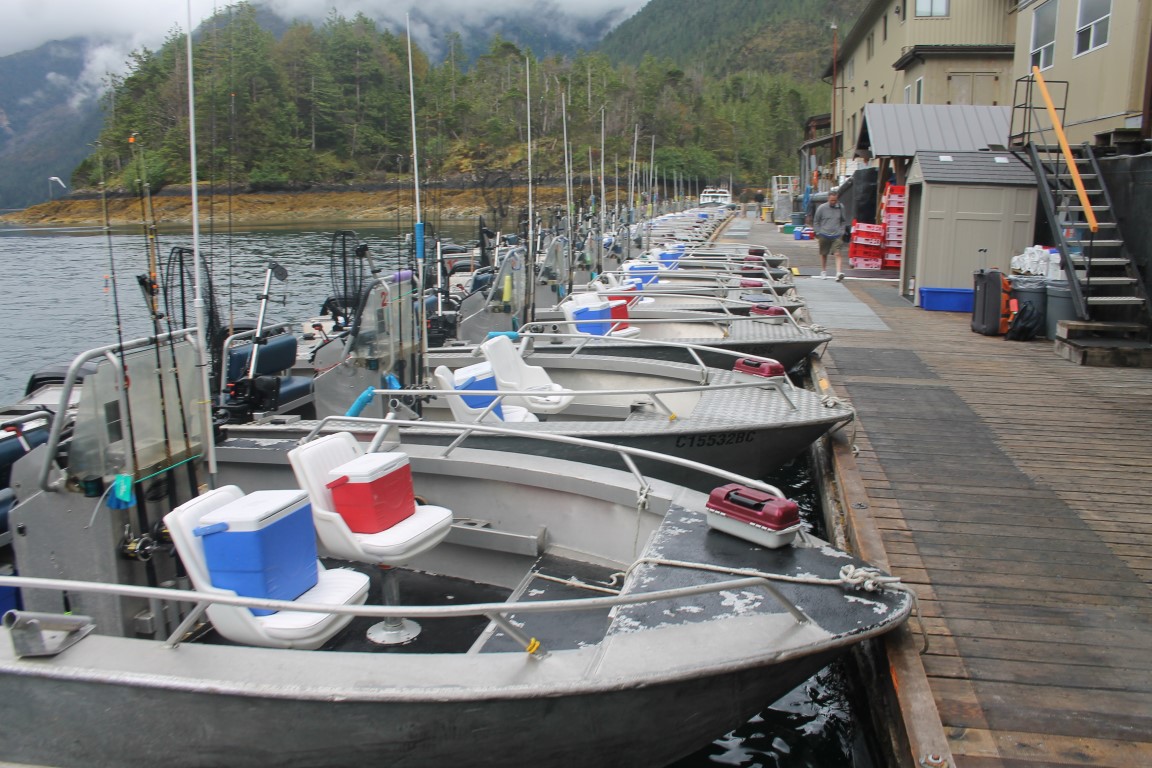 The info board is updated daily and hooks you up with weather, tides and hot spots. No secrets here! Since the only boats in the area are from the lodge and fish are plentiful, info is shared freely.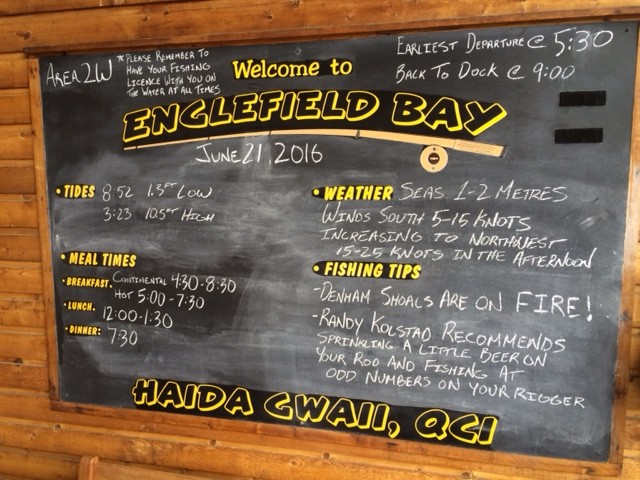 After the brief lodge orientation, we jump into our gear and we're off fishing before noon on our first day!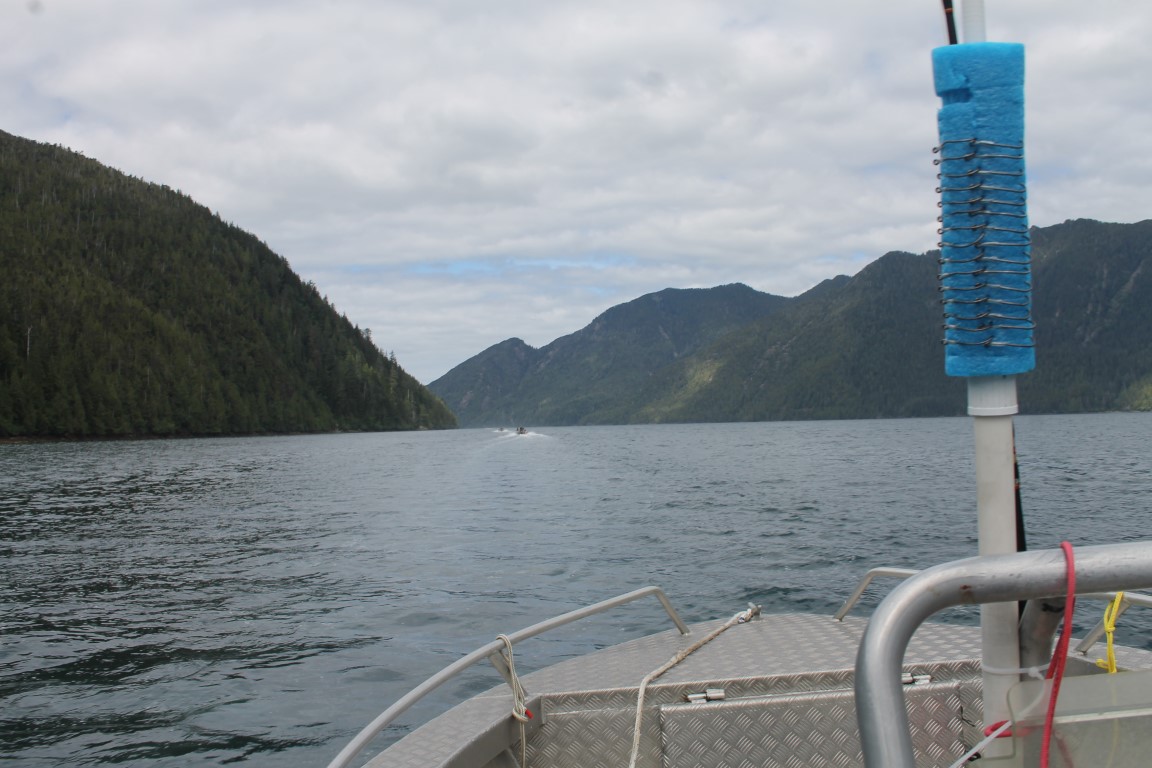 And just how good is the midday chinook bite at Englefield Bay? Well, we only kept three that first day so wouldn't burn through our four chinook per angler possession limit but we had a double-digit king bite the first afternoon! Simply stated the most smokin' hot chinook bite I had seen all season which included a three-week stint running my boat in Sitka, Alaska.
The next morning, I went out with Chef Patrick Fagan of Bait2Plate.com and my summer on air pard John Martinis. We absolutely STUFFED the fishbox with ling cod, yelloweye, black rockfish and chinook!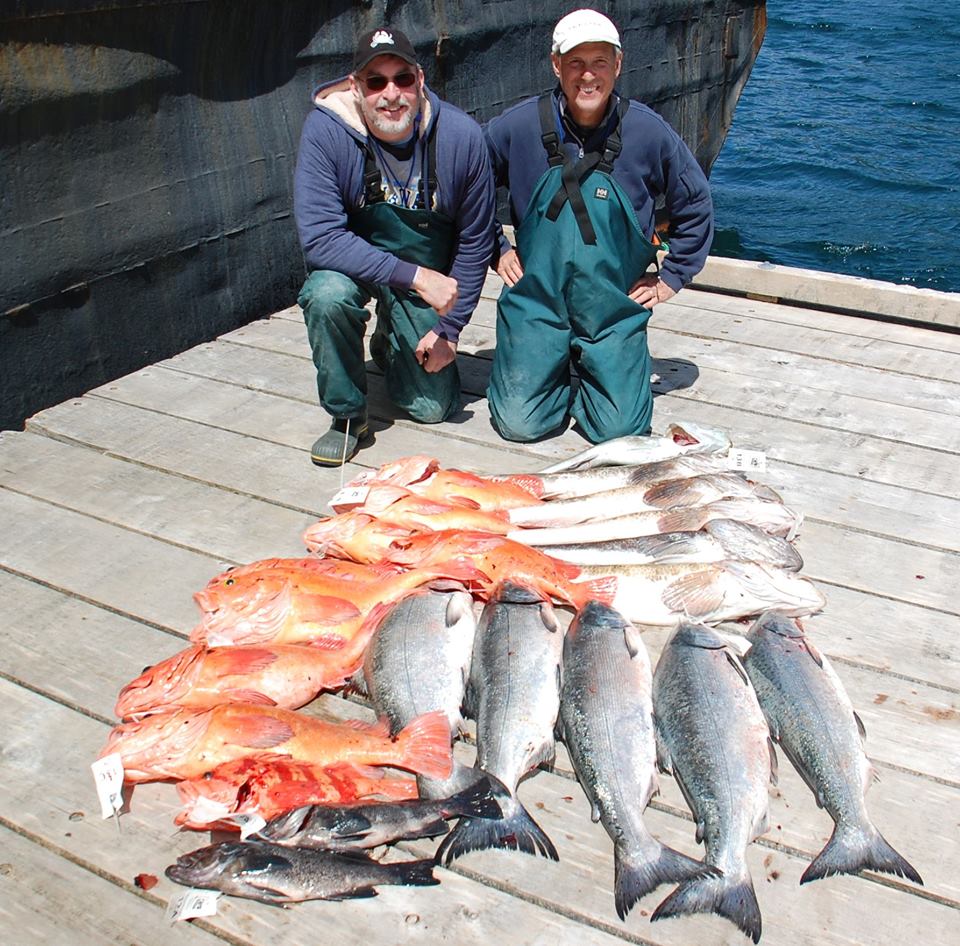 The next day? Well, halibut was on the itinerary and we were again very successful but here is the thing that you need to know: Once you're back at the lodge, the dock staff label, weigh, process and vacuum pack your fish while you relax in the lounge!
Our final morning, we had our possession limits of bottomfish in the lodge freezer so we got to concentrate on chinook and again, the bite was simply epic! Matt Nelson and John Martinis are working a double which started out as a triple but someone had to take the picture…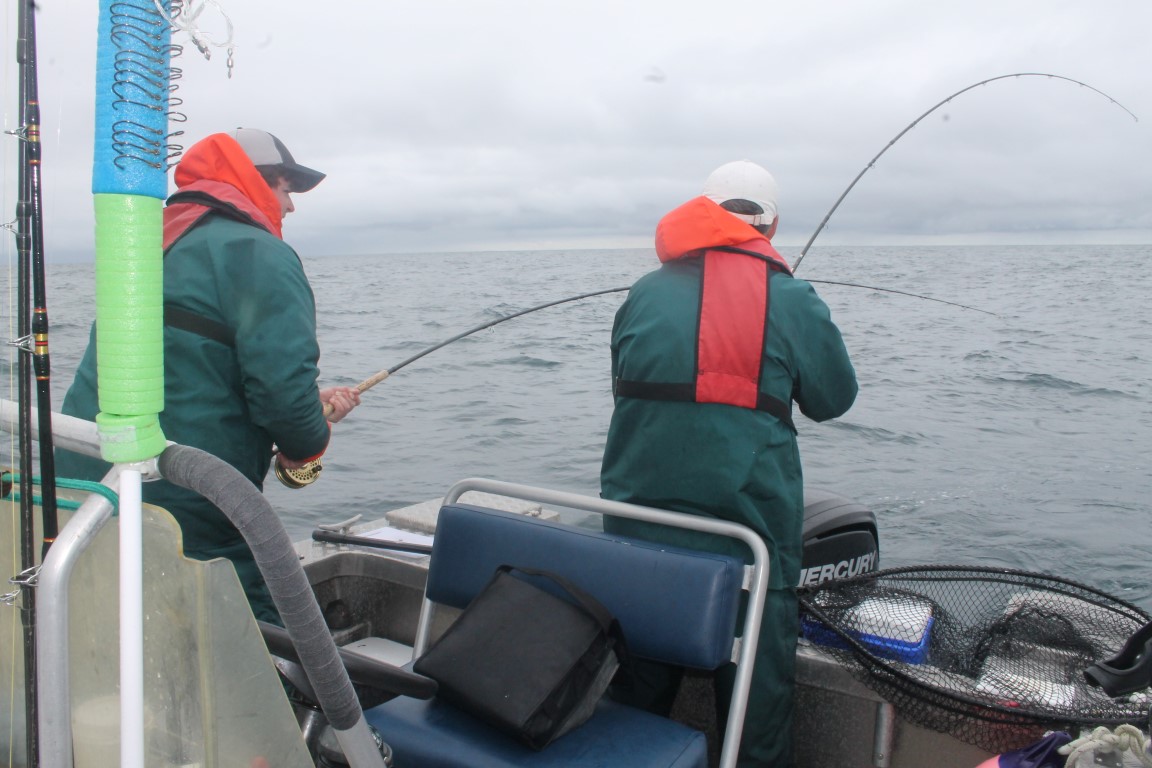 After the fishing was done, I couldn't help but take a few pics on the way in to the lodge. The beauty of Haida Gwaii, the Queen Charlotte Islands is well known but this untouched tide pool with a small stream entering it would be an even more fascinating sight in the fall with a few salmon sneaking in when the bears came to feed!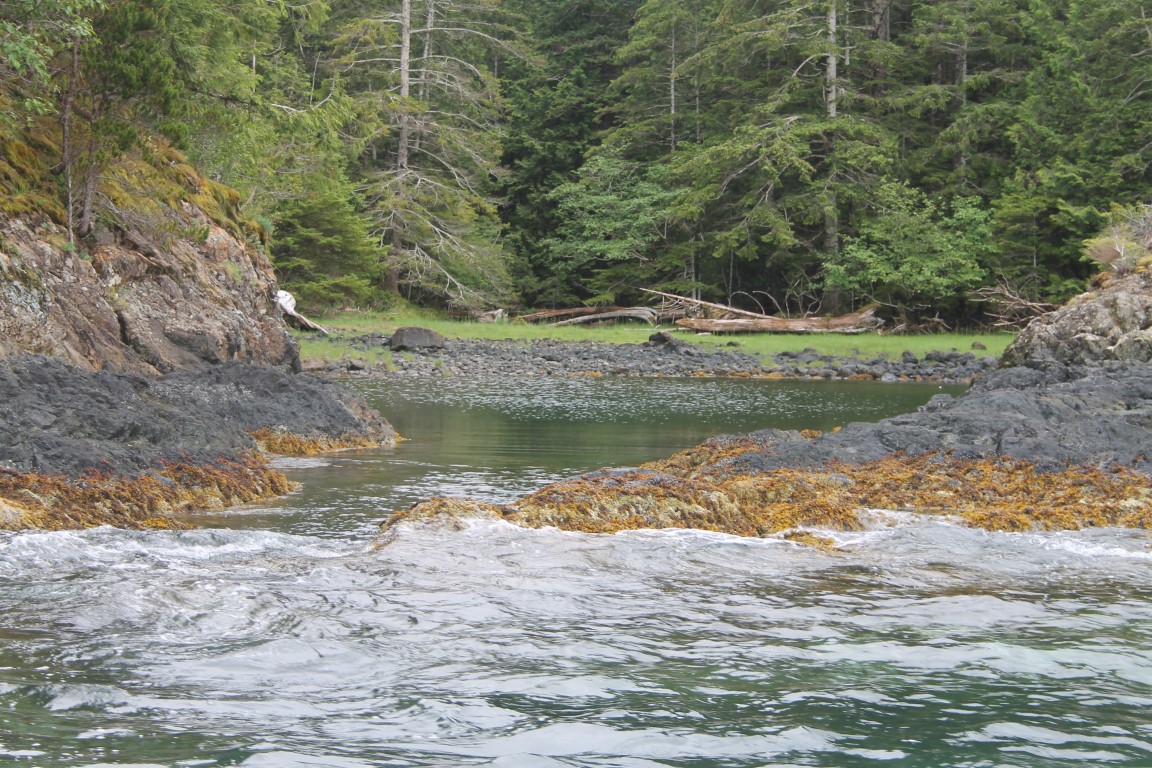 The anglers that came along on our Listener trip were very successful and while the fish you take home is not the only way to measure an adventure such as this, it's interesting to note that the 44 anglers boxed catch weighed over 4500 pounds!
The helicopter flight out of the lodge was accompanied with a stitch of sadness but also a feeling of satisfaction for a trip that was thoroughly enjoyed by all.
Back at Sandspit Airport, we literally walked off the Helijet and walked right on to the jet to Vancouver where we landed before noon and headed back home over the border.
We all played "Horse" on the basketball court when we were kids and after that last shot that hung that "E" on you, the ball was flipped back to your opponent with a defiant "prove it",
That's what this trip to Englefield Bay meant to me. After an unbelievable first trip last year highlighted by a tyee for my son and a memorable Father's Day for all.
WestCoast Resorts has repeated that feat, essentially "proving it" and now Englefield Bay is permanently carved in stone in my annual angling itinerary and I hope you'll consider making it part of yours.
Tom Nelson
The Outdoor Line
710 ESPN Seattle
www.theoutdoorline.com