I find myself hunting solo quite a bit and I'm always looking for a new gizmo to help capture the moment. Ram Mount's manufactures a slick X-Grip to hold a cell phone and a one inch ball adapter that will screw directly into a camera tripod, or in my case, the tripod from my Vortex spotting scope.
The camera on the new iPhone 7 comes with a timer feature that makes it easy to set this up for a big game photo in the field. When I'm hunting I nearly always have this spotting scope and tripod with me and if I don't then I'm packing a small tripod that fits easily in my pack.
I brought it along on a recent field trip with our oldest daughter and it worked great. When your not using this X Grip in the field it can be used in your truck or boat to keep your phone right where you need it. This X Grip will eventually be mounted on the dash of my charter boat in Alaska to keep my phone from rolling around on the dash of the boat.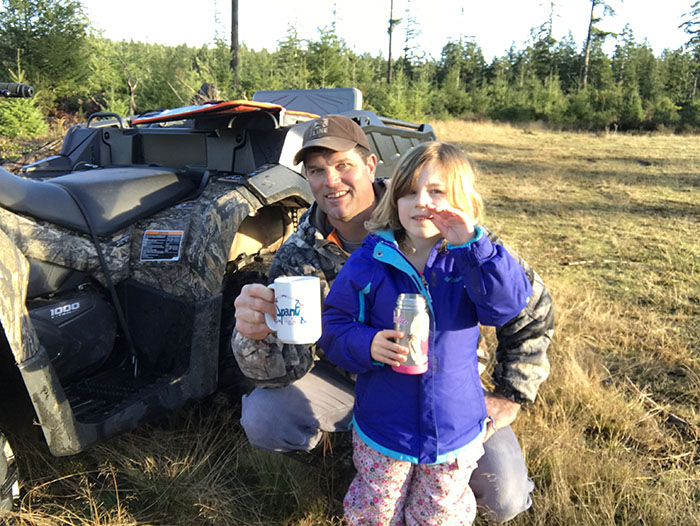 If this Ram Mount doesn't work for you the've got around 5,000 configurations of mounts for your phone, tablet, marine electronics, etc.. I've got another Ram Mount in my jet boat that holds a Lowrance HDS 7. When I don't need the Lowrance unit I can take the mount and unit off the boat entirely or swing it out of the way. It can be adjusted infinitely for viewing anywhere on the boat.
I'm not aware of any other mounting system that offers so much flexibility. The mount in my jet boat has been in the rain for three years now and it still looks like it came right out of the box.
If you're interested in picking up a Ram Mount for yourself or for someone else for Christmas they've got a special 10% off offer for Outdoor Line listeners that's going on thru the end of December. Click on the link below to get your discount:

Thanks for stopping by and good luck on your next outdoor adventure!
Rob Endsley
The Outdoor Line
710 ESPN Seattle