By Mark Yuasa
The Puget Sound Dungeness crab fisheries have been riding on a high note the past few years, and while nothing should skip a beat this summer there could be a dip in success in portions of Puget Sound mainly south of Seattle.
"In general summer crabbing should be good when it opens, but abundance will be down in (Marine Catch) Area 13 (southern Puget Sound), and parts of 11 (south-central Puget Sound), 10 (central Puget Sound), and 8-1 and 8-2 (east side of Whidbey Island)," said Don Velasquez, a state Fish and Wildlife Puget Sound regional shellfish biologist.
Those looking to get a jump start can begin setting pots this Friday (June 16) at Neah Bay east of the Tatoosh-Bonilla line (Area 4), Sekiu (Area 5) and south-central Puget Sound (Area 11), while Hood Canal (Area 12) and south of a line from Olele Point to Foulweather Bluff (a portion of Area 9) opens June 24. The vast majority of others marine waterways will open July 1, except two areas of the San Juan Islands that will open later in the summer to protect molting crab.
"This cooler spring has shifted when crab are molting, and could have affected numbers during our test fisheries," Velasquez said. "Looking at what we've seen so far taking place compared to the past few years, the Dungeness crab population is down in some areas. We haven't gotten any information on crab abundance from Strait of Juan de Fuca or Marine Area 7 (San Juan Islands) yet."
Velasquez pointed out that red rock populations are plentiful everywhere, and they seem healthy especially around the Puget Sound region south of Seattle.
In all, the state harvest Puget Sound-wide (includes Hood Canal and Strait of Juan de Fuca) in 2016 for Dungeness crab was 5,295,000 pounds for sport and non-tribal fishermen, and of that the sport catch total was 2,381,000 pounds. Tribal fishermen caught 5.350,000 pounds. The total catch between all three parties was 10,645,000 pounds.

This comes on the heels of an all-time record catch in 2015 when state and tribal Puget Sound Dungeness crab fisheries landed 11.8 million pounds, exceeding the previous 2014 record by 1.2 million pounds.
In 2013, recreational crabbers pulled in 2,103,589 pounds (2,315,833 caught by non-tribal fishermen), and 4,726,024 pounds caught by tribal fishermen for a total of 9,145,446 pounds. In 2012, it was 2,575,863 (2,601,945) and 5,164,423 for a total of 10,342,231. In 2011, it was 1,854,956 (2,574,496) and 4,323,974 for a total of 8,753,426.
In 2016, the sport Puget Sound crab endorsement was 223,443 down from 232,621 in 2015.
"During the odd-numbered years license endorsement sale seems to be higher due to pink salmon run, and I assume it will go up this year," Velasquez said.  "Crab endorsement license sales are relatively stable."
The summer — mid-June through September — sport fishery continues to have the highest participation level with 88.7 percent of the yearly sport catch, according to state Fish and Wildlife catch data.
In all areas of Puget Sound, crabbing will be open Thursdays through Mondays of each week (closed Tuesdays and Wednesdays).
Areas opening first from June 16 through Sept. 4 are south-central Puget Sound (Area 11); and Neah Bay east of Tatoosh-Bonilla line (Area 4) and Sekiu and Pillar Point (Area 5) in the western Strait of Juan de Fuca.
That will be followed by Hood Canal (Area 12) and south of a line from Olele Point to Foulweather Bluff (a portion of Area 9) opening from June 24 through Sept. 4.
The eastern Juan de Fuca Strait (Area 6); east side of Whidbey Island (Areas 8-1 and 8-2); northern Puget Sound (Area 9); central Puget Sound (Area 10); and southern Puget Sound (Area 13) all open from July 1 through Sept. 4.
The San Juan Islands/Bellingham (Area 7 South) opens July 15 through Sept. 30, and San Juan Islands Gulf of Georgia (Area 7 North) is open Aug. 17 through Sept. 30.
Pots may not set or pulled from a vessel from one hour after official sunset to one hour before official sunrise. All shellfish gear must be removed from the water on closed days.
Crabbers must write down their catch on record cards immediately after retaining Dungeness crab. Separate catch record cards are issued for the summer and winter seasons.
Catch record cards are not required to fish for Dungeness crab in the Columbia River or on the Washington coast.
The daily limit in Puget Sound is five male Dungeness crab in hard-shell condition with a minimum carapace width of 6¼ inches. Fishermen may also keep six red rock crab of either sex daily, and each must measure at least 5 inches. For more information, visit the state fisheries website at http://wdfw.wa.gov/fishing/shellfish/crab/.
Dungeness Crab Chawanmushi "Steamed Egg Custard" Recipe
Chef Taichi Kitamura owner of Sushi Kappo Tamura in Seattle loves fishing and the outdoors, and is well known for his victory in Beat Bobby Flay on the Food Network.
Tamura's use of sustainable seafood on the menu at his restaurant located along Eastlake Avenue in Seattle sets him apart from many other Japanese restaurant establishments.
Kitamura was born and raised in Kyoto, Japan, and opened his first restaurant Chiso in 2001.
Ingredients
Three large eggs
Two cups of seafood or chicken stock "dashi"
1/2 teaspoon of sea salt
Two teaspoons of soy sauce
One teaspoon of sake
One teaspoon of mirin (sweet cooking sake)
Five ounces of cooked Dungeness crab meat
One ounce of sliced shiitake or matsutake mushroom
One ounce of blanched spinach
Procedure
In a large mixing bowl, mix the eggs, stock, salt, soy sauce sake and mirin together. Strain the egg mixture through a sieve.
Place the crab, mushroom and spinach into small heat resistant cups or ramekins, then pour the egg mixture over them to fill 3/4 of the cups. Cover with aluminum foil individually.
Place the cups in a steamer with water already boiling and steam 10 to 15 minutes.
Check to see if it's done by using a bamboo skewer. When the clear broth comes out when poked with the skewer, carefully remove them from the steamer.
QUICK BITES
SKYKOMISH RIVER: The water level is up a little up, but has a nice light green tint of color, great visibility and it's in great shape. According to the WDFW escapement report they've collected 609 summer steelhead through June 1 and four more through Thursday at Reiter Ponds, and total egg take to date is 357,000. The Wallace Hatchery also collected 1,029 summer steelhead through June 1 and 38 more summer-runs through Thursday. On Sky from the Wallace River mouth to the confluence a fair number of hatchery chinook were lurking with verified catches of kings weighing 20 and 27 pounds. Those are some nice beefy fish. Reports also indicate 245 summer chinook have arrived in the Wallace Hatchery through this past Thursday.
HOOD CANAL: The spot shrimp fishery reopens from 9 a.m. to 1 p.m. on Wednesday, June 14 with a daily limit of 80 spot shrimp.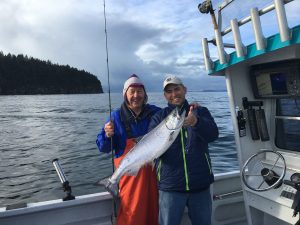 EDMONDS FISHING PIER: The only salmon show in Area 9. Word has it that seven or eight kings were caught this past week and most were in the 10 to 15 pound range. It is a one chinook daily limit, and they can be wild or hatchery. Most are casting and retrieving 1 ½ to 2 ½ ounce jigs like Point Wilson Darts, Dungeness Stingers or a Crippled Herring in green-pearl or pearl, and white or black and silver. Remember only single barbless hooks are allowed so take those treble hooks off.
TULALIP BUBBLE FISHERY: Average of one chinook for every 8 eight boats of late with most hatchery kings running 9 to 13 pounds with a few in the high teens up to 20 pounds. Open Fridays through noon Mondays only each week and there a closure on June 17 for a tribal ceremonial fishery. These are Wallace River stocked chinook, and are a better quality, earlier timed returning fish. Plus they're better biting fish.
COASTAL SALMON PREVIEW: The ocean salmon season begins on June 24 at Ilwaco, La Push and Neah Bay and on July 1 at Westport. Early word was the non-tribal commercial troll fishery got off to a rocking start last month, but has petered out since then. Wendy Beeghly the state fisheries coastal salmon manager says of late it really slowed down, and the best spot for trollers is still off Westport. She said this isn't anything to worry about from the sport fishing perspective, and it is not unusual for it to slow down, and truly not indicative of things to come this summer. One caveat to this is the inside fishery up in Canada had already met their chinook catch quota, and they are still fishing on the outside in the ocean areas.
KOKANEE BITE: Lake Stevens has been a buzz kill this season, and numbers of kokes just aren't there like in past years. Many believe the treatment work to rid the lake of milfoil and algae could have taken a toll of the aquatic life – krill that kokes feed on – and it's just not as rich with nutrients. If Stevens is your game, I'd go elsewhere, and a good alternative and where fishing has been productive is Lake Samish and we've seen some fairly good reports also coming out of Lake Cavanaugh.
LOWER COLUMBIA SHAD: Dam fish counts at Bonneville ramped up the past few days for shad. They totaled a whopping 38,253 on Wednesday and then climbed to 42,917 on Thursday for a season total of 161,562. That means it's now time to head south. Word has it that the fishing is quite good in the fast rips and high water flows below Bonneville. The shad are stacking up really thick below the dam. Beads are your best way to catch them, but others will toss flies on a size 4 hook, shad darts, wobbling spoons and small silver finished spinners.
COLUMBIA SALMON: The mid- and upper-Columbia River from McNary Dam to the Highway 395 Bridge at Pasco; Highway 395 Bridge at Pasco to I-182 Bridge at Richland near Columbia Point; and from the I-182 Bridge to Priest Rapids Dam will be open June 16-30 for hatchery chinook, sockeye and steelhead fishing. The daily limits are different for each three areas so check regulations on the WDFW website.
COLUMBIA STEELHEAD: A downer is the poor forecasted summer-run steelhead return of 130,700 – which is the lowest since 1980 – and has prompted state fisheries to further restrict fishing seasons. The projection is especially weak for wild steelhead returning to the Snake River and Upper Columbia above Priest Rapids Dam. Much of this can be blamed on the drought-like conditions these fish faced in 2015 as well as warm water from the Blob in the Pacific Ocean through 2016. From June 16 through Oct. 31, the daily catch limit is one hatchery-marked steelhead and a night closure on Lower Columbia from the Megler-Astoria Bridge to the Highway 395 Bridge in Pasco; Cowlitz below the Lexington Drive/Sparks Road bridge; Lewis from the confluence with the East Fork Lewis River; Wind below Shipherd Falls; Drano Lake; and White Salmon below the county road bridge. In August, all steelhead must be released in those five tributaries and on Columbia from Buoy 10 to The Dalles Dam. Drano Lake will also be closed to steelhead retention from Aug. 1 through Sept. 30. The Columbia will be closed for steelhead fishing from The Dalles Dam to John Day Dam in September; John Day Dam to McNary Dam during September and October; and McNary Dam to the Highway 395 Bridge in Pasco in October and November. Salmon and steelhead fishing is closed through July 31 from Columbia mouth to the Megler-Astoria Bridge.
Mark Yuasa
Outdoor Line Blogger
710 ESPN Seattle