When you see a bunch of Harley's parked outside a restaurant on the weekend you can bet there's some good eats to be had inside. There's one thing that bikers and outdoorsman have in common…they love to eat good food!
I've been driving by Ranch House BBQ on Hwy 101 west of Olympia, Washington for years en route to fishing, hunting, and clamming destinations on the Olympic Peninsula.
Nearly every time I cruise past the Ranch House the parking lot is stuffed with cars and bikes. Since I am usually towing a boat I opt out of stopping, but I made note that this place was probably worth hitting when the time was right.
On our way to dig razor clams back on the Washington coast back in November I was astonished to see only a half full parking lot so I whipped in there with the wife. The time was right to see what this place was all about.
The first thing you'll notice when you walk into the Ranch House is that these folks take their bbq seriously. Ranch House BBQ has won bbq awards all over America…and all over the world. From the trophy case up front to the walls around the restaurant there are trophies, banners, and ribbons literally everywhere.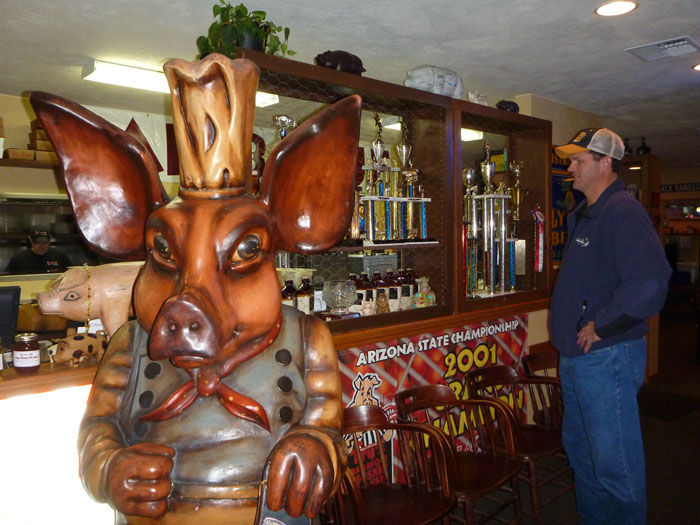 Everything on the menu looked awfully tasty but I stuck with the old bbq standby…a full rack of ribs with a cold Fish Tale ale. My wife ordered a full bbq'd chicken and of course half of that ended up on my plate. Both the chicken and the ribs were awesome.
Some of the bbq joints that I've visited here in Northwest toss some bbq sauce on their meats and called it "barbecue" without actually getting that smokey flavor into the meat. At the Ranch House all the meats are slow smoked with tasty rubs and little to no sauce added while they are cooking. They've got their own great barbecue sauce on the table to douse your food with, but the meats are so tender and delicious the sauce really isn't necessary.
Ranch House was crowned World Champion at the BBQ World Championship in Ireland in 2000 and has won titles in Washington, California, Oregon, Idaho, Nevada, Arizona, and even Canada. In addition to all the awards owner Amy Anderson and her all-girl grill team have been featured on the Food Network numerous times. This place is the real deal!
Even if the parking lots full you owe it to yur-bad-self to stop by Ranch House BBQ in Olympia and enjoy some of Amy Anderson's award-winning bbq. Rest assured we will be stopping in to see these nice folks as often as possible from now on. This place is a hidden gem!
Rob Endsley
The Outdoor Line
710 ESPN Seattle
www.theoutdoorline.com