By Rob Endsley
Blacktails will drive you to madness!
For starters they live in the dense jungle known as the Pacific Northwest rainforest. Chest-high salal brush, re-prod, salmonberry's, alder thickets, and some of the deepest, darkest pockets of timber you can imagine is what you'll find in blacktail country. And you can expect rain and lots of it. The rain is punishing at times.
One minute they are right there in broad daylight and half a second later they are gone, never to be seen again. A study printed in Northwest Sportsman magazine several years ago concluded that lowland blacktails in Western Washington live in about a two square Kilometer area. They don't migrate long distances and they know every stick, stump, bush, rock, and brush-tunnel in their environment.
I start every season by tromping around the open country of Okanogan County in Eastern Washington hoping to spot a big buck from a mile away and then move in for the shot. When that doesn't happen, and it usually doesn't, I head home to Gig Harbor and mentally prepare myself for hunting jungle blacktails on the Olympic Peninsula.
That mental preparation is what helped me this year. It kept from from quitting and saying to heck with blacktails.
On day one of my blacktail mis-adventure it was a balmy 61 degrees and I didn't see a single deer. What I did see though were rubs, a lot of rubs, and fresh tracks and sign everywhere. That led me to believe they were still nocturnal. It was October 24th and I knew that my best chance wasn't until the end of the general season on Halloween or perhaps the late hunt the third week of November.
I had focused my attention on some of the more open clear cuts on day one so I shifted to the re-prod on day two, thinking the deer might be opting for a little more cover. That hunch turned up three does and a bunch more sign. Since I seemed to be onto something I checked a rather large clearcut that was around seven or eight years old and full or re-prod. My brief scouting mission into that cut turned up a bunch of rubs that were less than a day old. It was mid day and temp's were again around 60 degrees so I headed home.
On day three I awoke to pounding rain on the roof of our home. This is one of the many
reasons why blacktail hunting is so brutal here in Western Washington. You can plan on your binoculars and scope being fogged up and covered in rain drops non-stop all day long and even with the finest rain gear you'll be soaking wet. On this particular morning it was coming down in sheets. I'm not gonna lie, dragging myself out of the sack was tough that morning.
I made my way to the edge of the clearcut with the fresh rubs around twenty minutes before shooting light and sat atop a large mound that overlooked a good portion of the cut. It was POURING down rain. I turned off my headlamp and sat in the darkness wondering what the hell I was doing there.
As it began to get light I started glassing the reprod for signs of life. I keep my binocs holstered in a  KUIU binocular harness that helps to keep them dry a little, but I was still having to use a paper towel that I stuffed in a pocket before I left the house on the lenses.
After twenty to thirty minutes or so I decided to move to another mound in the cut that overlooked a series of draws. That's where the freshest rubs were the day before and I was hoping maybe the decreased light level from the black dinge overhead would keep that buck out in the open a few minutes longer.
Slowly creeping up to that mound I noticed two white spots in the salal brush in the distance on the other side of a draw. I skipped the binoculars entirely and quickly set up my Primos Trigger Stick, knowing darn well that I might have two seconds to get a shot if it was indeed a buck.
I popped the scope covers off and settled the rifle into the notch on the stick and quickly determined that it was a decent blacktail buck in the salal brush. The white spots were the tip of his nose and his throat patch.
I had merely peeked my head over the edge of the mound and he was already onto me. Without time to range the animal I cranked my Leupold up to it's full magnification, settled the crosshairs just behind his shoulder, took a breath to gather myself, and slowly and evenly squeezed the Accutrigger.
My .300 Winnie barked and the muzzle break was so full of water that it looked like I had just fired a shot from a muzzleloader. A massive cloud of steam completely blocked my sight from the buck. I caught a glimpse of him struggling to make his way to the timber and then he was gone. Pulling out my range finder I quickly determined where he was standing was only 127 yards away. I knew the shot was right on the money and I also knew that finding a blacktail in chest high salal brush and timber in the pouring down rain was going to be a challenge. I've taken a lot of deer over the years and here I was trembling over a blacktail that would never make any record book.
I made my way to where the buck went into the brush and started walking a grid back and forth in the salal and huckleberries. The rain cranked up another notch and I was nearly drowning. After around fifteen minutes of working a back-and-forth grid I could see his rump underneath some brush ahead of me. The shot had hit him exactly where I aimed and he'd still managed to travel around 40 yards before falling to the 165 grain Barnes X.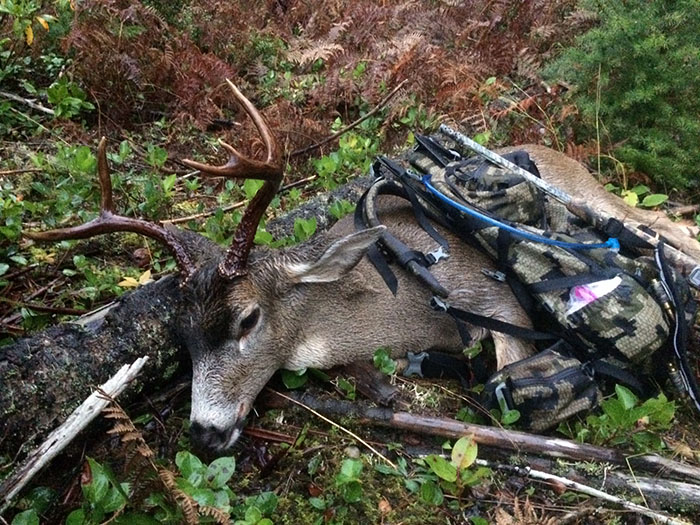 It was a nice, mature 2 x 3 that wouldn't make any magazine covers but I didn't care. These lowland blacktails are as challenging a critter to hunt as you'll find here in the west and the countless days I've spent studying them had payed off once again.
I put my tag on him, field dressed him, and slogged my way back to the Can Am 6 x 6 parked over a mile away. Lifestyles Can-Am in Mount Vernon, Washington loaned me this rig for the hunting season. The general manager there told me "this ATV will take you places you shouldn't be". He was right. It's six wheel drive, has a 700 pound dump bed, and 1,000 cc's to power up and over just about anything that stands in it's way. It's simply a killer rig for hunting!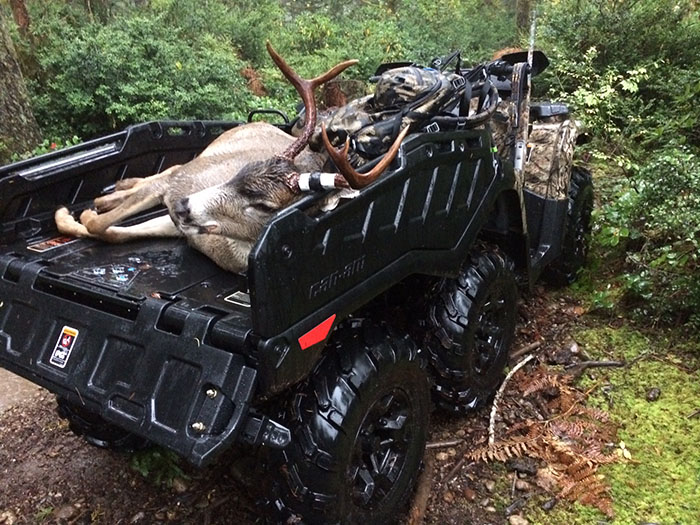 Take Away's from This Hunt:
Reading the Sign
I used the first two days as more of a scouting mission. The sight of fresh rubs and tracks everywhere led me to believe there were plenty of blacktails in the area but they were feeding and moving at night. This is classic blacktail behavior and the odds of seeing some animals would get better as the season approached Halloween and the rut started to heat up. If it didn't happen before then I could count on something on the late hunt in November when sixty percent of the blacktails are harvested in Washington.
Don't Get Discouraged
Hunting mule deer in open country means you'll probably see some animals every day and sometimes a lot of animals. Even if you can't get close enough for a shot at least you know they are there. With blacktail hunting I'd say that at least half the time you won't see a darned thing. It's all about the sign though. If you can find fresh rubs, tracks, and droppings and can stick around until the rut starts to heat up you'll have a much greater chance of success. Don't get me wrong. I get as discouraged and frustrated as anyone. I know how these critters operate though and that's what keeps me going back. If you're patient and keep working the sign eventually you'll get an opportunity.
The blacktail I took this year wasn't in the rut yet and I had him butchered into boneless steaks and hamburger that our family will enjoy for the next year. If you tag out with a nice buck this year don't hesitate to post a quick photo on the Outdoor Line forums.
Thanks for checking in and good hunting to you!
Rob Endsley
The Outdoor Line
710 ESPN Seattle