Kitsap Marina in Port Orchard, Washington recently installed a new Evinrude 105 Jet on my 18 foot custom Waldon river sled and I couldn't be more pleased. It's been a long, long time since I've enjoyed the hole shot and hook-up of a two stroke jet pump. I'm definitely diggin' it!
I bought this sled for running the smaller rivers in Washington and for fishing some of the local lakes and perhaps even the Puget Sound once in a while. I've been running jet sleds and outboard tillers for over twenty years and this little sled is the best performing sled I've ever owned. It's by no means a big river boat, but on any medium to small sized river it flat out shreds.
Here's some photos and intel on the new pump as well as my boat specs in case you're interested in going with a two-stroke Evinrude on your river rig.
My sled is 18 feet long with a 72 inch, 6 degree bottom and 25 inch sides. The Evinrude 105 weighs in at 428 pounds and it's weight matches up perfectly with my particular sled configuration. River sleds in the 18 to 20 foot range with 74, 78, and 82 inch bottoms would work great with this motor.
If you're stepping down to a smaller sled or have a 17 or 18 foot sled with a 68 inch bottom I'd take a look at the 90/65 Evinrude Jet. For even smaller sleds they make a sweet little 40 horse factory tiller jet. This right here is what makes my sled perform like a Lamborghini. This sled is freaky fast with the Evinrude and it corners like it's on rails because of the tunnel that Johnny Waldon builds into his sleds. Wooldridge does the same thing and I'm here to tell ya…if you want to run extremely skinny water and corner at planing speeds this is the way to go. This boat rocks the corners, braids, all of it. Waldon is a long time friend of mine from Skagit County and he builds one boat at a time in his shop in Conway. My next and last sled will be a 20 foot Waldon with an 82 inch bottom. If you ask him really nice he might even build a sled for you.
Every tiller jockey is most interested in the tiller. Evinrude has placed all the essentials like the shifter, kill switch, and trim/tilt right next to the throttle. Twist that throttle and you can get 5,300 to 6,000 rpm's out this bad boy at full throttle. This isn't the two stroke you ran twenty years ago!
And the tiller handle stays up like it's supposed to when you want to stop and fish. If you've ran tillers for very long then you know how much of a pain in the arse it is when your tiller is constantly falling down and in the way.
I really like this little button that Evinrude added at the base of the tiller. Simply twist this threaded button in or out to adjust the height of the tiller. When I'm standing up most of the day I screw it out to move the tiller handle up and when I'm sitting down mostly I screw it all the way in to drop the handle down.
Kitsap Marina mounted the oil reservoir in one of my side compartments and as you can see it takes up very little space.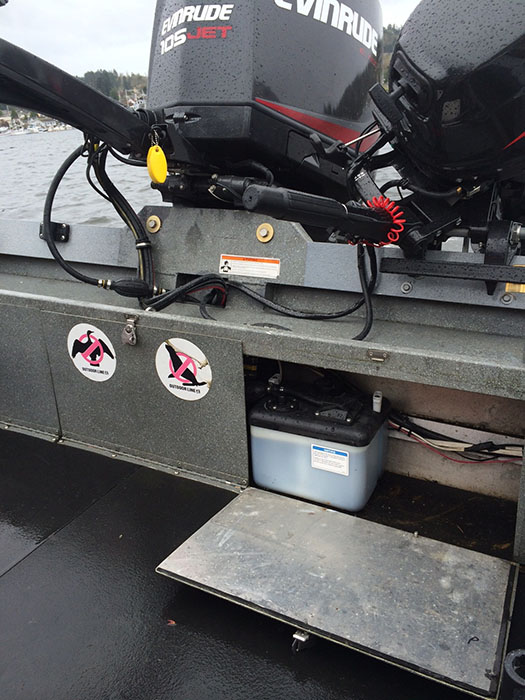 During the first 5 to 8 hours of run time above 2,500 rpm's the motor uses twice the oil to break in the cylinders. This is how much oil the engine used in two whole days of river fishing during this period.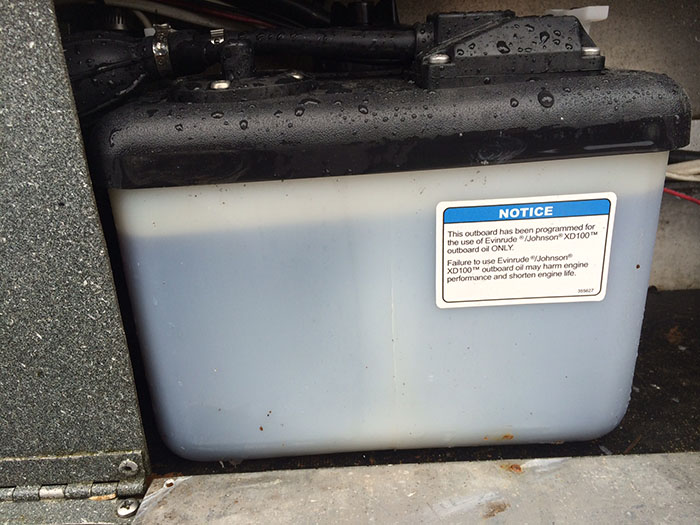 When I'm running this boat it's hard not to smile just a little. It performs like the sleds used to back in the 80's and early 90's when two strokes were the name of the game. Except, those motors were prone to breaking down. If this motor runs anything like guide Phil Stephens 200 Evinrude E-Tec that's performed flawlessly for several years on his 20 foot North River Scout I'll be smiling for quite a while. Brad Wagner, Bonner Daniels, and quite a few other top Washington guides are also running E-Tecs now and love them.
The last and best thing about these motors is that there's no scheduled service for 3 years or 300 hours. If you've been missing the torque of a two stroke I highly encourage you to take a look at one of these engines. Check out the rest of the specs on the Evinrude 105 Jet online or call Kitsap Marina and talk to the folks there about them. Kitsap is the largest Evinrude dealer and service center in the entire Pacific Northwest!
Rob Endsley
The Outdoor Line
710 ESPN Seattle