My first taste of the annual lower Columbia salmon bonanza known as Buoy 10 was over a decade ago and ever since, the challenge of this huge river mouth fishery has captivated a part of my thoughts and, an increasing part of my fishing plans!
After a season of deep downrigger trolling for chinook –which I love by the way- there is something about a savage shallow water strike from a big king on a short length of braid that is violently refreshing and exciting all at the same time!
The average size of these Columbia River fall chinook and coho is impressive, their fight is inspiring and they perform on the dinner table and in the smoker as well as any fish you'll find up and down the coast. After reading all that it should come as no surprise that finding a way to comfortably and economically spend some time at this world class fishery is definitely my plan. Options for accommodations are limited and can be expensive on the lower Columbia. I've tried the Washington side but I prefer Astoria, Oregon.
Is it because Astoria has the only Starbucks on either side of the lower Columbia? I'll have to take the Fifth Amendment on that inquiry…
Thankfully, our friends at Roy Robinson Chevrolet RV suggested an alternative to booked motels with no boat parking!
That "alternative" came in the form of a Winnebago Journey diesel pusher and once we hooked up to the ESPN Weldcraft "Great White" didn't look quite as big as it used to…

Once we got to Astoria, it wasn't very tough to get the Winnebago Journey "popped out" and set up so it was time to hit the river!
We didn't know it at the time but this year's Columbia River Chinook run ended up as the 3rd largest since 1938 and they were in a biting mood!
When we got back to our "Fish Camp", vacuuming and freezing was a snap as the Winnebago was hooked up to shore power but the on-board generator would have also handled this with ease!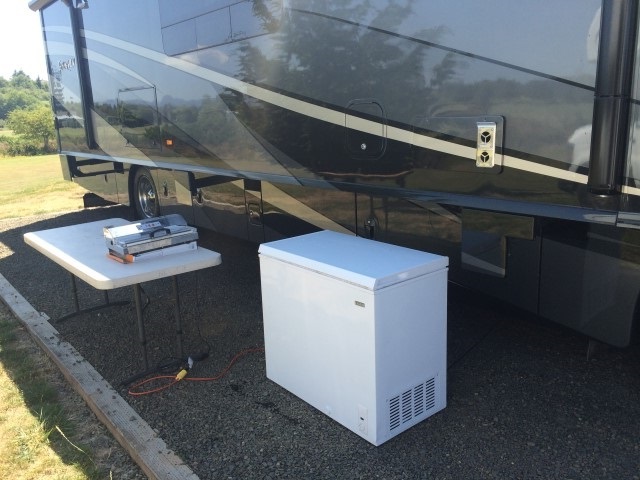 The fires in Eastern Washington were apparent in this Western Washington morning as the smoke made for a vivid red sunrise.
The smoky sunrise didn't slow down the bite and we had a couple days of double-digit hookups.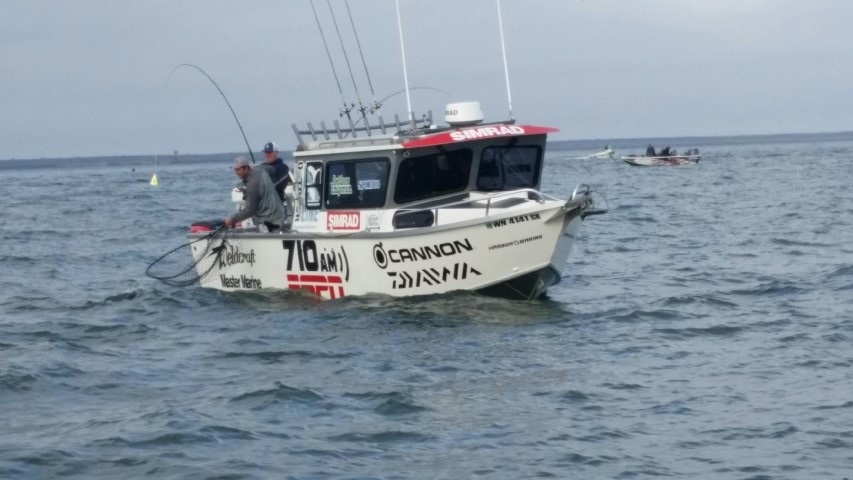 Eric Jorgensen of Roy Robinson Chevy/RV joined us for a couple days of our Astoria Adventure and was rewarded with solid action and BIG CHINOOK!!!
I can't tell you how great it was to come "home" to comfortable furniture, a warm shower and yes, the built-in washer and dryer in the master bath was not too bad either!
The lasting lesson from this trip was the flexibility that a motorhome can provide you by towing a boat, small vehicle or an ATV to your vacation location. I had never really considered that a confortable, luxurious Motorhome could be a tow vehicle as well but now I know different! If I had not experienced towing my boat to Astoria from Roy Robinson Chevy/RV in Marysville myself, I never would have believed how comfortable and easy it was. The trip itself was a breeze and i did get a kick out of the looks I got when this 80-foot total rig length went cruising by.
See you on the open road!
Tom Nelson
The Outdoor Line
710 ESPN Seattle
www.theoutdoorline.com