This year's edition of The Outdoor Line's annual Sitka trip was a very special one. We had some Alaska "first-timers", (I was going to say "Greenhorns" but…) some of our wives made the trip for the first time in several years and 2014 marked the Alaskan arrival of the 710 ESPN flagship, the Weldcraft 280 Cuddy King.
The trip began back in late May with the barge trip from Seattle to Sitka. It's a bit freaky seeing your boat and truck sail away but it's a gas to fly into Sitka and find your ride safe and sound thanks to Alaska Marine Lines!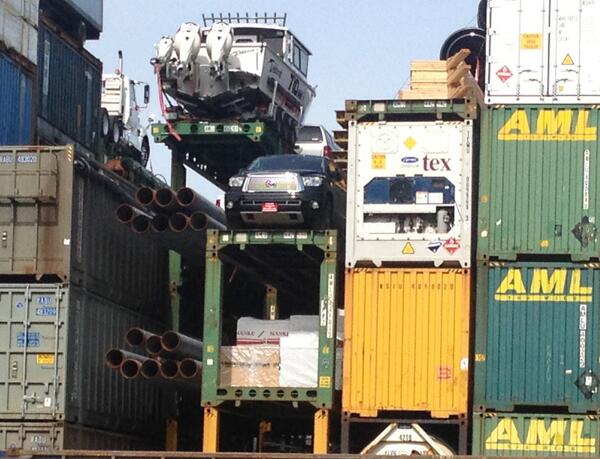 We were very fortunate to arrive in time for some flat, sunny weather and a solid chinook bite. Jack Reyes mugs for the camera on the first fish of the trip. Little did we know that the bite would remain…but the nice weather would not.
Team Outdoor Line's Brandon Robichaux can't help but grin on his first day in Alaska..and his first Alaskan chinook!
Phil Michelsen handles a hot king and finds that the Daiwa DXS Series Rods and Saltist reels are more than a match for a big Alaskan chinook!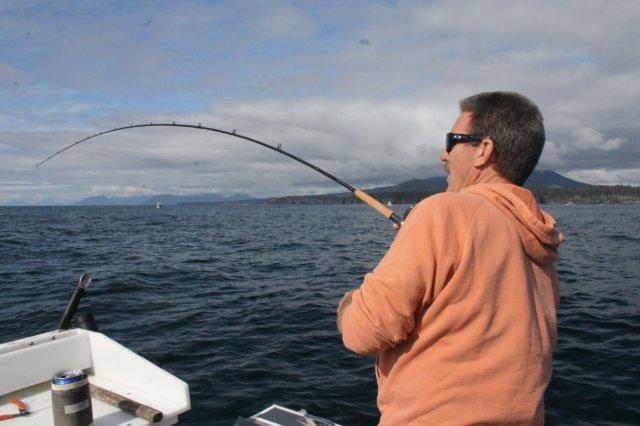 I even get into the act and all my work getting Great White ready for this trip comes to fruition!
710 ESPN's Michael Grey of the "Wyman, Mike & Moore" show experienced Alaska for the first time and his very first Alaskan chinook turns out to be a very memorable experience!
My summer on air partner John Martinis joined us in Sitka for the first time and I believe that it won 't be his last appearance on this trip!
In between weather systems we managed to refine our halibut anchoring techniques. Here, Phil Michelsen, Michael Grey and John Martinis admire out day's catch with chinook to 26 and halibut to 100lbs!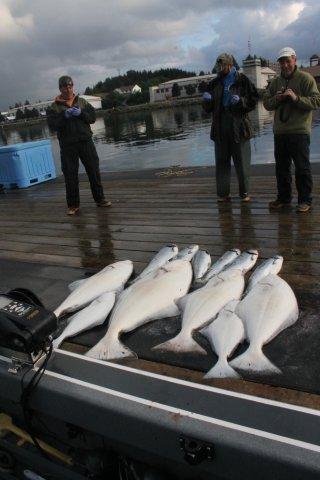 Speaking of refining techniques, Pro Cure's Brine & Bite has  forever changed the way I handle my herring. With one jar of Brine & Bite powder, you can cure up to 8 trays of bait that stand up to some trolling, mooching and shine like nothing I've ever fished before!
My dear friend Larry Stauffer and his wife Dana enjoyed a consistent chinook bite and we enjoyed having our wives join us for a few days of Alaskan angling!
My wonderful wife Kathy handles this hot king and I can't begin to describe how special it was to have her join me on this trip!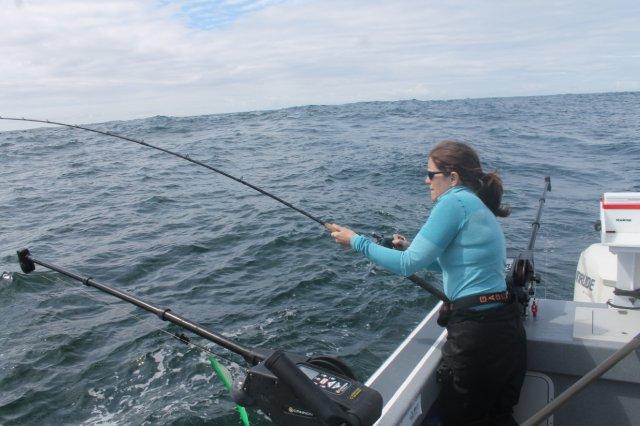 Kathy and Dana share a laugh and a special moment after this double on mid-20 lb chinook!
Larry, Dana, Kathy & I with our days catch. We'll be remembering this trip in pictures -and barbeques- for months to come!
ESPN's Brock Huard joined us for his second season in Sitka and his passion for fishing and ability to learn is amazing to watch! I'm pretty sure he is as hard-bitten as I am with southeast Alaska!
While it's nothing short of wonderful to share this time in Alaska with family and friends, we're working on a bit of a promotion that may allow us to host a listener on this trip next year so stay tuned for that!
Meanwhile, we're working on sharing what we've learned in Alaska about chinook salmon fishing right here. Want technique tips? Stand by! We're going to deliver some tips that will deliver more fish in your box this season!
Tom Nelson
The Outdoor Line
710 ESPN Seattle