The ability to quickly, effectively and safely anchor your boat is a fundamental aspect of seamanship that will help you catch more fish, enjoy a restful time on your vessel and most importantly, keep all aboard safe and sound in the event of a grounding or complete power failure.
My main focus for this project was to lay out and mount an anchor roller mount and deck pipe (deck top access to the rope storage locker) that would be easy, convenient and safe for everyone on board. Fortunately, the gang at Harbor Marine in Everett had everything I needed!
Our project boat is the Weldcraft 280 with nothing short of a bulletproof "pulpit"!
Our "raw materials" for this project are, top to bottom: Lewmar anchor roller mount, Rocna Fisherman 6kg modified plow anchor and a Perko hinged chain pipe.
The anchor roller mount installation is straightforward, just line it up straight and make sure the anchor's point, in this case the Rocna chisel tip clears the pulpit support under the roller.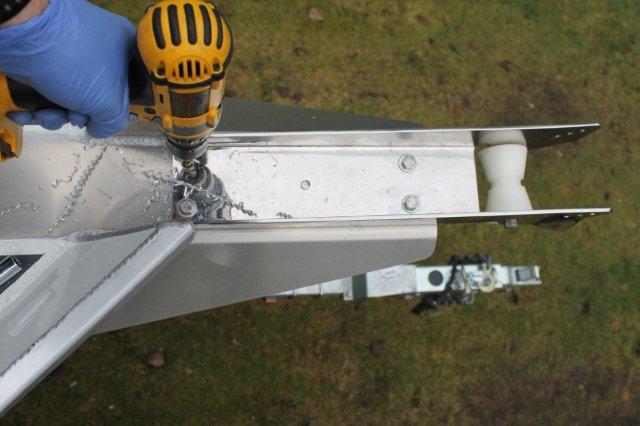 Now it's time to lay out the chain pipe hole and since this is a fairly significant jig-saw job, it's definitely a case of "measure twice, cut once"!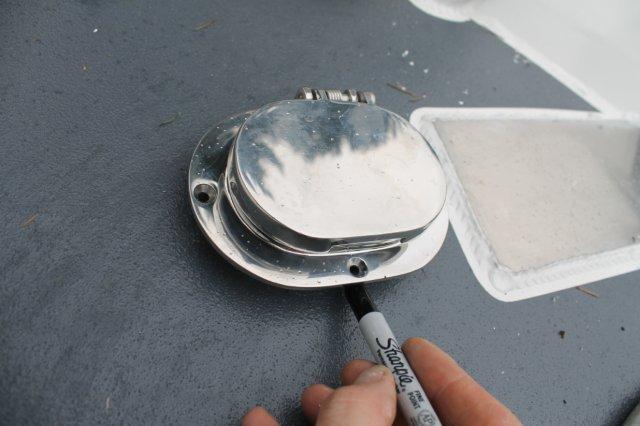 Rest assured, I double-checked the area under the cut to make darn sure that there was no electrical or other "trouble" hiding under the deck!
Marine silicone around the pipe flange guarantees that the only water getting into that anchor locker is coming through the pipe… not around it!
Nice, clean, sturdy installation so far, now for some chain on that Rocna Fisherman!
A boat length of 3/8″ Galvanized Proof Coil chain shackled to the Rocna finishes the package…almost… 
While the installation looks bad to the bone, the anchor is a bit tilted and will rock back and forth a bit on the road and the last thing we want is to weigh the anchor on Interstate 5!…So…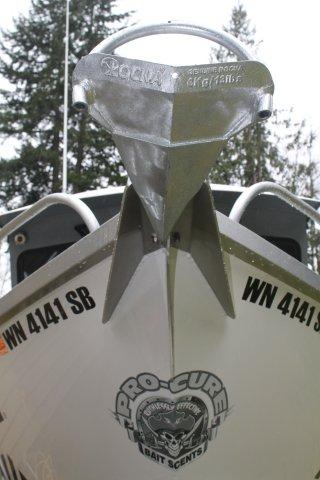 Drill baby drill! The Lewmar anchor roller mount has three holes pre-drilled to fit a 5/16″ lock pin. Drill the anchor stock to fit one of the roller mount holes and add a piece of 150lb test mono with crimped loops for a pin keeper…and buy an extra pin just in case!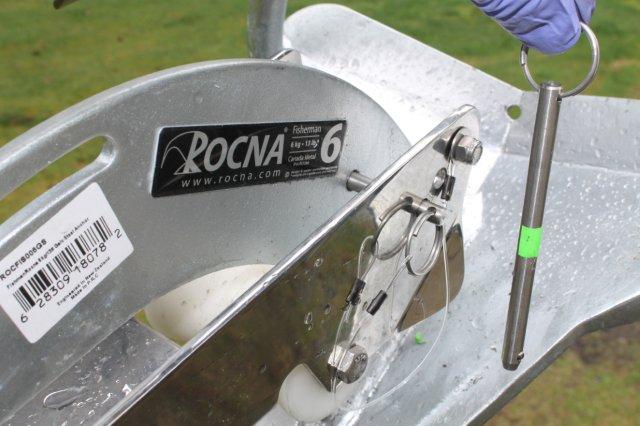 Now I'm ready to anchor fish for halibut in the Straits, springers in the Columbia or maybe even to take a little break in the action! These days, we all need a little break…Right?
Tom Nelson
The Outdoor Line
710 ESPN Seattle
www.theoutdoorline.com