I've always been chided by, well, everybody for my lack of fly fishing expertise.
The sad fact is, I really have no defense to the criticism. Most anglers careers follow some type of meaningful progression. You know, dunking worms as a kid in the local pond to fly fishing in some exotic destination. Unfortunately, my development as an angler was stunted, basically stopping at salmon fishing with herring, essentially using a piece of meat to catch a bigger piece of meat.
So, when the opportunity to cast and blast Canyon River Ranch with Mariner legend Jay Buhner presented itself, I knew I had a challenge ahead of me. The "blast" part of the equation didn't concern me as much as the "cast" …but, we'll get back to that later.
I had never been to the Canyon River Ranch before and was pleasantly surprised to find it so close to home!
Once you get there, it's a unbelievably luxurious and affordable destination that's just like a slice of Montana less than two hours east of Seattle!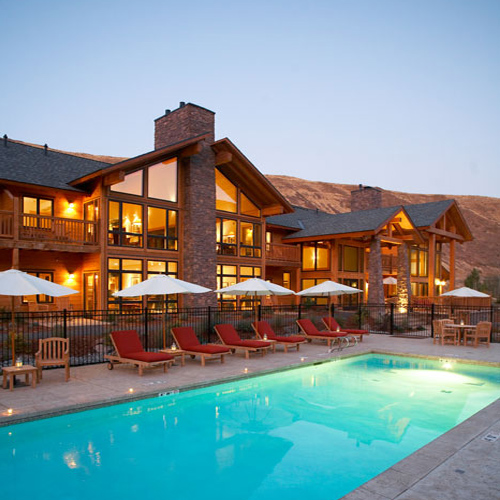 Since I had my black lab Bailey with me, the good folks at the Ranch assigned me the "dog friendly" room… The nicest room the mutt and I ever stayed in, no question about it!
Once we got settled, it was time to check out Red's Fly Shop. From the outside it looks inviting…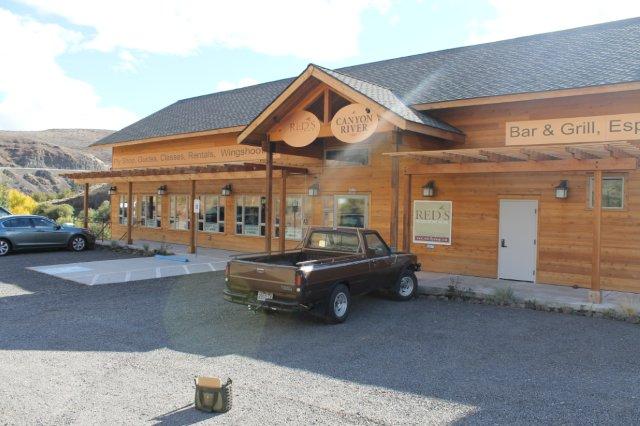 Once inside, Steve Joyce and his crew offer expertise in every aspect of the Canyon River Ranch experience from sporting clays to pheasant hunting to yes, fly fishing!
Your cast and blast adventure at the Canyon River Ranch begins at the crack of 8:30 when the pheasant hunt begins. Here's Jay Buhner and I with the morning's batch of roosters. Bailey the black lab was a little reluctant to have her picture taken…
As if by magic, after lunch the drift boats appear waiting to take you down the Yakima River Canyon.
With Canyon River Ranch's Steve Joyce on the oars, Jay Buhner grabbed the stern of the boat which left the bow for me…and the camera man. This outing will be coming to a TV near you soon in the form of "ProGuide Outdoors" on Root Sports starting in January 2014.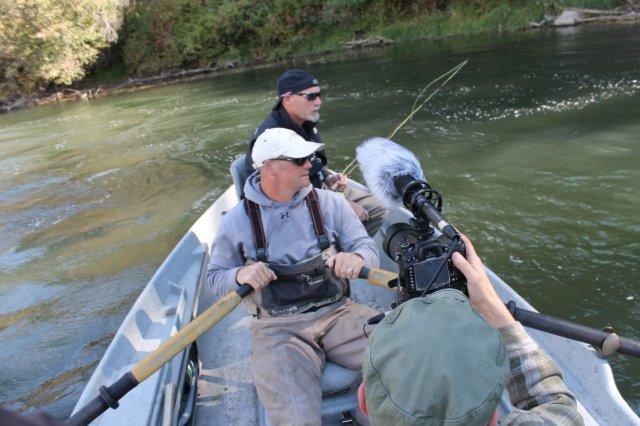 Up ahead lay the Yakima River Canyon. I've floated many, many rivers in Washington State and this may be the most unique and beautiful river that this state has to offer.
Jay Buhner is a simply a fly casting machine once the winds came up and we switched from small dry flies to streamers it was "Bone" clinic time. Here's a fine Yak rainbow.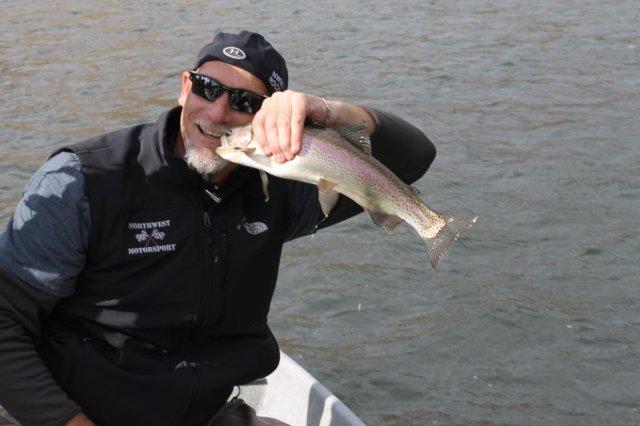 Rainbow brute #2 goes to…you guessed it. The Bone strikes again and I'm learning that there is a lot more to casting and stripping streamers than you'ld think!
Jay and ProGuide Producer/Editor Russell Cameron of OMG Multimedia share a few thoughts at the end of a fun filled cast and blast day!
I learned more than a few things on this trip. First, Jay Buhner is a great guy and a fanatical fly fisherman. Second, Canyon River Ranch is a wonderful destination, capably operated by a whole bunch of wonderful, knowledgeable people. Lastly, I need to work on my streamer casting technique and as soon as I get this ice bag off my casting shoulder, i'm going to do just that!
 Tom Nelson                                                                                                                      The Outdoor Line                                                                                 www.theoutdoorline.com                                                                                                 710 ESPN Seattle