The word "awesome" has become a bit overused these days but I'm having a tough time coming up with words to describe a month that included the Pacific Ocean, Columbia River, Puget Sound,the San Juan Islands and a couple of days fishing with our heroic wounded servicemen.
The first major local offshore event of August is the Washington Tuna Classic (WTC) which benefits the Wounded Warrior Foundation. Always wanting to get a jump on the competition, noted "Tuna Tyrant", former Seattle Seahawk Robbie Tobeck invited me along to host a couple of Wounded Warriors on a WTC scouting trip.
Game face already in place, Tobeck reluctantly pauses for a shot with our guest angler, Wounded Warrior veterans, Chad and Anthony.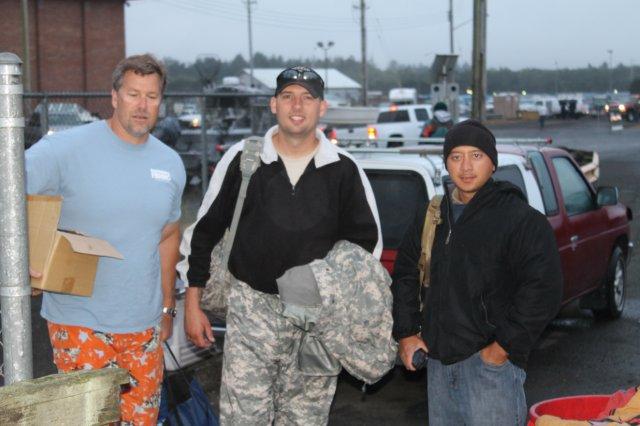 Game face part two: Want to get yelled at by a Mike Holmgren coached NFL veteran lineman? Stop fishing during a hot tuna bite long enough to take a picture…
Chad, Robbie, myself and Anthony with our days catch and August is off to a great start!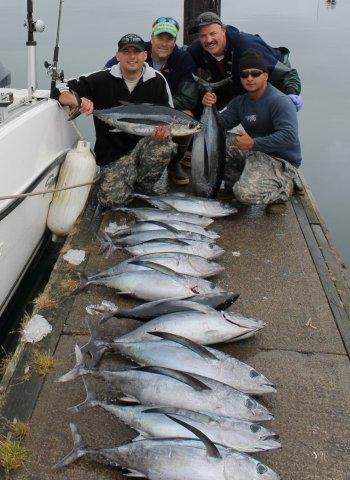 The second weekend in August brought the inaugural Salmon For Soldiers at Bayside Marine which was, honestly, one of the most positive fishing events that I've even had the honor of participating in. Nearly 70 boat owners from across western Washington hosted 300 servicemen & women for a day of fishing and fellowship.
Randy Shelton (left) was the driving force behind Salmon for Soldiers, while Rob Endsley and I helped with promotion and other support efforts.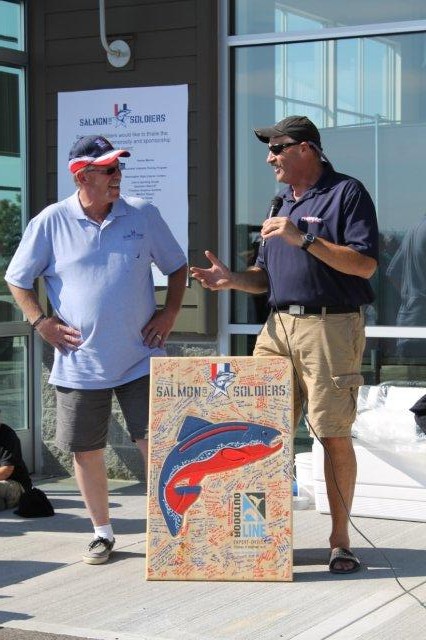 Bayside Marine generously hosted the event, providing the food and beverages to the several hundred anglers, veterans and care-givers in attendance.
Immediately …and I do mean seconds… after Salmon for Soldiers, we hit the road for Astoria, Oregon and the legendary Buoy 10 salmon fishery. Here, the sun sets on the Columbia River at Longview , bringing a very busy Saturday to a welcome end.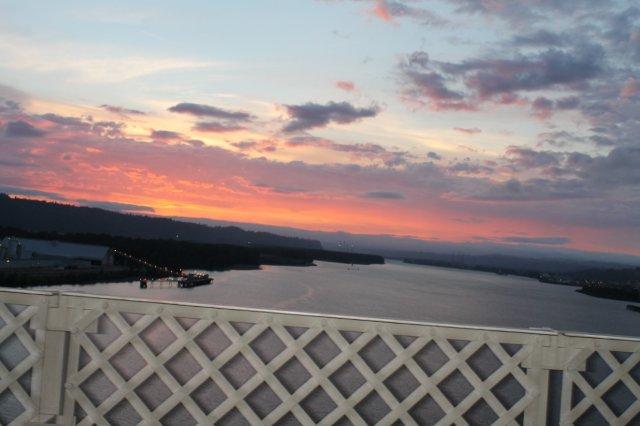 With a huge forecast of upriver bright chinook on tap, double-digits hookup mornings were the norm and nets were flying everywhere!
For the past few years, our largest chinook of the season has come from Buoy 10 and this year was no exception. Here, Phil Michelsen is all smiles with this chrome upriver bright 34 pounder!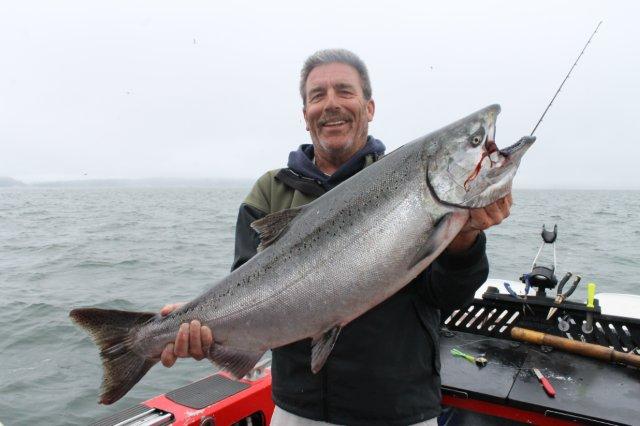 Local, late August chinook opportunity leads us to look north and west. Here, two San Juan angling legends Larry Carpenter and John Martinis jump on board Big Red for a morning on the west side of San Juan Island.
We had a very productive morning and the in the fishbox was a mixed bag of chinook, hatchery coho and, yes,,, pink salmon!
For the rest of the month, Puget Sound will be "in the pink" with a little silver mixed in for good measure. I'm pleased that Congressman Rick Larsen has taken an interest in the health of our salmon runs and the fishing industry as well. Left to right, Chris Beard, Tim Beard and Rick Larsen with a morning's mess of pinks!
I really dread Labor Day weekend…It's symbolic end of the summer season but as we all know, as one door closes, another one opens! September brings a whole new set of opportunities and challenges
Oh, yeah… Hunting and football seasons too…
Maybe September isn't so bad after all…
Tom Nelson                                                                                                                             710 ESPN Seattle                                                                                                                   www.theoutdoorline.com