It's not often you get to participate in an event "first" in the fishing world…
Add the fact that the "first" in question is the newest stop on the prestigious Northwest Salmon Derby Series with a new tournament format and it's no wonder why over 100 anglers and ten teams stepped up to compete in the 2013 Harbor Marine Salmon Tournament!
All the other Northwest Salmon Derby Series (NWSDS) events have a "derby" format in which the largest fish wins the grand prize. Tournaments, on the other hand combine the anglers daily bag for two days and an angler must produce consistent catches to win the event. Some anglers argue that a "derby" is more a matter of luck while a tournament allows skill and strategy to figure more prominently in the winning equation. Either way,The Harbor Marine Salmon Tournament brought out the best anglers in the area and demanded the best from these seasoned salmon fishing veterans.
At the end of Day one, Team Outdoor Line had some ground to make up. Our top angler weighed in a two fish limit of 23.4 pounds and was in the hunt but had some serious ground to make up!
Fortunately, Brock Huard of 710 ESPN  stepped in for day two of the tournament and holds 15.6 pounds of Team Outdoor Line's effort and we're on the board early on the final day!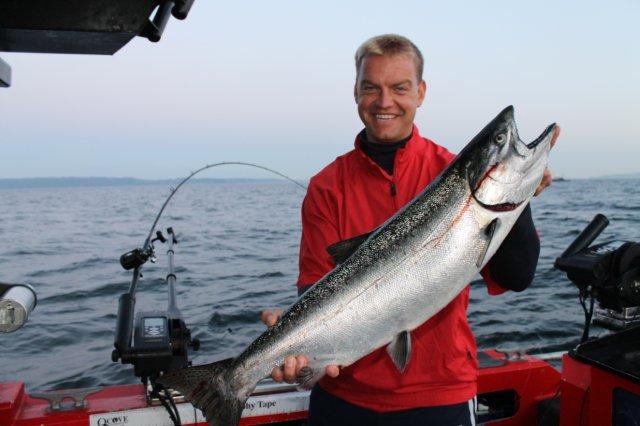 Brandon Robichaux does a great job with our second fish of the day and that ground we had to make up looks a lot more manageable! 
Team Outdoorline's three fish bag of 41.7 pounds was a day-two Harbor Marine Salmon Tournament best and it would be a very tight…and very interesting weigh in!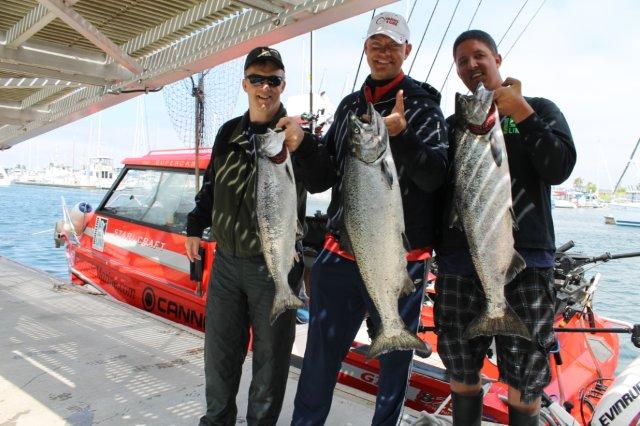 The other teams look on as Brandon Robichaux brings his limit to the scale and there's no doubt that this tournament is going to come down to ounces!
Lauren Bivins of Harbor Marine (left) and Brock Huard share a laugh after the scale closes at noon on Sunday.
The hay is in the barn and Lauren Bivins steps to the microphone to announce the winners and the suspense is palatable!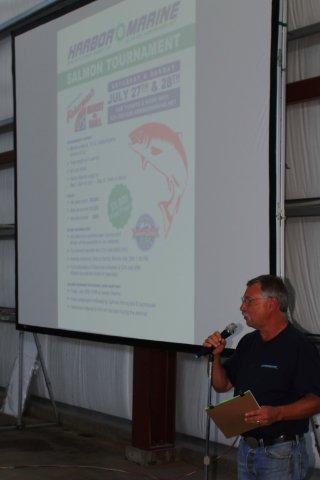 In third place with a two day, four fish bag of 54.5 pounds is Corey Thrasher. The Outdoor Line sponsored the $500 3rd place prize and I get to hand Corey the big, fake check!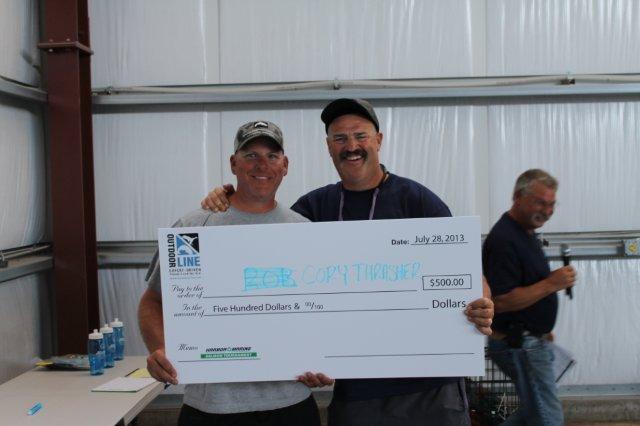 Second place and $1000 sponsored by Bayside Marine goes to Rob Byrd for his two-day total of 56.6 pounds. Here, Jeff and Annie LaLone of Bayside Marine present Rob his prize.
Nick Kester's Team All Star posted the best boat team weigh at 75.1 lbs and took home $1000 cash! Rob Hyatt flashes the cash and Team All Star is proud of their efforts!
Team Outdoor Line, left to right Walt Hylback, Brandon Robichaux and yours truly hoist the grand prize $5000 check and more importantly, the title of 2013 Harbor Marine Salmon Tournament Champs! Brandon's two-day, four fish bag came in at 57.4 pounds.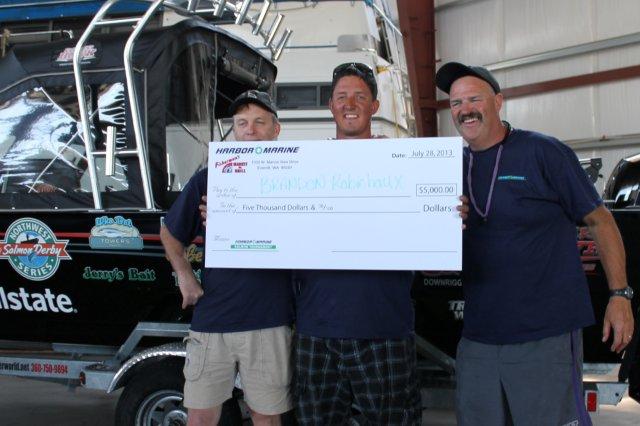 The Marine Area 9 & 10 selective chinook season in July  is something I look forward to all year long. You can add the Harbor Marine Salmon Tournament to one of the reasons that I love this time of year and the beautiful, wonderful Puget Sound that we all call home. See you here next year!
Tom Nelson                                                                                                                       710 ESPN Seattle                                                                                                             www.theoutdoorline.com