Our annual Sitka "sojourn" took on a decidedly competitive theme this year.
Why?…Well, when you have a Husky and a Cougar on the boat, despite the fact they were Seattle Seahawk teammates… you're going to have issues but, ..we'll get back to that later.
Fortunately, catching fish would not be an issue this time. After over 20 years of experiencing the southeast Alaskan salmon stronghold that is Sitka, I am more than familiar with the annual variation in run timing and strength. So,I started to scratch my head a little bit when the Alaska Department of Fish and Game (ADF&G) issued their Chinook Abundance Index (CAI) for 2013 and it was a slightly low number (1.20). The cautious, conservative abundance estimate indicated some concern with northern British Columbia chinook survival but given strong forecasts to Washington and the Columbia river, I was betting on good action and, for once, I bet correctly!
The "competitors" on this trip would be my friend, former co-host of The Outdoor Line Washington State University and Seattle Seahawk center Robbie Tobeck and none other than ESPN's  Brock Huard, University of Washington & Seattle Seahawk QB and now host of the Brock and Danny show on 710 ESPN Seattle. Brock's busy career has kept him in the lower 48 and this would be his first trip to Alaska. He would not be disappointed.
First up on the rod was the "cantankerous Cougar" Robbie Tobeck. He is all smiles with this jumbo yelloweye rockfish.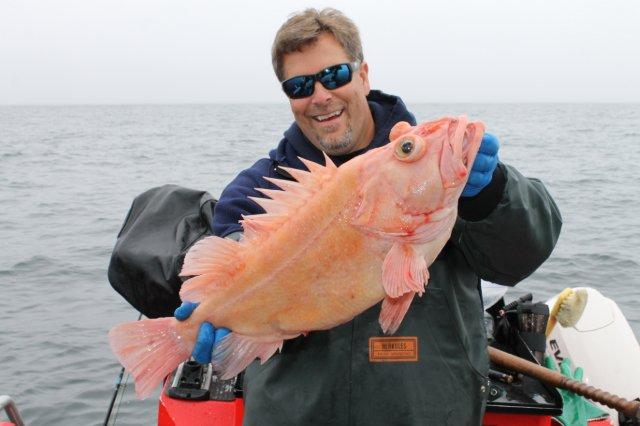 Tobeck's  career best 90 pound halibut didn't hurt his feelings and took a little bit of the sting out of our annual Puget Sound halibut skunkings…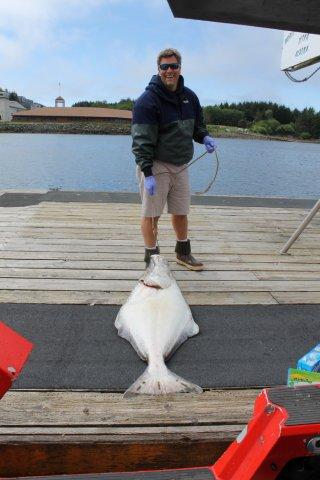 Robbie had to conduct some business in town after our morning bottomfish outing so after we got the fish cleaned and processed, we barely had time to pick up Brock and his friend Jamie Waltier from the airport for the afternoon salmon trip.
Brock had spent his morning broadcasting the "Brock and Danny Show" from the Seahawks minicamp where he interviewed Assistant Head Coach Tom Cable. When Brock mentioned to Cable that he was leaving directly for an Alaskan fishing trip,,,well,.. let's just say that rabid fisherman and Snohomish, Washington native Tom Cable shifted the focus of the interview from free agents to fishing!
Brock Huard wasted no time getting his first Alaskan chinook on board! Despite a gusty first afternoon, he toughed it out and boated this chrome king.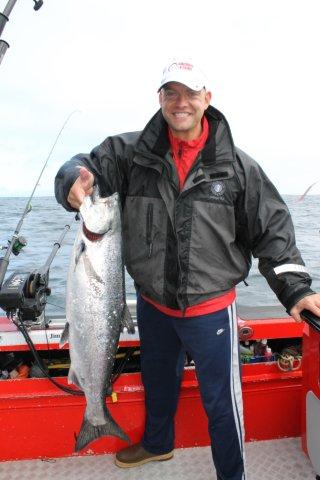 Brock's busy schedule allowed him only one salmon trip last year and it was a tough outing. So, when his first king hit, he was something way "north" of excited. In fact, this professional speaker, broadcaster and college football color commentator/analyst completely lost the ability to speak and spun the handle on my Daiwa Saltist faster than I thought humanly possible! Let's just say that I'm glad we didn't start him out on a single-action mooching reel…
With day one in the books, my good friend Derek Floyd of Reel Class Charters agreed to take us fishing on his day off. Here, Derek tells Brock's friend Jamie Waltier what to expect aboard his 30 foot charter boat, the  "Angler".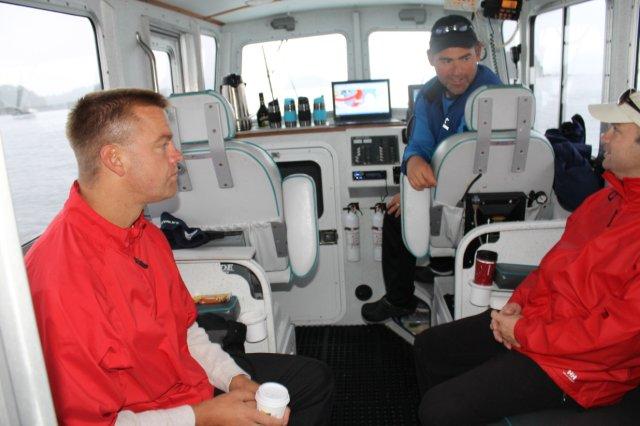 Holy smokes! Is that Brock playing a chinook with a single action reel? Absolutely! He is coachable after all!
Tobeck quickly got into the act as well. This 25 pounder got him all fired up and he started to realize that salmon are as least as feisty as his beloved tuna.
Brock Huard's development as a salmon angler advanced from downrigger trolling with a levelwind to mooching with a single action reel and quickly progressed to successfully netting fish! Here Brock's buddy Jamie is relieved to hoist the results of Brock's first Alaska net job!
The biggest fish of the day aboard Derek Floyd's boat was this fine 27 pounder. Counting coho, a couple chums and chinook, Derek got us into 40 salmon, displaying nothing short of a mastery of this fishery.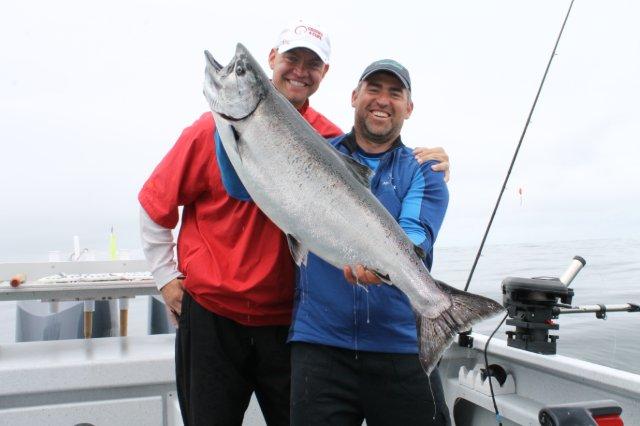 On our final day in Sitka, we wanted to get out after halibut just once more. Fresh from his successful netting experience, Brock wanted to give harpooning halibut a try. Here, "coach" Tobeck offers some advice.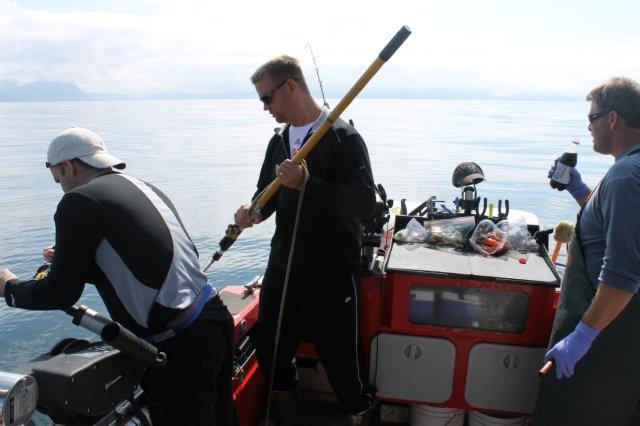 Unfortunately, Huard could not overcome his coaching and failed to drive the harpoon through the halibut. Instead, this fish looked like he had just emerged from a tattoo and body piercing studio…
Fortunately, Brock's prowess with a rod exceeds his, well, lack thereof with the harpoon. Here, Tom Nelson and Brock are all smiles with this 135 pound halibut.
Two long-time Puyallup friends with personal bests: Brock Huard (left) with his first-ever tyee (31 pounds) and Jamie Waltier with a fine mid-20's chinook. Sitka's scenic landmark volcano Mt. Edgecumbe looms in the background.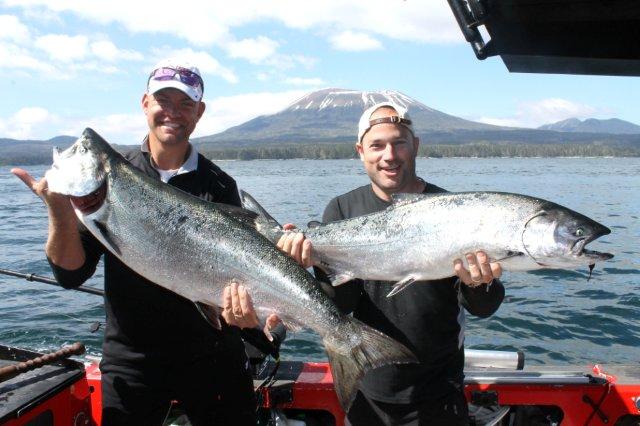 Our last day in Sitka was marked by unbelievable weather, Brock's largest halibut, chinook and a salmon bite that had to be experienced to be believed. Here, the happy crew gets a chance to grin for the camera with the day's catch.
Great trip, great weather, great friends and the fish cooperated every day. What more can a guy ask for? Summer fishing is off to a big, red hot start!
Tom Nelson
The Outdoor Line
710 ESPN Seattle