I put in some long hours closing down my Alaska charter business earlier this week so that I might be able to sneak out for an afternoon of freshwater fishing on Sarkar Lake, located on the north end of Prince of Wales Island. After fishing for three straight months I still…ya know…wanna go fishing. The silvers usually come into the lake this time of year and I could use a little rest and relaxation in the wilds of Alaska after a long season on the ocean.
After my chores were all done I hurriedly grabbed one of the cheapo spinning rods our fish cutters boy uses to terrorize the pogues on our dock, a couple of size 5 Vibrax spinners, and a little leader material and I screeched out'a here for Sarkar.
Two hours and a logging road detour later I pulled into the small boat launch at the lake and quickly began rigging up my spinning rod with a Vibrax. Only one problem…I forgot to grab swivels back in Craig. Dammit man!
Fishing a spinner with a swivel results in a gnarly mess more often than not. Luckily an old spinner trick my pops taught me in my youth quickly surfaced in my shallow memory bank and my grimace quickly evaporated.
By bending the shaft of the spinner about 25 degrees it acts as a keel and keeps the shaft of the spinner from rotating, almost eliminating line twist.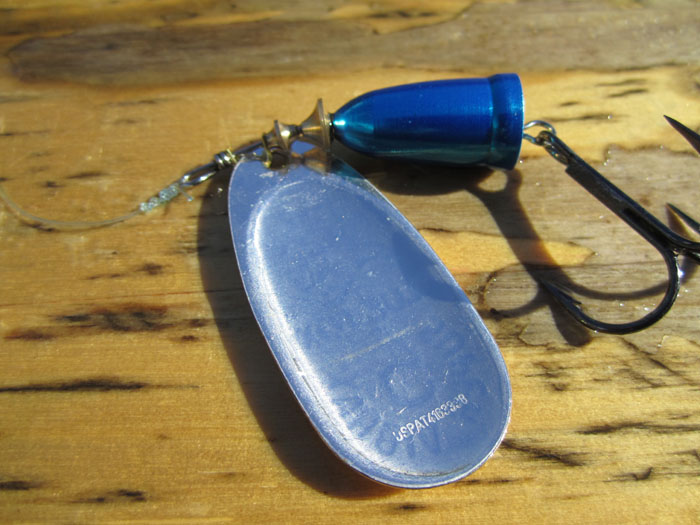 After bending the spinner shaft I made about 20 casts before I checked my line and things were looking good, so I went back to flogging the lake. I was able to fish to my hearts content for a few hours on both Sarkar Lake and on the Sarkar River.
This little spinner trick saved the day and allowed me to avoid a birds nest and actually get some fishing in. If you find yourself in the same predicament give this bend a try. It might just save the day as it did for me.
Outside of one brief hookup with a smallish coho I didn't catch jack squat, but at least I got to hear the loons on the lake and listen to the total silence that is the Alaskan wilderness. Pretty darned good way to end the summer if you axe me!
Rob Endsley
The Outdoor Line
710 ESPN Seattle
www.theoutdoorline.com