My boys and I always talk about catching record fish and how cool that would be.  Mustad has now come up with a million reasons to go out and do more than talk.  Mustad is having their Hook A Million contest.  Catch an IGFA all tackle world record on a Mustad hook and you could win $1,000,000.  Catch a state record and it could mean $100,000 in your pocket.  All you have to do is register at www.mustad.no and go fish.  The contest runs from October 1, 2011 thru September 30, 2012.
The eligible species for this contest are largemouth bass, white crappie, walleye, and channel catfish in the freshwater, calico bass, redfish, speckled trout,and yellowfin tuna in the saltwater and coho salmon and striped bass in either.  This gives NW anglers 5 different  species that swim on our waters to choose from, coho, largemouth bass, white crappie, walleye, and channel catfish.
The opportunity to catch a world or state record and make money doing it got me curious about what I would be up against.  There's no question that the anglers in Washington State have made this no easy task.  The state saltwater record for coho salmon is 25.34 lbs caught by Martin Cooper fishing out of Seiku September 28, 2001.  For freshwater coho it's 25.27 lbs caught by Brad Wilson fishing on the Quinalt River on November 11, 2001.  For Walleye, the record was set February 5th, 2007 by Mike Hepper.  His monster Walleye weighed in at 19.3 lbs and was caught on the Columbia neat Walla Walla.  The largest of the state records eligible for this contest is the 36.20 channel catfish caught by Ross Kincaid September 6, 1999.  He caught his fish while fishing the I-82 pond #6 in Yakima County.  From the largest to the smallest, we drop down to the 2.80 lb white crappie state record.  This fish was caught by Don J Benson on July 21, 1988 while fishing the Burbank Slough in Walla Walla County.  Last but certainly not least is the longest standing state record eligible for this contest.  The largemouth bass record has been standing since 1977.  The 11.57 lb bass was caught by Carl Pruitt fishing Banks Lake.
Other notable state record fish are smallmouth bass at 8.75 lbs, halibut at 288 lbs, chinook (saltwater) at 70.50 lbs, chinook (freshwater) at 68.26 lbs, Steelhead (summer) at 35.06, steelhead (winter) at 32.75, striped marlin 134 lbs, and most importantly, albacore at 52 lbs.
For the IGFA world records go to www.igfa.com.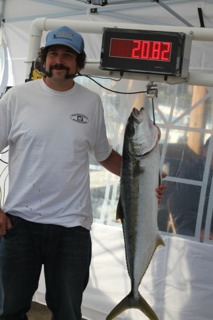 Potential state record yellowtail.
As I sat down to write this I received news of a pending state yellowtail record.  This fish was caught during the 2011 Washington Tuna Classic and doubled the 10.72 lb size of the previous record set by Dane Ledbetter fishing out of Westport in August of last year.