BY JOHN WHITLATCH. It all started with an unexpected phone call about 18 yrs ago. I had just graduated from high school and was struggling to become a professional fishing guide. The summer days were growing long and warm when my neighbor and long time family friend Randy Bovy called. He wanted to take his son, Kyle on his first fishing trip. He had a plan, and like I said I was trying to guide but lacking the solid client list I have today, I had plenty of time on my hands. Randy wanted to drive 8 hrs north of our home in Palmer, Alaska to just outside the tiny town of Tok near the Canadian border and take young Kyle Northern Pike fishing. Did I mention Kyle was 3?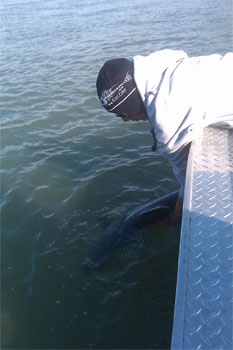 Randy was loaded, ready to roll and in less than an hour I found myself searching for a place to shove my quiver of rods and bag of tackle in his 1990 Toyota pickup. There was already an inflatable Zodiac, outboard motor, tent and various camping equipment under the canopy of that little truck but with a little effort we made some room for my gear as well. Climbing in up front I quickly realized that we were fully loaded. Kyle was riding the jump seat in the back of the little super cab, I was riding shotgun, playing DJ, and Randy was driving.  Only 8 hours until I could get out stretch my legs and crawl into an even more cramped rubber boat with a 3 year old and treble hooks. This is going to be fun! The drive actually went very smoothly. We got to show Kyle his very first bear between his frequent naps, and we arrived at the deserted lake to a beautiful sunny morning.
Now if you are a big guy like me and get a little stove up after 8 full hours in the seat of a little Toyota pickup, I got a cure for ya. Upon reaching your destination, jump right out and spend two hrs pumping up an inflatable boat and mounting the motor. Then rig up a full quiver of rods and pack it all down a 100 foot bank through Alaska's thick brush to the lakes edge. If you're not loosened back up and stretched out yet, make sure you have a stubborn, aging outboard with some old fuel to give your shoulder a good workout too. Oh and do it all with an anxious 3 year old wondering how much longer this is going to take.
Croaking frogs, bath toys, and the luck of babes.
We had allowed Kyle to pick a lure at the tackle shop the night before so of course he wanted to use his new frog lure first. The frog in question was not particularly special in appearance, in fact it really looked like a piece of junk. Its uniqueness wasn't apparent until it hit the water, upon which time it would let out a loud audible "rrrriiiiiibet". I got to admit Randy and I both found it as amusing as Kyle at first before it became annoying in both the sound it made, and the obscene number of fish Kyle was catching. He was kicking our tails!
I blamed getting out fished that first day on Kyle of course. Randy allowing me that courtesy, decided that Kyle was his excuse as well. My reason was that I was distracted and too busy dodging Kyle's massive, treble hook laden, obnoxious frog all day to really get serious about fishing. Randy agreed and proclaimed that he was too busy coaching Kyle and making sure he would not hook me or the rubber boat to really fish himself. We agreed that all things considered we really didn't get out fished by young Kyle after all and turned in for the night.
Day two came early. It was apparent that inflating the boat and packing it down that brushy bank really didn't stretch my back out enough after all. I woke up sore and stiff. Sleeping in a tent on the rough ground seemed to affect Randy and me more than it did Kyle. He was ready to go; Randy and I were trying to stretch out breakfast a bit.
Once we got on the water, Kyle pretty much started out right where he left off, only maybe his luck had gotten even better. It got so good in fact, that two things dawned on me that morning. One, Kyle hadn't lost that lure in the brush yet, and two, it was almost completely destroyed beyond repair from these large, toothy Pike. Shortly afterward it finally came completely apart. The green rubber and plastic body had been left presumably in the gut of that last monster and there was nothing left but some wire and a mangled hook that used to be a 2/0 treble. To fully appreciate this turn of events, I feel I should tell you some of the other things that had transpired in that first day and a half.
While Kyle had been catching fish after monster fish, his dad and I had been making excuses for ourselves while losing almost all of the gear we had brought. We had cast them in the brush or got almost all of them snagged in the sunken logs that lined the banks. That's right, we found ourselves with an almost astonishingly attentive 3 year old Kyle wanting another lure and not having one available. This kid had been fishing for two days without losing interest or really fussing about at all. Luckily Randy had brought along a few toys for Kyle to play with just in case. One of those little toys just happened to be Kyle's favorite bath toy. That bath toy was a wind up, floating shark. Once wound up you could drop this thing in the water and watch its articulated tail splash back and forth, making it swim. Randy and I thought this could be amusing, so I naturally tied up a 30 lb mono leader with a treble stinger and connected it to the toy with some rubber bands.
That little shark toy didn't last long but it seemingly turned these Pike into wild Tarpon. The strikes were vicious, like I had never witnessed before. They were flying out of the water on the take, gills flared and shaking wildly before landing with a splash and all we could here were Kyle's excited giggles. When that shark finally fell apart, Randy and I conceded to Kyle's superior skills and just sat back and watched the young phenom do his thing with our last two Rapala plugs. For two days no matter how close or far away we drifted from the brush lined bank, Kyle would just wind up and heave his lure as hard as he could always landing within inches of it. Just beginners luck I suppose.
Kyle is a college baseball player now. Last week with a short break in his summer schedule he returned home to Alaska and naturally rang me up. I took Randy and Kyle fishing once again on the Kenai River for King Salmon. About 30 minutes into it Randy's rod went down and after a short fight the big King came to the surface and with a violent head shake managed to dislodge Randy's K-16 Kwikfish from his face. As always Kyle was eager to offer his dad a little friendly advice and remind him how he never loses them. He was right, he never does. It wasn't long after that when Kyle's rod suddenly got pinned flat along the gunnels. He picked the rod out of the holder with astonishing speed and made a perfect hook set. Not too high, not too hard, just perfect, like you read about. Twenty five minutes later Kyle was releasing yet another trophy fish, with me and his dad watching in admiration.
As that big chrome hen swam from his grasp and disappeared into the shadows of the Kenai, Kyle turned to me and said simply, "100%".
Since Kyle's first fishing trip, he has fished with me multiple times every summer. It's been 18 years now, long enough to have seen some really good fishing along with the really bad days as well. He may have fished with me more than anyone else I know. Certainly he has in fact. Now he explained to me that he is 100% fishing with me. Since that very first time as a 3 year old he has never failed to catch a fish from my boat.
That is why young Kyle has not only grown into one helluva good fisherman; he is without exception the fishiest dude I know. His dad coincidently is 100% as well, having never caught a fish with me in the past 18 years. He's come close, hooking more than his share, but somehow something always goes wrong. That is fishing though, sometimes you can't explain it. There's no telling how much longer this amazing run will last, but for now if you see me with an unusually large grin on my face in the morning Randy and Kyle are probably on their way to fish with me again…
John Whitlatch
Professional Guide/Owner
Reel Adventures
www.kenaireeladventures.com
907-252-7335