In years with normal springtime temperatures, the middle of May would represent nonstop action for bass. There is no better time of year to target big bass in shallow water. It's no wonder that even the average weekend warrior has to feel they have a chance of winning when fishing a bass tourney this time of year. This however isn't the average year and when conditions are tough like they have been this year, the cream always rises to the top. That was proven true again this year in the NW Bass Lake Washington Qualifer. With water temps a month or more behind, and our warmest week of the year leading up to the qualifier, it was anyone's guess where the fish would be located. Conditions like this are where experience and instinct come into play.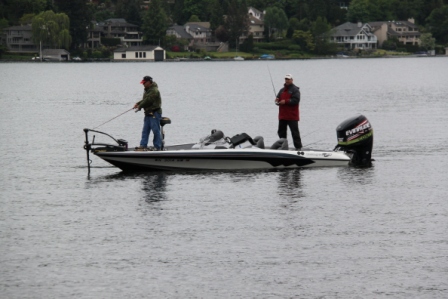 Marc Marcantonio and Mike Matkowski.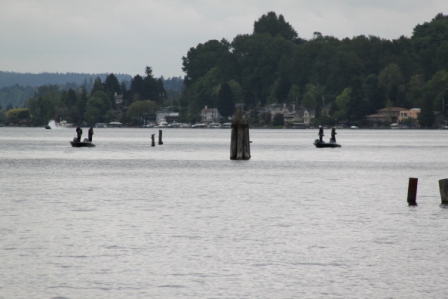 Anglers battled it out to just minutes before weigh-ins.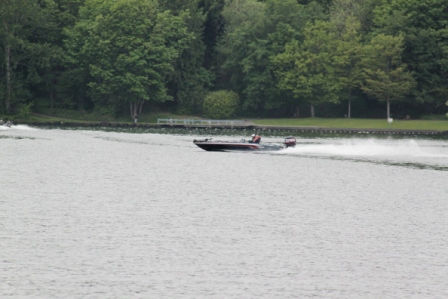 Nothing beats a bass boat when it comes to covering water.
Gary Stiles, the man behind NW Bass was our guest on the show this past saturday and when asked about some of the anglers that had the best chance, two of the names he mentioned placed in the top three. Ron Hobbs Jr. and Marc Marcantionio, both guests in the past on TOL, led the way. Ron Hobbs was coming off a win the week before in the American Bass tourney on Lake Washington but with changing conditions, he made the call to fish a completely different area than he fished the week before. Making the call to not even fish an area that had been so good to you the week before took guts but using the instincts that Hobbs Jr and his partner, Mike Wolsky, posses , it was the only call that made sense. Marc Marcantonio and his partner, Mike Matkowski, used the experience they have to target a few areas that they knew should be holding fish but knowing that cold springtime weather had slowed the fish from moving up on beds to spawn they fished those areas a little differently than they would normally have fished them this time of year. Their call was the right call as they caught and released over 20 fish.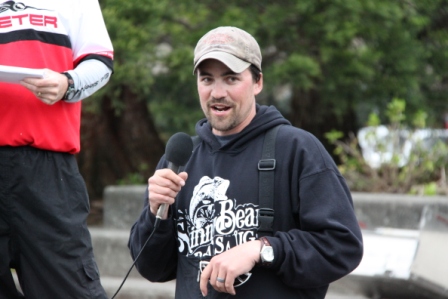 Ron Hobbs Jr. telling the story of how he and Mike Wolsky came away with the win.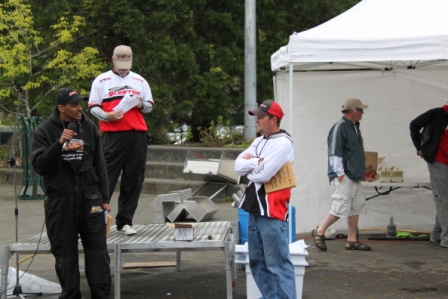 In Hail Mary fashion, 2nd place finisher's Ruffin Hernandez and
Tyler Walcker caught a nice largemouth on the last cast of the day to put
them in second place.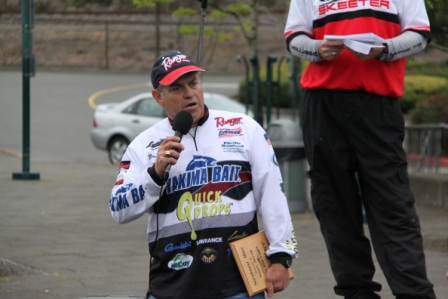 Marc Marcantonio accepting his plaque and check for third place.
All-in-all, 64 teams fished this years tourney and almost sixteen grand was paid out. Points were also awarded for teams trying to qualify for this years championship in September.