Jim "Bucket" Heins and I rumbled into Quinault Beach Resort and Casino in Ocean Shores, Washington late Saturday afternoon. The resort is only about a two hour drive from my home in Gig Harbor and it's the perfect base camp for fishing junkets to some of the states best coastal salmon and steelhead rivers. In this case we would be targetting the supreme steelhead waters of the Quinault Indian Reservation.
Our original intent was to fish the Quinault River, but with January rains punching out Lake Quinault it was going to be a while before this world famous river would become fishable again. We switched gears and called up my buddy Jordan Curley (360-580-4857) for a day on the Salmon River, the next best thing.
Jordan's a Quinault native and guides bank anglers on the sections of the Salmon and Queets Rivers that lie within the reservation. In order to fish on the reservation you have to be with a Quinault guide and Jordan is one of the best. The advantage to using his services is that you get to fish the primo steelhead water around the big hatchery on the Salmon.
During November, December, and early January this area can literally be stupid with steelhead. At the end of January, however, most of the hatchery steelhead run is over and we'd be hoping for a few lingering hatchery steelhead and some scrappy wild fish.
A big bonus to fishing this time of year, at least to me, is that you'll likely have the place to yourself. Outside of a friendly wave from the hatchery manager today we didn't see another soul. I'd rather catch a few steelhead in tranquility than a bunch of them in a crowd.
The Salmon is an easy river to fish and lends itself well to floatfishing. It's small runs can be easily fished with jigs, bait, and beads. If driftfishing or tossing spoons is your thing, well, that works too.
Here's Jim checking out the ocean from "steelhead camp". The ocean beach in front of the resort is a great spot to get your limit of razor clams, when it's open of course, and they have a cleaning table with running water outside for cleaning these delicacies.
The resort also has an indoor pool and hot tub for the kiddos. Bring the family and go steelhead fishing in the morning, clamming in the afternoon, and win a bunch of greenbacks at the casino after a huge slab of prime rib in Emily's restaurant at night. Sounds like a good weekend to me!
Let's go fishing!
At first light Jordan pointed towards one of his favorite holes right below where the hatchery creek pours into the Salmon and Jim pitched a pink worm into the small pocket. One, two, three casts and he was hooked up on a steelhead. All he got was a few headshakes out of the fish though before it spit the hook.
Jim, Jordan, and I fished our way downstream approximately a half mile, fishing many great runs along the way without a bite. Scratching our heads, we switched our gear around a little and started working back upstream. I had been using eggs and Jim had been pitching a pink worm all morning and we both switched over to jigs to re-work the runs again and show'em a lil' something different.
Back up towards the hatchery I hit this chrome little hatchery steelhead on a Maxi Jig from Yakima Bait Company. These jigs have really been fishing well for me this winter. I made no less than two dozen casts in this exact spot first thing in the morning with eggs for nothing, but I guess this one was in the mood for a jig because she jumped all over it.
We kept fishing our way upstream until we hit the weir where they draw water for the hatchery. Wild fish get around the weir by heading up the channel on the far side, but before they do it's an awful nice spot to hold up for a while and eat jigs.
Jim had made no less than 50 casts in this spot when I walked up behind him and stroked out a small wild steelhead of about 4 pounds. A few casts later I hooked into another 8 pound chrome rocket. Same gear, same jig, same everything. Weird!
Bling, Bling!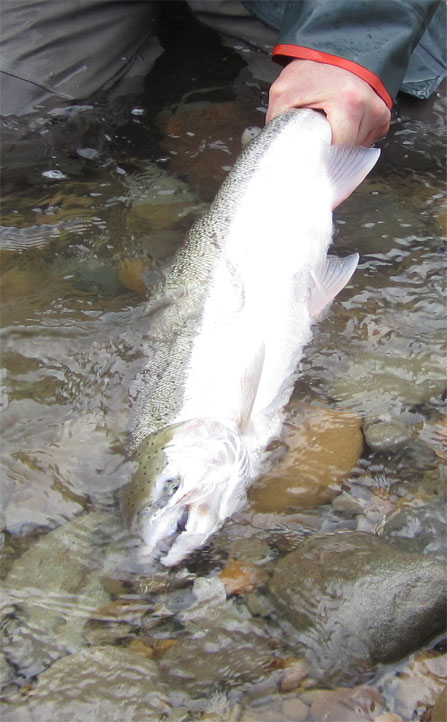 Here on the reservation it's ok to take'em out of the water for a quick photo, and that's exactly what I did. That's got to be my least favorite WDFW rule!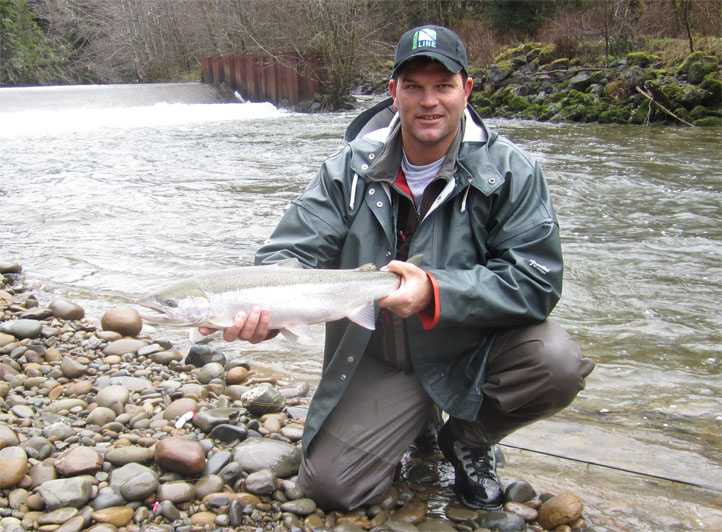 After flogging the weir run to death we fished the run above the weir for a little while and Jordan broke a steelhead off there on one of his beads, but that was it. He's a centerpin guy that only fishes beads for steelhead. It's a pretty slick technique that Ray Gombiski detailed in one of his blogs back in October.
There was obviously some steelhead below the weir, so I switched back to my egg rig on the way back downstream and immediately missed a fish on my first cast. I rebaited with some Borax'O Fire cured eggs, tossed back in, and WHAMO…this blinger jumped all over it!
Notice the Cheater weight above the Mustad Ultrapoint hook below. I always run a weight like this above my bait when I'm floatfishing to keep it down in the strike zone. If you don't the bait will often ride above the lead and out of the zone. Cheater weights come in many different colors and three different weights. I used to make these by drilling out .30 slinky balls and hand painting them. Let me tell you…this is a much easier way to go!
Jim and I fished our way back downstream to the truck and after a few last casts we called it quits at around 1:00 p.m. If today was a razor clam day we could've easily hit the late afternoon tide and gunned up a mess of those tastey critters. Next winter we're going to plan this a little better and double dip with limits of hatchery steelhead and razor clams in the same day. We'll be back!
If you haven't already seen this…here's my BLOG from our trip with Jordan on the Salmon River last winter. You really owe it to yourself to hit the Salmon River for winter steelhead and if nothing else head for Quinault Beach Resort and Casino for the next razor clam opener. I only briefly mentioned the Quinault River above. If it's in shape anytime from early February through March do whatever you can to get on this river with one of the Quinault guides for a shot at a trophy class wild steelhead. And yes, it's o.k. to use sick leave for this one!
Rob Endsley
The Outdoor Line
710 ESPN Seattle
www.theoutdoorline.com