This is the start of the change that we have been waiting for. We now have the opportunity to let the commission know that we as recreational crabbers want change and we want it now. While in my opinion Option A of the Puget Sound Dungeness Crab Fishery Alternatives doesn't go far enough, it is a great start and a dramatic change in the way that crabbing will be managed going forward. While the tribes will still get their 50%, we now have the opportunity to have set seasons without having to worry about crabbing to a quota. In the past we have had to split the non-tribal 50% with the commercials and they have recieved the lion's share, 2/3 or even more on some years. This despite the fact that recreatinal crabbing accounts for over 50% of the economic value of crabbing.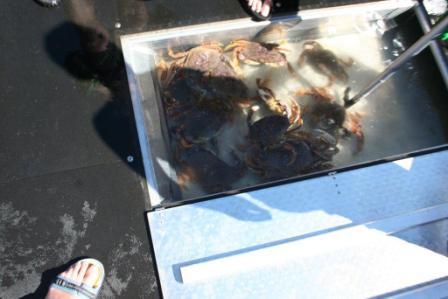 No better NW treat than a cooler full of Dungeness Crab.
What Option A will do is allow us to crab to a set season of July-Labor Day, 5 days a week including both weekend days and then have a set season from October-December 7 days a week. We would also still have a 5 crab bag limit. This is a far cry from the seasons we have now that are based on quotas and limited to 4 days a week and one day on the weekend. In the past we only got a winter season if there was enough quota left but if we can get Option A passed we wil ahve the winter season regardless. The commission meets on August 6-7 to decide so please take the time to email the commission and make your voice heard. They can be reached at commission@wdfw.wa.gov My letter is below, feel free to borrow or copy and paste from it.
I would like to encourage the Commission to adopt Option A with regards to the Puget Sound Dungeness Crab Fishery Alternatives. The Puget Sound recreational crab fishery is a very popular activity among the recreational community and shared by both fisherman and non-fisherman alike. This popularity leads to over 50% of the Net Economic Value of crabbing being derived from the recreational community. Unfortunately, when allocating the resource, the state has favored the commercials. In my opinion the Commission needs to correct the inequity that has existed when it comes to allocation of the State's crab resources. As we are all aware, the tribes are given 50% of the harvest and this provides the non-crabbing public access to this resource. The other 50% is currently split 2/3 commercial to 1/3 recreational. This inequity leads to around 10% of the total allowable catch in some years for recreational crabbers even though we generate over 50% of the economic value. As a start, the commission can move towards reducing this inequity by adopting Option A.
Thank You,

Rob Tobeck