With chinook fisheries opening up in Puget Sound, out on the coast and going strong in British Columbia and Alaska, a technique refresher is definitely in order.
Known as the "remote" or "dummy flasher" rig, this downrigger setup is a great way to reap all the fish attraction benefits of a flasher while enjoying the fight of the fish without the drag of having a flasher directly on the line!
The most important aspect of successfully deploying this rig is getting the action right on your herring. Krippled Lures of British Columbia has complete rigging instructions on their very informative website!
Note that the monofilament lines to the release and flasher are 150lb test! This is a vital aspect to this technique. If you attempt to use lighter line on your flasher, I hope you have a big tackle budget! The speeds at which your Cannon Downrigger will pull the flasher through the water will pop 50 pound test with ease. When you consider bottom contact and the associated abrasion…Brother, just get some 150 lb leader material and size A9 crimps and you're in business.
You'll also notice a longer release drop and a halibut clip riding the wire. This is a specialized release necessary for this system. You can build them yourself using the aforementioned 150 lb mono. Often these longer releases are available on store shelves but the "homemade" variety with high quality stainless halibut clips are the way to go. Use the length of your downrigger boom as a rough guideline for the length of your releases as you want the release drop at least as long as your boom. Longer release drops are much easier to reach, rig and help you to better see strikes as well!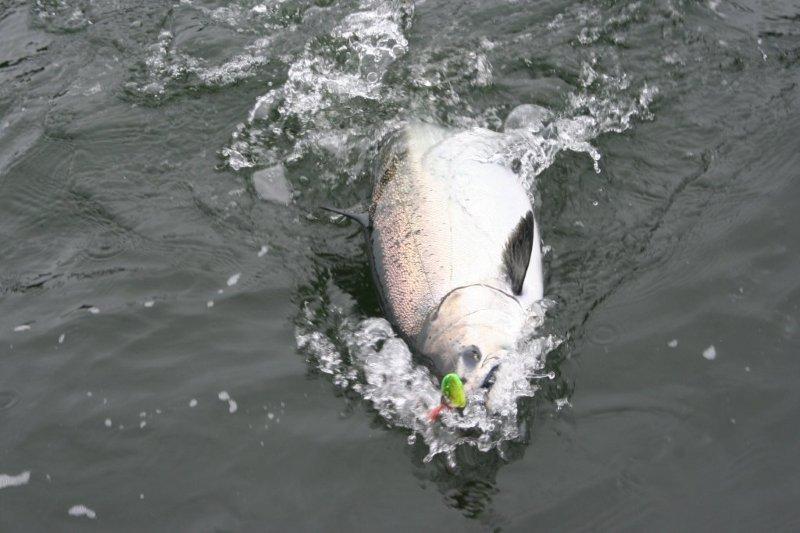 To deploy this rig, snap the flasher on your cannon ball and lower it five feet. Snap on the release assembly, clip in the Krippled Herring rig and drop to the depth desired. Repeat until you have reached your limit!
When retrieving the rig, the halibut clip will often slide to the ball, so you can bring the flasher and release on board to avoid fouling your fish! Good luck and enjoy flasher-free fishing!!!