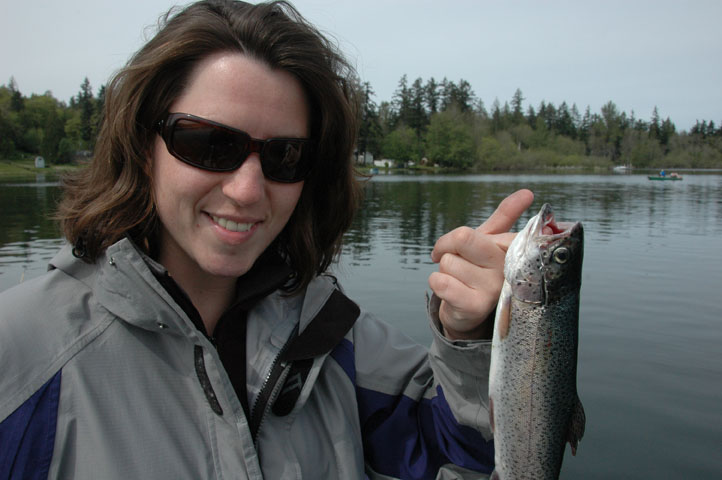 Nicole poses with her 14 inch Bay Lake trout from opening weekend
Every year just prior to opening weekend mom would stuff the last of twelve months worth of bread bags into one of the kitchen drawers. The bags would be used to store our cache of opening weekend rainbow trout. The only problem with this was that I would pester our poor mother year round to keep the 100% whole wheat bags because they signified trout. She would jump up and down on the pile of bags in order to get the drawer closed. Clearly her son had a problem.
Back then our opening day destination was nearly always Bay Lake on the Key Peninsula in Pierce County, Washington. The little lake was only 30 minutes from our home in nearby Port Orchard, but it seemed like it took forever-in-a-day to get there.
The small lake is relatively round and we'd either troll small frog-pattern Flatfish from our 12 foot do-everything Smokercraft skiff or anchor up and stare at a red and white bobber with a couple of Pautzke Balls'O Fire eggs under it. Zip Loc bags and doughbaits didn't exist then.
Occasionally I would take my eye off my yellow Eagle Claw 4-piece pack rod to take a jab at my innocent little brother, but otherwise my eyes were glued to the rod and the fish it was about to catch. "About to catch" is what's kept me pegged all these years. There's always hope in fishing.
So when Nicole mentioned that she'd like to get outside this past weekend I knew exactly where we were going. I even broke out the ol' Eagle Claw for the occasion, which has been mothballed for nearly 20 years.
Saturday's weather was nothing short of crappy, so we decided to go Sunday at the crack of noon.
After a short drive that was nothing like the epic road-warrior journeys of my childhood we arrived at the launch. The lake was full of small boats and every other waterfront home seemed to be having an opening weekend bash.
The boat launch was also stuffed with people and I had to dig deep into the patience bucket to get the boat launched. The main thing was that everyone was having a great time enjoying the outdoors.
I opted to troll instead of using bait because we didn't want to keep many of the fish we were about to catch. Washington law requires anglers to retain the first 5 trout caught if bait is used.
Yakima Bait Company has been all about the UV Flatfish and Triple Teasers lately and those went into the water first. I rowed the driftboat halfway around the lake without a sniff on either of the hot new lures, so I switched out the UV's and put a silver/blue Triple Teaser on one side and a copper/red one on the other. I placed a couple of small split shot on the lines a few feet ahead of the lures to get them down a bit.
The switcharooni payed off and in the next hour and a half we hit 12 fat rainbow trout on the spoons. The silver and blue was the hot tamale and the orange-headed spoon hooked a handful also. Some of them would hit the spoon three or four times before hooking up and we had one exciting double header.
All of the rainbows were stockers with the largest a nice 14 incher that jumped and took out line several times on the light steelhead spinning rod. We let them all go but the big one. He'd get eaten later in the evening along with some silver salmon, asparagus, and sourdough bread.
They weren't the epic battles I remember as a kid and we didn't bring a bread bag along, but the trip back to Bay Lake sure stirred up a lot of memories. We guess-timated that 30 to 40 kids were on the lake yesterday with their parents and you could hear the "I've Got One!" cries clean across the lake when one of the kiddo's would hook up. I can only hope that some of those kids take a lifelong liking to fishing. Those early trips to Bay Lake sure did a number on me.