There are salmon derbies and then there are FISHING EVENTS!

The Northwest Salmon Derby Series definitely falls into the latter category.
Each and every one of the events is timed to coincide with solid fish numbers, allowing participants a great opportunity to be successful at each and every event location. In fact, when planning your fishing year you could do a lot worse than just following the scheduled events!

The Northwest Salmon Derby Series is a fishing promotion program directed by the Northwest Marine Trade Association – producers of the Seattle Boat Show. In 2010, the Northwest Salmon Derby Series partners with 16 derbies throughout the region to promote fishing opportunities and events. At the conclusion of the derbies in September at Everett, the Derby Series will award the grand prize Stabicraft to one lucky winner!
2010 Northwest Salmon Derby Events:
1. Roche Harbor Salmon Classic, Feb. 4-6
2. Geoduck Restaurant Salmon Derby, March 6-7
3. Everett Blackmouth Derby, March 20
4. Anacortes Salmon Derby, March 27-28
5. Salmon Quest (Portland), April 17
6. Bellingham Salmon Derby, July 9-11
7. Elliott Bay Salmon Derby, July 24
8. Des Moines Salmon Derby, August 7
9. Gig Harbor Salmon Derby, August 14
10. Hood Canal Salmon Derby, August 21-22
11. Sinclair Inlet Salmon Derby, August 28-29
12. Willapa Bay Salmon Derby, September 4
13. Edmonds Coho Derby, September 11
14. Everett Coho Derby, September 18-19
15. Bayside Marine Fishing Derby (Everett), November 6-7
16.Roche Harbor Hook 'em & Hold 'em Tournament December 4-5
In 2010 the grand prize is a brand-new Stabicraft 2050 powered by an Evinrude ETEC 130hp outboard. The package comes ready to roll on an EZ Loader Galvanized trailer and rigged to fish with a Lowrance HDS fishfinder and radar!!!.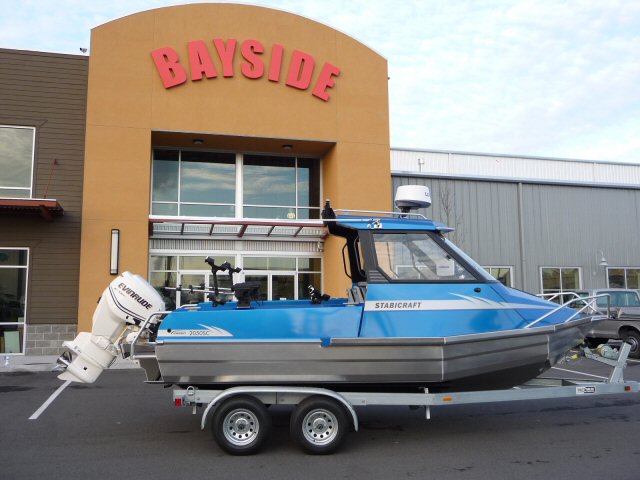 In order to win the Stabi-Craft grand prize boat, anglers can fill out a Northwest Salmon Derby Series raffle ticket at any of the 16 derbies. Every angler's name, address, telephone number and e-mail will be entered, free, into the drawing during the derbies. One ticket will be issued per angler per derby. For example, if an angler entered all 16 derbies, their name would be entered 16 times, whether they caught a fish or not during any derby. Remember, in order to win the boat, purchase of a derby ticket from the host derby is not required. One entry per person, per derby.

The Northwest Salmon Derby Series was created in 2004 by the Northwest Marine Trade Association (NMTA) for the purpose of promoting salmon fishing opportunities in the Pacific Northwest. In the first year of the Series, six existing derbies were identified to become partners of the Series. Since that year, the Series has expanded to 16 tournaments in 2010.

Carefully and selectively, the Series has been very keen to partner with derbies that are wild fish friendly. Each event occurs within the guidelines of open fishing seasons that occur at a time of the year and area where hatchery chinook and coho salmon exist. In fact, some of the tournaments have gone to "hatchery fish only" even during times and places where retention of unmarked chinook and coho are acceptable for retention in accordance with the Department of Fish and Wildlife rules.

Here at The Outdoor Line, we will be hot on the tournament trail and we will keep you updated most if not all of the events.

For complete derby info, log on to the NMTA's derby website http://www.northwestsalmonderbyseries.com/

Good luck and good fishing in 2010!