The action on silver salmon is about as good as it gets right now with early morning limits just about every day on coho's from 6 to 13 pounds and multiple hook-ups the norm. We were finding king salmon on the outside of Noyes Island before the winds came and much of our silver action has been a very short boat ride from town. With NW winds cranking out a 20 to 25 knot breeze every afternoon all you have to do is find the lee side of an island and it's calm seas and mill pond waters. Between the fishing and the weather it's about as good as it gets right now!
I'm running a Lowrance HDS 10 for my sonar unit this summer and a Lowrance 113 for my plotter/radar and the combo is working out great. The big screens allow me to see everything that is going on under the boat at all times. The HDS allows me to mark bait at cruising speed and I crank the sensitivity to between 90 and 95 percent once we start fishing and we don't miss a thing. Most of the fish in our waters are actively feeding and all you have to do is stick a bait in their grill and they will usually bite. Between the Lowrance HDS and the Shimano line counter reels there isn't a lot of guess work. Today I called out fish at 40, 70, and 130 feet and seconds later the guests aboard had them all hooked up and we had fish going everywhere. King salmon fishing has gone much the same way. With the last group the HDS picked up two kings sitting ten feet off the bottom and seconds later we had one hooked up and muffed the second fish. That's pretty darned fun, I don't care who you are!
Eric grabbed this "29" pound king salmon near the ocean several days ago. Highlighted because we actually stuffed a lead ball in it's stomach in attempt to win the group king salmon pot, but Slice and Dice immediately caught on while he was filleting out the fish and ratted us out. Darned fish cutters anyways : )
Casey turns to me and says, "I'm serious! If there's anything I'm doing wrong don't hesitate to tell me." Capt. Rob follows up with "You set the hook like a girl!" Seconds later Casey slams the hook into his first king salmon. Nice work buddy!
Nine times out of ten women catch more fish and Deb and Sally definitely proved that point again. Ironically they usually catch more fish because they aren't so anxious to set the hook.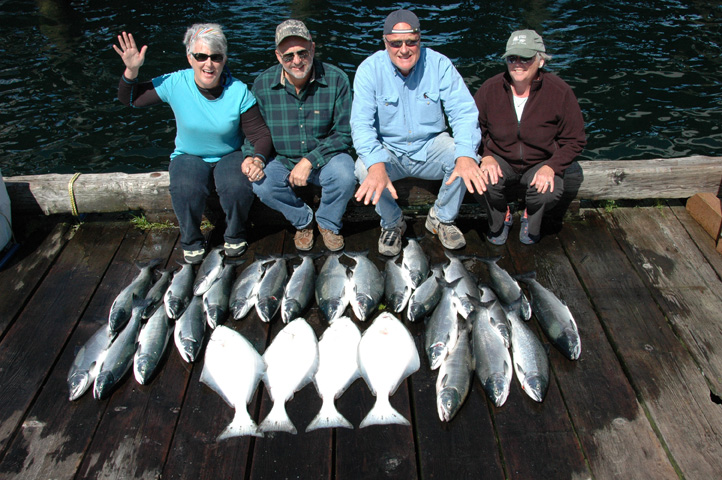 Pretty sure they don't have these in Georgia! Deb and the gang stroked out a bunch of these good little eaters every day with us.
Our guests have enjoyed some amazing whale shows here lately. I captured this photo of a humpback breaching within sight of town on our way in a few afternoons back. Nice way to top off a great day of fishing!
Capt. Rob Endsley